Table Tennis remains undefeated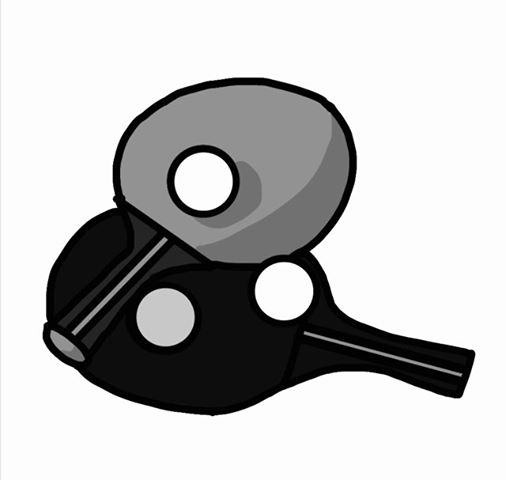 On Monday, The Varsity Table Tennis team beat the Browning School 4-1 in the multipurpose room to extend their undefeated season to 4-0. This was their second match against Browning, after emerging victorious in their opening match of the season.
The team has practiced diligently four times a week for the last month and a half, perfecting their skills by playing challenge matches and drills, Captain Robert Werdiger (12) said. "The practices are intense and everyone shows high energy in order to better prepare us for our matches."
A typical practice begins with rallying between teammates, and later in the practice teammates are able to challenge each other. "Some people may want to challenge each other for positions, which they can totally do," Aneesh Bafna (12) said.
Their practice paid off, as they were the better team Monday afternoon. Long rallies repeatedly went the school's way and many times the Browning players struggled with the team's pinpoint accuracy and consistency.
The highlight of the competition was Werdiger's match at first singles. Up a set and 10-3, he seemed in complete control. However, he proceeded to lose 9 straight points and Werdiger found the match tied at one set a piece.
However, he did not back down. Down 3-1 in the third set, he refocused, playing more consistent cross court shots and using his powerful strokes to move his opponent across the table. The fourth set featured long back-and-forth rallies, with both players playing their best, but ultimately, Werdiger came out on top in a tough four-set battle.
Julien Harcourt (9), playing the same opponent that he beat in straight sets (3-0) in December, was involved in a much tougher affair on Monday. Up two sets to one, Harcourt lost the fourth set after his opponent raised his level, leading to a deciding fifth set. Despite being down, Harcourt did not let the pressure get to him. Using his ferocious forehand, and aided by some costly errors from his opponent, he ultimately prevailed in a tight five set battle.
Werdiger praised Harcourt's performance all season, especially during Monday's game. "He has been solid for us all year. He is a really good player and especially as a freshman playing singles, he has shown great maturity and match toughness" he said.
The team has excellent camaraderie, good leadership, and is supportive, Table Tennis Coach Caroline Surhoff said.
At third singles, Bafna defeated his opponent in four sets while Leo Hess (10) and Avi Kumar (10), playing first doubles, beat their opponents in three easy sets. Jiyon Chaterjee (9) and Jiya Chaterjee (9) fell in a tightly contested five set match, the only match the HM lost.
In their first season as a full varsity team, the table tennis team has been accomplishing impressive feats and hope to bring home a league title. Werdiger founded the team last year with the help of Director of Athletics Robert Annunziata, and the two worked to form a private school league. As a club varsity team last year, the team practiced only three times a week and competed against Fieldston, Leman, and Kew Forest. This year, Browning was added to the league.
Werdiger is optimistic about the growth of the sport and hopes to see more "Ivy League schools" join the league in years to come. Surhoff agreed with the statement, mentioning that she hopes to have more schools provide Table Tennis teams, especially those in the Ivy League.
"In our second year we've already made great strides. We were forced to make cuts at tryouts and were happy to have experienced players compete. In the future, I expect the HM community to pay more attention to our standing and for plenty of kids to tryout in the years to come," he said.
The team's improvement since last season is due to the participation of more skilled players, as well as greater team publicity, Bafna said.
Another strength of the team is their doubles play, which is not a typical skill that table tennis players have. The formats of matches are three singles and two doubles. "Usually people don't have doubles experience in table tennis, so it was good to have talented players who could adapt to doubles more easily," Bafna said. "Doubles players have played with different partners without a hitch. We have a lot of depth on the team this year," Surhoff said. At second doubles, the partner pairs have differed for every match because we have so much depth.
Founding the team was one of the highlights of Werdiger's high school experience, and he expects the team to gain more popularity.
Werdiger was especially thankful for their coach. "Coach Surhoff shows great enthusiasm towards learning and teaching the mechanics of the game, and she finds a good balance between practice intensity and fun. She will certainly help the program develop."
The increasing popularity of the team will hopefully improve the strength of the team. "For the foreseeable future, the team is going to get better as more people try out as they observe our success and the fun involved in the game," said Bafna (12).
The team hopes to make it to the finals of their league, which consist of 4 other teams. Each team plays each other twice, and after all the matches have been played, the team with the best record advances to the semi-finals and ultimately the finals, said Bafna (12).
Going forward in the season, the team looks to improve in creating strategic plans to use in their competitions. "We are working on knowing one's strengths, playing to our opponents' weaknesses, and mixing up shots," said Surhoff.