Jousting 'til the end: Girls Fencing dominates Marymount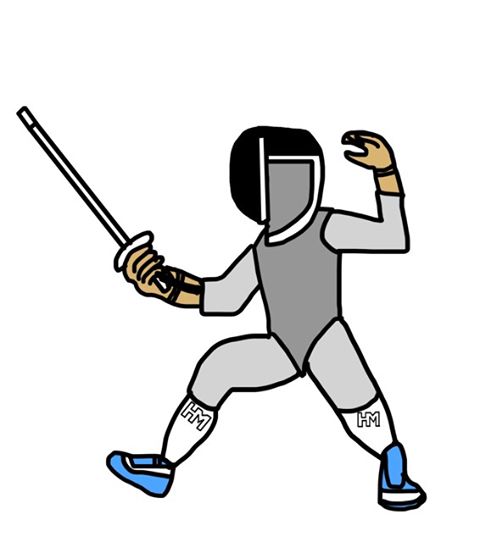 This Monday, the Girls Varsity Fencing team dominated the Marymount School, winning all three weapons with a combined score of 23-4. This was another victory in what has been a mixed season for the team, with foil going 6-1, sabre 2-4, and epee 4-3.
Three different weapons constitute the divisions of the fencing team: sabre, epee, and foil. Each division plays simultaneously on three separate strips and plays the opposing team in a best-of-nine series of bouts, and the team that wins at least five of those nine wins the overall event.
The sabre team won by a final score of 7-2. Out of the seven total wins for the Lions, Abby Beckler (11) won three bouts, Lauren Ho (10) won two, and Samantha Tsai (11) and Esha Patel (10) each won one.
Patel said her bout was "relatively easy because [her opponent] used the same tactic multiple rounds in a row." Even after her opponent changed strategy after a timeout, Patel remained focused and reacted well to her opponent.
"I think the sabre team did well because the sophomores really improved the past few weeks and I could really see a difference," Tsai, captain of the sabre team, said. "Everyone was very aggressive in their bouts, which was nice to see because that's what we've been working on in practice recently."
The epee team also performed well, winning seven out of their nine bouts. Unlike sabre and foil, which have very specific areas where fencers are supposed to hit, in epee, any part of the body is fair game. Due to this, players have to be more cautious, and bouts typically last longer, Erin Zhao (11) said.
Juliette Shang (10) lost two of her epee matches by a very narrow margin in priority, which is the fencing equivalent of overtime; in order to break a tie, players have one minute to get a touch or else the winner is decided randomly. In one of her priority rounds, Shang and her opponent hit each other simultaneously four times before the clock ran out and the bout defaulted to her opponent who had been given priority by chance.
Shang received advice from Varsity Girls Fencing Coach Julio Benjamin during her bout, she said.
"He can be very intense, so I think that's kind of when the pressure is on," Shang said. "He is very invested in the team. If he tells me what my strategy is, I really think about that and don't look at the scoreboard."
The foil team had an especially strong performance, winning all nine bouts. Helena Yang (11) and Madison Wu (10) started strong without losing a single touch in the first two bouts. Captain Rachel Zhu (11) also competed very well without losing any of her bouts. Foil tends to be a much more offensive and direct style because there is a limited target area, so all three players were able to win their bouts in very little time.
The level of competition was lower than at other tournaments, Zhu said, but that didn't mean that the team did not put in maximum effort. "The most important thing to focus on when fencing newer, more inexperienced opponents is to keep movements simple, and not overthink things," she said.
The team uses a different strategy to play inexperienced teams, Ho said. "It makes it a lot easier for us to figure out what we're going to do and allows us to also try out different techniques that we've been working on at practice. We can play around more with what we do, which betters us for future matches."
The meet was not a challenging one, Zhu said. "Marymount is a relatively weak team in terms of extracurricular fencing. We have more members of our team who fence outside of school and have a lot more experience."
All members of the foil team, including Zhu, Xu, and Yang, fence outside of school, giving them an advantage over most of their opponents.
One issue that the team has had this season is getting adjusted to the slippery conditions at the Hazen Gymnasium at the Lower School.
"It is very easy to slip on this floor and it's really hard to gain traction," Richard Ha (12) said.
"We fence on this floor every day in practice, so we're very used to it," Patel said. "It's almost like a home-field advantage at this point."
The meet was originally scheduled to be against Riverdale, but there was a last minute switch to Marymount, who only has a girls' team.
"Many of us were disappointed because we were looking forward to getting in a bit of revenge against Riverdale because last time none of the boy's teams won, other than foil," Cohen said. "The sabre and the epee team were both looking to score some victories against Riverdale for the first time in a while." Although they weren't able to compete, most of the boys stayed behind to cheer on their teammates.
"Overall, we were expected to win this meet, but we still had some great individual performances, and the team fenced well as a whole," Patel said.
"We had a really fun time and the meet was a great team bonding experience," Zhu said.