Familiar faces, unfamiliar stories: Jimmy Ostuni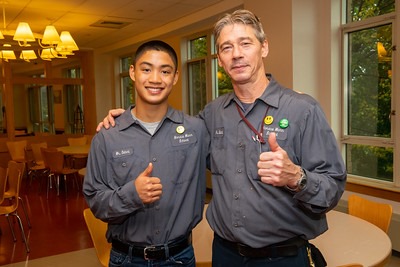 "Jimmy embodies the kind of person I want to be," Paul Wang (12) said. "He's a model of a good person." Jimmy Ostuni loaned Wang his maintenance department uniform to wear as a Senior Absurdity Day costume. Out of admiration, Wang had asked to dress up as him. On his cell phone, Ostuni has a photograph of the two in matching uniforms, and whenever he looks at it, it brings tears to his eyes, he said.
Two years after graduating high school, Ostuni was living in Riverdale, within walking distance from the school, and heard about a dishwashing job opening from friends who were working at the school. 35 years ago, he began work in the Lower Division (LD), a very different environment from the South Bronx public school he attended in the 70s and 80s, he said. "Everybody just seemed happy [at HM], and I sort of fell in love with the place," he said. "It's been my home ever since."
Ostuni originally expected that his job would be temporary, and he would eventually move on to do something else. He started helping one of the maintenance workers at the time — an older man who would soon retire — and eventually took over his role. After 20 years at the LD, Ostuni stepped into his current job in Middle/Upper Division maintenance. "I came for the dental coverage, but it ended up being an exciting and rewarding career," he said.
Now, Ostuni starts every day by punching in, getting a cup of coffee from the maintenance office, and beginning that day's tasks. He does the recycling, cleans up the school and outer campus, and checks his cell phone for texts or emails about anything he might have to do for special events that day, from PA meetings to Homecoming.
Ostuni is a unique and valued member of the staff; he takes pride in his job and in the school community and readily completes tasks without even being asked, Director of Facilities Management Gordon Jensen said. He also has a keen memory and tremendous knowledge about the facilities. Whenever his coworkers don't know where something is, they ask Ostuni.
Among the maintenance staff and beyond, Ostuni is known for his love of recycling, Jensen said. Part of Ostuni's job involves sorting through the garbage bags and separating recyclables from trash, a task into which he pours his whole heart, Jensen said. "Even before he comes and punches in, he's out there taking care of the garbage," he said. "That's something the students should know about him: if they're not doing it, he's doing it for them."
Ostuni spends so much time recycling that people refer to the recycling center in the basement of Fisher Hall as his office, he said. In this "office," Ostuni keeps photographs of things he holds dear, from coworkers to students to musicians like Frank Sinatra and Keith Richards. One of these pictures is of a young girl in the Nursery Division whose father played foosball with Ostuni in fifth grade. Ostuni keeps that photograph as a reminder of how long he has been at the school and all of the memories over the years, he said.
Ostuni cares deeply about the student body and always tries his best to help them, he said. Michael Shaari (10) remembers being introduced to Ostuni by his older siblings when he was in sixth grade. At the time, his parents told him that he was the person to go to if he ever needed help. The following year, Shaari lost all of his props for an English project and emailed Ostuni who found the materials lying around campus and brought them to him the next day. More recently, on Japan day, the same thing happened, and Ostuni came to the rescue once again, Shaari said.
Lucas Alexander (10) worked with Ostuni over the summer as part of the maintenance staff. During that time, the two grew close as Alexander and Ostuni spent considerable time talking and joking with each other. Alexander recalls that even before they developed a friendship, Ostuni would always greet him in the hallways, he said.
Ostuni makes it a point to say hello to everybody and learn all the students' names, which is one of his most admirable qualities, Wang said.
Remembering over 30 years' worth of names is a big challenge, but Ostuni tries his hardest, he said. Ostuni's genuine care for individual students makes all the difference, Jensen said. Jensen recalls a recent episode when the two were sitting in the cafeteria and a student with a sprained ankle walked by. Not only did Ostuni ask him how he was, he greeted the student by name and already knew that he had sprained his ankle in a fencing match. "It's not just words with Jimmy," Jensen said.
Six years ago, when he was applying for the position of Director of Facilities Management, Jensen interviewed with members of the maintenance staff. Ostuni asked about his music taste, which struck Jensen. Such a question showed the value that Ostuni placed on understanding people's unique personalities, Jensen said.
Ostuni believes that kindness is important. "It takes more energy to be mean to people, so it's better to be kind. When I'm not working, I put smiles on people's faces." Additionally, he feels that this kindness is returned by the community. Ostuni's favorite part about working at the school is the smiles and the kindness of the students and faculty. "Everybody is easygoing and happy," he said. "I'm fortunate to be surrounded by nice and appreciative people."
The school has recognized Ostuni for his friendliness and caring personality. In 2013, the Mannikin was dedicated to him. The next year, students in Visual Arts Teacher Kim Do's Video Production class created a short film about Ostuni. Ostuni cherishes both these events. He still has the CD of the film and is touched every time he watches it.
Outside of work, Ostuni prefers to keep himself busy rather than staying at home. Every weekend, he goes on long distance runs, because it keeps him active and healthy. "It's more fun than running around in a circle like a gopher," he said. "If you set a goal that you're going to run long distance you can't get lazy and stop. I wish I ran when I was younger but I'll make up for it now."
When Ostuni retires, he wants to move to Thailand with his wife. He thinks she would appreciate moving back to her home country after having lived in the United States for 25 years. Additionally, Ostuni likes the idea of the peaceful life his wife's family leads as farmers.
After graduating, Wang is certain he will keep in touch with Ostuni. "Any time that I visit I'll look out for him," Wang said. "It's inevitable that he'll greet me. He's one of the amazing people at HM."
Ostuni doesn't have kids of his own, so to him, the students are like his children. He loves getting to know students, watching them grow up, and building friendships with them. At graduation, he feels as though he is watching his own children leave and go off to college. "I'm always in the back of the tent with tears in my eyes because I have to say goodbye," he said.