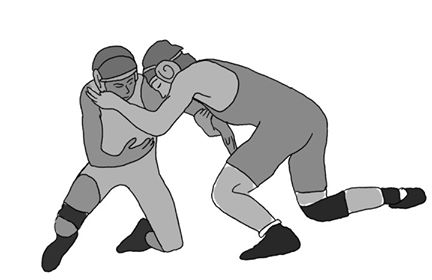 Coming from a wrestling family, Liam Futterman's (11) decision to start wrestling in the seventh grade came instinctively.
His recent successes, such as winning first place at the Ivy League Wrestling tournament, stem from years of hard work and training. When Futterman started wrestling for the Upper Division (UD) team freshman year, it took time for him to become accustomed to the more competitive dynamic of the team and grow to become the athlete he is now.
"My freshman year was a hard season," he said. "I was getting beaten by older kids, and lost a lot of matches. I had more losses than wins and I wanted to quit."
By sophomore year, Futterman put in more practice during the off-season, but he still knew he had a long way to go to improve his skills even further as he approached junior year.
"This year I've stepped into more of a leadership role and I've been doing really well," Futterman said. "It showed me where my hard work has brought me."
Because of weight training, Futterman has better honed his skills and is now in a lower weight class, giving him an advantage, Coach Gregg Quilty said. This substantial improvement has helped Futterman place in almost every tournament and become more aggressive on the mat, teammate James Thomas (10) said.
"(He) has not only grown physically in his ability to overcome adversity, he's also almost definitely grown mentally in his ability to face challenges," Patrick Stinebaugh (10) said.
As a captain of the Boys' Varsity Wrestling Team, Futterman hopes to cultivate a hardworking culture on the team, something that captains from past years had enforced. Living up to the example Jamie Berg '19 set last year as the captain of the team is a major inspiration for how he carries himself, Futterman said.
"At the same time, I do feel like I've done it differently than the past captains," he said. "I try not to be a stickler because I feel like wrestling is a sport where you get the most out of if you're the one who makes yourself work hard."
Fellow athletes on the wrestling team feel the same sense of effort and initiative Futterman puts into every practice and match, Thomas said. "Liam is the bond that turns us from a team into a family," he added. "We all look up to him and his work ethic to always improve."
With many new members on the team this year, Futterman aims to create an encouraging environment during practices and to build a strong connection with the team. "As long as I can make people on the team feel like they have a good support system and they can have someone they can look to as a role model, it will also help me work hard," he said.
Numerous teammates feel the benefits of Futterman's guidance and partly attribute their success to him. "He is a natural leader, I love how he cares about every kid on the team and always goes out of his way to make everyone feel comfortable and important," Quilty said.
Aside from practicing at school for the regular season, Futterman also practices at a wrestling club called Edge in Hoboken, New Jersey during the spring and summer. He goes to the club three times a week, practicing regularly with people who wrestled in college. This extra personal time is a great chance for more intricate focus on technique and training, he said. Futterman has shown significant improvement in technique from last year to this year because of this extra practice, Quilty said.
This year, Liam has had more experience and practice competing in large competitive tournaments, particularly with the competitions every Saturday in January, Quilty said. "He has learned from previous mistakes and now he is prepared to dominate in our postseason tournaments."
Futterman often looks to Coach Quilty, who has over 50 years of wrestling experience, for advice, as well as his dad and brother who used to wrestle, his earliest inspirations. His admiration for them originates from their hard work and commitment, both qualities he hopes to keep throughout his wrestling career, he said.
As Futterman has wrestled since Middle Division, his love for the sport is truly evident in his desire for improvement. His aspirations to wrestle in college, alongside the pride he has in the team, plays a significant role in his life at HM, he said. He hopes to reach the city and state championships next year, he said.
The added stress and effort that comes with the sport gives Futterman a sense of purpose. "I like the mutual satisfaction of knowing that you make it through the tough matches through hard work and you can look back and feel proud of it with the support of your team," he said.