Familiar faces, unfamiliar stories: Olive Keegan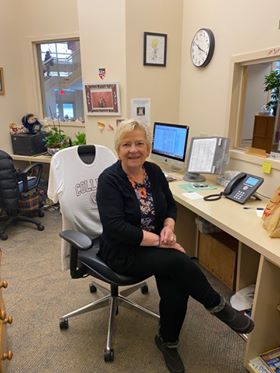 Olive Keegan is the bubbly telephone receptionist who is adored by students and faculty in the Lower, Middle, and Upper Divisions. Keegan is the person who says "Horace Mann School, may I help you?" when the phone rings, but her job is much more than that. In her 30 years here, Keegan has had enough experiences to "write a book. A good one," she said.
Keegan was born in Ireland, and lived there for most of her childhood. In 1965, Keegan immigrated to New York along with several family members including her mother and father, twin brother, and younger twin siblings. Some of her older siblings were already living in America at the time.
Living in Ireland during Keegan's youth was difficult, she said. "We only ate vegetables; there was never any meat. It was just too expensive," she said. The gap between the wealthy and working classes was significant and widening further, creating tough times for Keegan's family. "You were either rich or poor," she said. "And the rich got everything."
Life in Ireland was hard, but Keegan never let it get her down, making the most of what she had, and always keeping a sense of humor. Keegan was once at a store buying tea, when a woman in line behind her became extremely angry with Keegan for purchasing the last packet of tea. In response, Keegan filled a tea packet with turf and waited for the rude woman to open it. "I had a good laugh," Keegan said. "I knew she would get turf instead of tea!"
The move to a new country was shocking and a difficult adjustment, especially because the city experienced a major blackout only a few days after Keegan arrived, she said. "I wanted to go back home the next day," Keegan said. However, with time, she began to appreciate her new home. "I was delighted to be here, surrounded by all these different backgrounds," she said.
Keegan went to school in Ireland and earned her high school equivalency (GED) here in New York. She then enrolled in college courses and settled down. She worked at the New York Telephone Company and soon after became a receptionist at Horace Mann.
This year is Keegan's 30th at the school. Keegan is usually the person that answers the phone when someone calls the school, and will either answer a question or route the call to another line. "She is always so helpful with whatever is needed," Administrative Assistant to the Head of Upper Division Diana Gonzalez said. "She answers the phone calls, keeps track of the calendar, and lost and found. It's a whole array of things."
A lot has changed since Keegan's first moments here in 1990. Her office used to be on the second floor of Olshan, near the library. Because there were no telephones on the third floor, Keegan would have to run between classrooms to deliver messages. Now, Ms. Keegan is situated outside of the main office and communicates messages via switchboard.
However, some aspects of the school have remained constant. The spirit of the school community has always motivated Keegan throughout the years. It has always been an uplifting and positive environment. "It's a joy to see the kids; the laughter in the hallways." Keegan said.
Hannah Katzke (9) said that Keegan makes a huge impact on our community as a receptionist.
"She always brings joy to our community through her friendly greetings," Madison Xu (9) said.
Keegan is known for her bright smile and generosity, Bill O'Sullivan, Senior Supervisor of Public Safety said. He described Keegan as a wonderful coworker. "I always love when Olive is here to help out. We are usually here on a lot of Saturday mornings when the SAT or ACT is being administered, and she will always pick up fresh bagels for everyone," O'Sullivan said.
Gonzalez has been friends with Keegan for over 15 years. Because the two live in the same neighborhood, they often commute to and from school together. "She is always a very friendly face," she said.
"It's a happy family place," Keegan said, describing the school. Family is very important to Keegan. She values all of the friendships and connections that she has made in her time working at the school. As for family outside of school, Keegan is a loving grandmother who frequently attends her grandchildren's basketball and softball games, she said. Two of her grandchildren visited Horace Mann to wish Keegan a happy birthday a couple of weeks ago, O'Sullivan said.
Some students say hi to Keegan every morning, Jessica Thomas (12) said. "I love that woman!"
Although Keegan loves many things about the school, her favorite moments always include the kindness of the community. "I love it when students stop by and say hello!" she said.