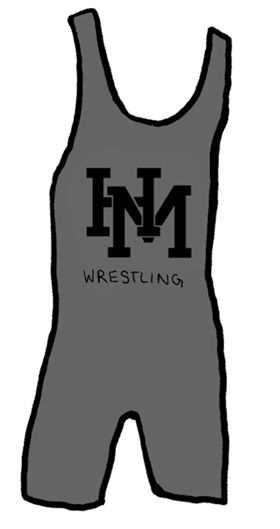 The Varsity Wrestling team finished the season with a 13-2 record, winning the Ivy League and nearly matching last year's undefeated record. The Lions placed first in the Ivy League Prep Tournament with 14 semifinalists, ten finalists, and four champions.
While team members were disappointed with their loss against their rival Poly Prep, during the regular season, they avenged the loss by beating Poly in the Ivy League Prep Tournament, Captain Liam Futterman (11) said.
Futterman, Nicholas Moreira (11), Patrick Stinebaugh (10), and Ross Petras (9) all placed first in their respective weight classes at the tournament, according Coach Gregg Quilty.
The team has come through in close situations during each of their last two games with electrifying performances from Jaden Picarillo (10) and Harry Lowy (10), Elias Romero (10) said.
"The highlights of the season were seeing the younger wrestlers start to win tough matches that they weren't winning previously," Futterman said. "The best moment for me was when first-year wrestler Jaden Picarillo got his first ever win against a senior and team captain from Trinity who has been wrestling for four years," he said.
Moreira also stepped up big this year, winning three individual tournaments, Jacob Schorsch (11) said.
The team overcame various obstacles over the past year, losing four seniors from last year's team and, at times, playing without Futterman or Romero, who missed time with head and elbow injuries, respectively, Schorsch said. Through all of this, "Captains Bernard Von Simson (12) and Liam Futterman have continued to embody a culture that entails the idea of grueling practices leading to success and always wrestling for one another," he said.
"They both hold this team on their backs and have become such inspirations and muses to who the wrestlers on the team want to be," James Thomas (10) said.
Everybody on the team looks up to the captains, aspiring to wrestle and serve as leaders the way that they do, Thomas said.
"Me and Bernard led by example of working hard in practice, but we didn't get on the teammates who didn't have as much drive to put in work because that would have led them to become discouraged," Futterman said. "Wrestling is better when you aren't forced to love it."
Futterman has wrestled dominantly all season long, and any time he wrestled, his teammates almost knew they were guaranteed the win, Romero said.
Futterman placed top three in three out of the four matches he participated in, Quilty said.
The Lions will do all they can to continue their high level of wrestling as they look forward to the New York State Association of Independent Schools (NYSAIS) qualifying tournament this coming weekend, Romero said.
"While we were not able to stay undefeated this season, I have full confidence that we will win NYSAIS," he said.