Student Written One Acts: Meditating on misogyny in 'Advanced Placement'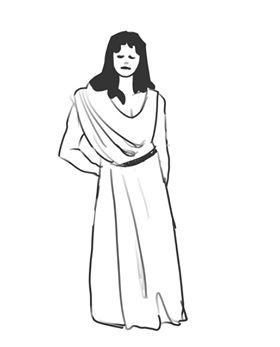 Months of hard work put in by actors, directors, set designers, costume designers, and shop keepers will be showcased on Friday, February 7th and Saturday, February 8th in a captivating performance about feminism and how it developed over time through art and daily experiences.
"Advanced Placement," penned by Charlotte Pinney '19, takes place in a community that students at Horace Mann are quite familiar with—a classroom. The story follows seven female characters—a teacher and six students—as they get to know each other and develop as their own women in an AP Art History Class over the course of the year, Director Haila VanHentenryck said. "It is also about art and feminism and the way that women depict themselves in art versus how the world represents them," she said.
"The play explores how the male gaze has evolved over time from the context of paintings from thousands of years ago to the characters's lives today," Jordan Ferdman (11) said. Ferdman plays the character, Jackie, in the play.
Towards the middle of the play, the audience finds out that one of the students, Kat, had previously sent explicit photos to her boyfriend, who had become abusive towards her, Emily Sun (9), who plays Kat in the show, said. However, when she tries to break up with him, he uses these photos as blackmail to force her into staying with him, Sun said. "Kat's experience shows how violent the male gaze is, and brings the consequences of it out of the theoretical art world, into real life," she said.
"In AP, the power of confronting the gaze that is perpetually projected onto females in art is really important," student director Kyra Mo (12) said. "The actors were so ready to be vulnerable on stage, which was a huge step to unpacking and exploring the psyches of their characters."
"We have an amazing relationship with Kyra, who is the best and has made this process infinitely more wonderful than I could have imagined it being," Ferdman said.
"Directing 'Advanced Placement' specifically was beautiful for me as a female director because I was able to direct an all-female cast with a female assistant director, which is not an opportunity that you get a lot," VanHentenryck said.
"The cast is so invested in this text and their characters," VanHentenryck said. "I am so proud of the way that they developed this story," she said. However, the topics that the play explores are intense, and "it has been hard to deal with heavy and somber emotions every single rehearsal while still keeping a positive rehearsal room," VanHentenryck said.
"I think that the cast has done a really good job of balancing the heavy topics that the play is concerned with," Ferdman said. "Towards the beginning of the rehearsal process, there were a lot of tears and I think that really serves as a testament to how powerful the script is," she said.
Every rehearsal was emotionally deep and the cast had frequent discussions about how they feel as actors about the issues, Ashley Dai (12) said. Dai plays the character Marnie in the play. "We definitely explored topics that I had to dig a little bit deeper into myself to fully understand how my character would feel," she said.
"What is really great about the show is the friendships that I have with the other actors, because the play covers really heavy topics, so having a close relationship helps us deal with things together," Sun said.
From the beginning of the rehearsal process, the cast bonded through their connection to the text and the characters, Mo said. "Even outside of rehearsals, the actors would come up to me in the hallways and tell me about a new idea that they had been thinking of for their character," she said. "I just feel so incredibly grateful to have a cast that is so close and so supporting," she said. "I really feel like it is a reservoir of strength and enthusiasm. It was such a joy to work with the actors," Mo said.
"A lot of the rehearsal process and being a part of such an emotional play really brought us closer together," Dai said. "In a lot of the rehearsals we just cried together. Getting through a lot of these emotional scenes really helped us bond," she said.
Ferdman had never worked on a show in which she was so intensely connected to both the cast and the characters. "It's really great that we support each other especially when someone has a particularly hard day and the subject matter is a little too much," she said. "Each role is very emotionally demanding in very different ways and I think that supporting each other through them has been a very special part of the process," she said.
"We have a group chat that is very active and we make memes and TikToks about the show that wouldn't make sense to others," Ferdman said. "I come to school every day and I am most excited to see that cast," she said.
The entire process has been student-driven which is terrific, Van Hentenryck said. "The underlying theme of authenticity and what we perform for other people is so powerful and I can't wait for everyone to see it," Van Hentenryck said.