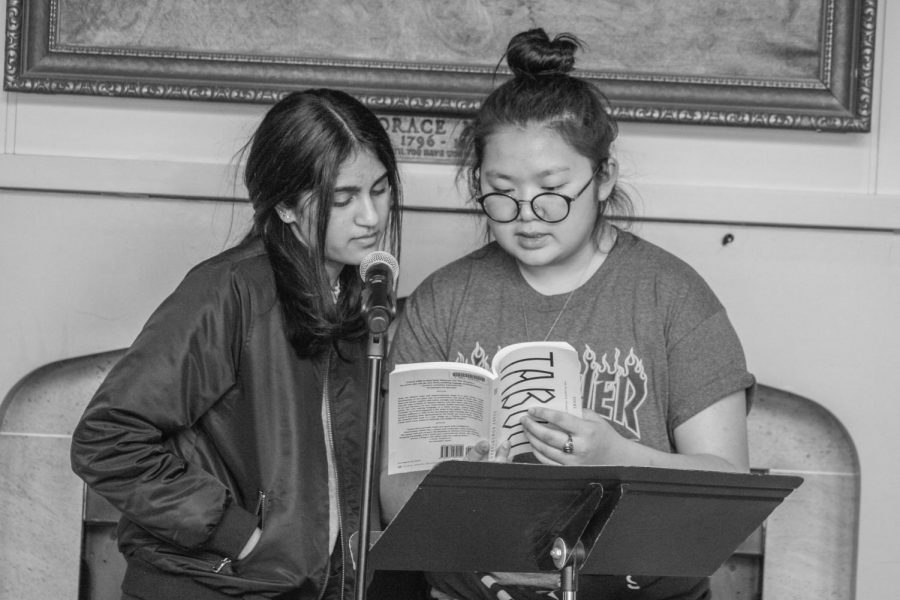 Poetry is a reservoir of emotion, energy, and psychology, English Department Chair Vernon Wilson said. On Monday in Olshan Lobby, students accessed these facets as they listened to and shared poems by authors of African descent in a celebration of Black History and Future Month.
The event lasted from F to H period on Monday and will be held again on Friday F to H period, Wilson, who has hosted it for the four years he has been chair of the English department, said.
As students and faculty members arrived at the event, Wilson laid out a selection of books and anthologies of poetry written by authors of African descent on the tables in the lobby. He instructed students to peruse the books with the intention of selecting a poem to read aloud.
The event was an engaging new experience,Ethan Irushalmi (11) said. "Usually, I never read poetry and poetry specifically on Black History Month or African Americans as a whole, so some of the language and poetry that we've read was really good to hear."
The attendees read poems varying over subject and time period, including some famous contemporary works like "American Sonnets for my Past and Future Assassin" by Terrance Hayes, "Life on Mars" by Tracy K. Smith, older poems by writers like Lucille Clifton and Langston Hughes, and poems by lesser-known authors, like "(Afro)dite: A Black Girl's Guide to PWIs" by Elon Collins, a 2019 graduate of Riverdale Country School.
Through reading Collins's poetry, Sonia Shuster (11) said that she learned about the experience of attending a primarily white institution (PWI) as a person of color. Overall, poetry can help a reader learn about others, thus building empathy, she said. "Writing is like a kind of outflow of emotion. So when you read someone else's emotions, essentially on page, you can understand them better."
Poetry fosters an understanding of others since it's often told from the first person, film, video and photography teacher Jordan Rathus, who brought a photography class to the event, said. Like photography, where the viewer can see an image of someone else, poems offer a perspective into the author's identity. By reading poems aloud, the readers are speaking from the point of view of the authors, she said. "There's something about the act of actually performing it and having these words spoken by you that does force you into an experience that's more direct," Rathus said.
For Laila Farmer (10), reading poems aloud gives them a different meaning, she said. "You can really enunciate some of the words that have a more powerful meaning. Whereas in your head, you're just like, 'Okay, so this is like, this is what it means.' When you actually say it, you bring you basically bring the words to life and that really resonates with people."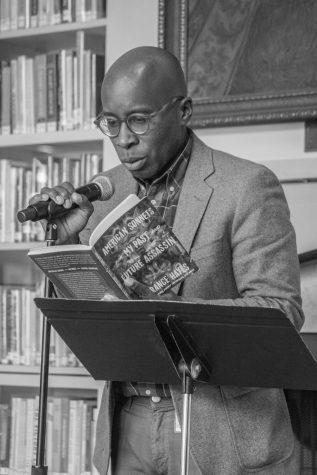 Through poetry, students learn about and appreciate one aspect of African American culture, and its large contribution to American culture, Wilson said. "Some of [the poems] are much more explicitly about African American life, experience, identity, right? But again, others are just naturally just very human. And they kind of are not specifically about anything happening explicitly to do with African American history or culture or anything like that."
Unlike other forms of literature, such as plays, novels, or screenplays, poems can be easily memorized,and briefly capture the historical resonance of a culture or group, whether African-Americans, Latinx groups, or women, Wilson said. "Poetry can be used to clear away or help to kind of shine a shining light on under-appreciated aspects of a given culture, pieces of culture that might otherwise be forgotten, or might not be known at all voices that might be that might not have been heard."
Alexei Le (10) said that reading poetry offers a deeper level of understanding of African Americans in history than simply reading a textbook. "Finding a way to actually understand the emotions of the people going through something is more like helps you sort of understand the gravity of what happened," he said.
Once a student found a poem that they wanted to share with the rest of the attendees, they walked up to the front of the lobby to read it. Wilson invited the audience to read alone, in pairs, or in a group; whichever way they felt comfortable.
At the beginning of the readings, Wilson said, attendees were not entirely comfortable reading aloud in front of a group, but by the end, the event had gained momentum. The energy and excitement of the reading, rather than the quantity of students, is how Wilson said he measures the success of the event.
At the beginning, students who had not participated in a poetry reading before were a bit nervous to read, Shuster said. By the end, however, the audience was enthusiastically participating and volunteering to read.
Students may not have been comfortable because race is a sensitive topic, Farmer said. English and history classes should talk more about race so that people can think about the idea of race critically, which will help, but not alleviate the discomfort that comes with talking about race, she said. "It's just a really nasty thing that went on in American history. So that's always going to be a part of learning it and talking about it."
There were moments when the space was silent except for the flipping of pages and the shutter of a camera as students pored over poems to find one that they would like to read. For Wilson, these moments indicated a cycle of listening to one another, appreciating, and reading.