Three members of wrestling team compete in NYSAIS tournament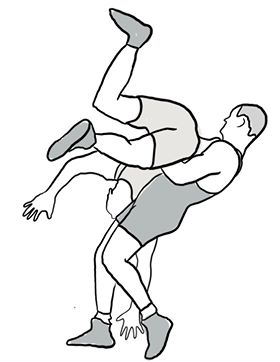 This past weekend, Liam Futterman (11), Nic Moreira (11) and Patrick Stinebaugh (10) wrestled in the New York State Championships representing the NYSAIS (New York State Association of Independent Schools) division.
New York schools are divided into 14 sections for wrestling, one of which is NYSAIS. Each section brings their champions from each weight class to compete, according to HM Wrestling Head Coach Gregg Quilty.
Quilty was the coach of the NYSAIS team, which was comprised of wrestlers from several different independent schools. "We practiced together for three weeks. Each day we would go to a different school to practice. We practiced at Hackley, Collegiate, Brunswick, Horace Mann and some other schools," Quilty said.
The experience of practicing with wrestlers from other schools was very unique, Stinebaugh said. "All the wrestlers were very friendly and there were no hard feelings between anyone."
The state championship was held on February 28th and 29th at the Times Union Center in Albany with a packed crowd in attendance. "As someone who loves the sport so much, it was great to see all those people in the stands," Futterman said.
On the other hand, the atmosphere was very different from their normal tournaments because teammates were not all lined up on the side cheering the wrestlers on, instead they were in the stands, Quilty said.
The team faced off against talented wrestlers in the tournament. "[Our opponents] are some of the best wrestlers in the country. New York state is very strong. We see guys in the NCAA (National Collegiate Athletic Association) championships that we faced in the New York State championships," Quilty said.
"There isn't a single weak wrestler in the tournament," Futterman said. "These wrestlers are much better than any others we have faced this season."
Additionally, the competitors wrestle nationwide and have been wrestling in year-long well-coached clubs since a young age, Quilty said.
All of the Horace Mann wrestlers had similar mindsets going into their matches. "I knew going into the competition that it was going to be tough," Moreira said. "I really wanted to leave the mat knowing that I gave my all."
Although the Horace Mann wrestlers put up a strong fight, the results were not what they had hoped. Futterman was the only one to win a match in his double elimination bracket.
"Liam wrestled a kid from Eagle Academy in the Bronx. They were back and forth the entire match. It looked like it could have gone either way. Then, Liam capitalized on a mistake by his opponent and pinned him in the second period," Quilty said.
Both Futterman and Moreira were inspired by the level of competition at the tournament. "There is still room to improve and I can't stop working," Moreira said.
"It was inspirational seeing how good the kids are. I just have to keep working harder. You can always get better," Futterman said.