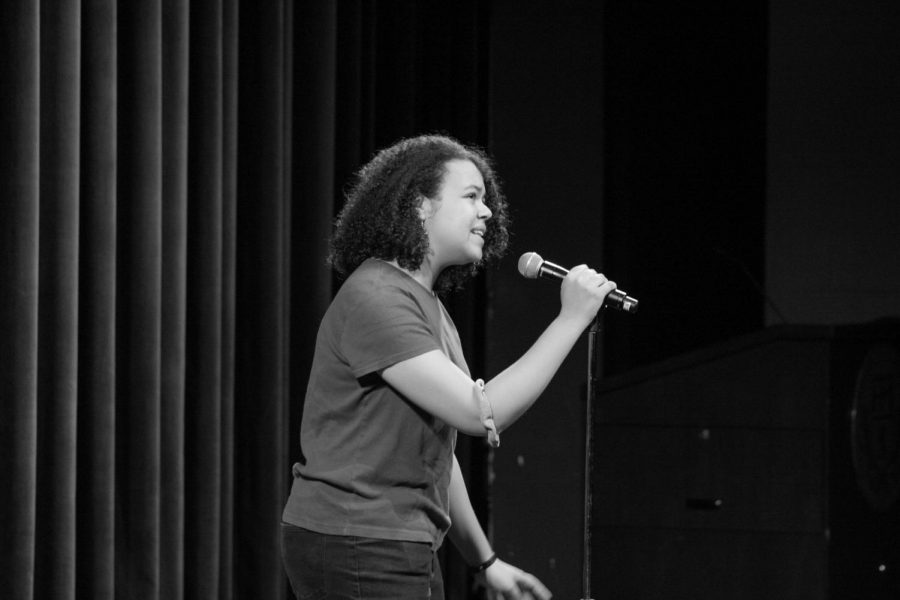 As students rushed into Alfred Gross Theatre and the Recital Hall from Tuesday's New York State Association of Independent Schools (NYSAIS) accreditation fire drill, performers took to the stage for a student showcase assembly.
Showcase assemblies serve as a way for students to learn about talents their classmates have that they otherwise might not have been aware of, Upper Division Library Department Chair Caroline Bartels said. This assembly was an example of this, with many students bringing unique and previously unrecognized talents to the stage.
The myriad of student acts kicked off with steel drums performance in the Recital Hall: the first band played the popular children's song "Baby Shark," the second band played 70s classic "Ain't No Mountain High Enough," and the final group played "Dancing Queen" by ABBA.
Next, the Student Body Presidents (SBPs) introduced Dylan Chin's (12) senior reflection. Chin recounted his experience of falling in love with acting, dramatically pointing out his desire to make people think and laugh. "If I can do that for the rest of my life, isn't that the dream?" Chin said. "I like to be on stage."
In the next performance, Chin induced laughs and thoughts from the audience as he co-starred in two student films from the Acting for the Camera elective alongside classmates Spencer Kahn (12) and Wilder Harwood (12). Kahn introduced the silent films, "The Play's the Thing" and "The Physics Test," both directed, written, produced and acted by members of the class.
Both short comedies garnered many laughs from the audience, one telling the story of a friend third-wheeling a couple as he attempts to be included, and the other illustrating two students creatively trying to cheat and collaborate on their physics test without the teacher noticing.
After the films, Treble Choir performed "White Winter Hymn" originally written by Fleet Foxes in 2008, accompanied by a choreography of hand gestures, which took quite a few classes to learn, Treble Choir member Rosy Arora (11) said. "This year, that has been our most successful piece that we've worked on and also the hardest." Arora said.
Shortly after, Janet Christian (11) performed a cover of "Accidentally in Love" by Counting Crows. As she delivered a lively and engaging production, the audience cheered on with accompanying claps to the rhythm of the song.
Next, members of East Wind West Wind (EWWW) donned onesies and danced to a medley of Korean Pop songs, including "Psycho" by Red Velvet, "Boy in Luv" by BTS, and "Chicken Noodle Soup" by j-hope. This dance, first performed at Asia Night, was taught by Samantha Tsai (11) and was a culmination of all the hard work that EWWW put into Asia night, EWWW member Lindsey Cheng (11) said.
"I think that [performing in front of the school] is kind of fun and funny in a way," Cheng said. "Everyone enjoys the dance, and I think that everyone enjoyed watching it at Asia night too."
Bartels said that student showcase assemblies are important to allow members of the community to shine by impressing themselves and others. "People like Janet Christian were a revelation," she said. "Did anyone even know that she sang? I think those moments like that are just really good to have, especially when not enough people go to [school] concerts."
Due to the fire drill, some events had to be cut from the assembly, such as another movie from the Acting for the Camera elective and a second senior reflection. However, Bartels hopes that these performances can take place at the next SBP assembly, she said.
"It's important for kids to reach out and say 'Yeah, I'd like to perform," [so I] can let them have that opportunity," Bartels said.