Class of 2021 faces uncertainties about the college process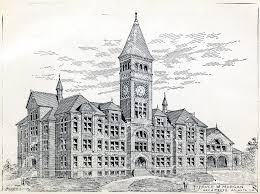 On Monday night, the school held a webinar for students and parents over Zoom to address the growing concerns surrounding the impacts of the COVID-19 outbreak on the Class of 2021 college process.
The panel began as a meeting between Executive Director of College Counseling Canh Oxelson and Compass Test Prep, the company that administers mock SAT and ACT tests for the school's sophomores in June, Oxelson said. What started as planning to remotely administer the practice tests grew into a conversation about the overall effect of the pandemic on testing for juniors. This led the school to partner with Compass Test Prep, Avenues, Cate School, and Cornell University to discuss more broadly the unprecedented challenges juniors may face when applying to college, Oxelson said.
"For a process that's notoriously defined by uncertainty and a level of randomness, it's really scary that this is something that no one has ever really experienced to the same degree before," Jordan Ferdman (11) said. "All of the other unknowns that are inherently a part of applying to college are exacerbated."
STANDARDIZED TESTING
One such unknown for students is navigating altered standardized testing schedules and content. Ferdman, for example, spent months preparing for the April ACT, which has now been cancelled. Standardized testing is essentially a measure of how well you can take a test, a lot of which is determined by preparation during a very specific time frame, she said. "The fact that that is all thrown out of whack now is very [stressful]."
Although most juniors would have loved to be finished with testing by the end of this year, that would be unrealistic even without coronavirus, Oxelson said. Over the last five years, roughly 70% of students have tested in the fall of their senior year, he said.
Additionally, Oxelson is sure that the College Board and ACT will do their best to give students more testing opportunities because test registration is the companies' largest revenue generator, he said. Both companies have traditionally administered tests once a month, but are now considering increasing the frequency, Oxelson said. As an approved testing site, the school is prepared to administer tests whenever necessary, including over the summer, Head of School Dr. Tom Kelly said.
The College Board has chosen not to cancel AP tests this spring. Because AP tests can no longer be administered in person, students have the option of taking them online or handwriting their answers and submitting a photo, according to the College Board's website. Additionally, the tests have been shortened to 45 minutes and cover less material.
The AP French test, for example, now only includes two oral sections, instead of reading and writing. For Yana Gitelman (11), who takes AP French, having less material is a positive change that has increased her confidence in the test, she said. Leyli Granmayeh (11) still feels prepared, but the shift to a fully oral test is a big change and slightly confusing, she said.
Madhav Menon (11) is concerned that students may cheat on AP tests now that they are online. "Everyone's taking the same one or two questions, so it's hypothetically really easy to just FaceTime a friend and do it with them," he said.
Besides potentially providing college credit, AP exams have historically served as a way to demonstrate knowledge of high-level material to colleges. Granmayeh is unsure of what anti-cheating measures have been taken, but she feels that the reduction in content and potential for cheating will take away from the impact of a good score, she said.
For some, standardized testing indirectly impacts other aspects of the college process. Zoë Swift (11) is looking to be recruited for volleyball. Part of the recruiting process involves academic prereads, where coaches look at prospective student athletes from an academic standpoint. Coaches won't be able to consider Swift until after she has taken the SAT, she said. A combination of this and the delay of her club season means that she likely won't be committed until late July or early August, as opposed to late June, she said.
COLLEGE VISITS
The virus' closure of many universities also creates issues regarding campus visits, which junior families have expressed worry about, Oxelson said. College Counseling's annual spring break college tour was cancelled, and students who had made their own arrangements to tour colleges had to cancel as well. Jake Federman (11) had been counting on the school trip to visit three colleges in California that he is particularly interested in. While he still plans on applying to them, schools that he has visited are now higher on his list, he said.
This summer, Swift will be able to see some schools at volleyball camps and clinics, but ultimately, whether she has visited a school or not won't have as big of an impact on her final choice, she said. "It's a choice: do I want to be committed, or do I want to wait until the fall and potentially lose my spot for a school that I know I'm going to like," she said.
Oxelson believes students should take into consideration that even in normal times, being able to visit a school is a luxury that thousands of students around the country don't have, he said. "We're really in a blessed situation where we're used to being able to visit," he said. "My experience over time is that if kids are really thoughtful about what it is they're looking for, and can articulate that on some level, you can find that information online."
While Federman believes this is possible for some, there are certain schools that he would need to visit in order to truly understand what it feels like to be a student there, he said.
A virtual tour will never be the same as visiting a school in person, Oxelson said. Students can try to connect with current students at colleges, but there is no way to fully replicate the emotional connection that some make by physically visiting, Oxelson said.
Students who haven't had the opportunity to tour many schools are concerned about being able to demonstrate their interest in those colleges, because many colleges use tours to gauge student interest in their school.
Granmayeh has not toured yet this year, and she worries that this will be a disadvantage. "The advice was just to do virtually everything that you can, sign up for their email list and take virtual tours and do a lot of that and colleges will keep taking you into consideration," she said.
Seniors are experiencing a similar challenge: now that they have received their college decisions, some had hoped to revisit schools before making a final choice.
Jayla Thomas (12) is currently deciding between two schools. Although she had planned to spend a night on both campuses, she no longer has that opportunity to aid her decision. The schools are still hosting virtual events such as accepted students' days, but not being there in person "takes away the magic of it," she said.
SECOND SEMESTER GRADES
Furthermore, the unprecedented transition to online learning fosters uncertainty regarding Juniors' second semester transcripts. The second semester of junior year is an important set of grades that many students were counting on to showcase their improvement to colleges, Sophia Brothers (11) said. Brothers worries that colleges won't weigh this semester as heavily as they used to because of the current situation, she said.
Rumors and petitions regarding a potential switch to a pass/fail grading system for the semester have been circulating, with mixed reactions. Gitelman would personally prefer letter grades, because they encourage her to work harder, she said. On the other hand, she understands that grading during online school creates an issue of access, giving students with better WiFi access and at-home situations an advantage over others, she said.
For Menon, the idea of a switch to pass/fail is stressful. He worries that if less weight is placed on the second semester of junior year, the amount of pressure during the first semester of senior year would increase tremendously, he said.
"Switching to non-optional pass fail would be incredibly unfair to those who have worked incredibly hard this semester with hopes of receiving good grades," Maxwell Resnick (11) said. Resnick believes that a plausible idea would be if the school switched to an optional pass/fail system since everyone is in a different situation, he said.
A group of seniors has created a petition in an effort to persuade the administration to move to pass/fail for their grade specifically. Resnick believes this petition should not play any role in the decision-making process. "I understand that this is their 'Senior Spring,' but that should not prohibit those who are working hard to earn strong grades from doing so."
For now, the school plans on continuing to use letter grades to assess students. "While some colleges may question some high schools' grading during a period of online instruction, I think our reputation speaks for itself," Kelly said. "Grades online and grades when school is in session will carry the same weight and value. That said, I know that schools will look to the counselor recommendations especially if a student is experiencing difficulty in school because of unforeseen changes resulting from the pandemic."
OTHER CONSIDERATIONS
The pandemic is also affecting students' summer plans. Gitelman had planned on participating in two summer programs and volunteering or canvassing for a political campaign, she said. So far, nothing has been cancelled, but there is a lot of uncertainty, she said.
Despite this uncertainty, Gitelman isn't worried about the impact this summer will have on her application, she said. She can still do what she enjoys and show colleges her interests by being more creative with her summer plans, she said. "I wanted to volunteer this summer anyway and COVID has created a huge window for helping people through delivering meals, making calls et cetera, so I'm getting involved with that," she said.
Federman received a summer internship that he could still complete from home if necessary, but he understands that other people weren't as lucky, he said. "Summers are our opportunities to show colleges that we are really curious about a specific field or two, and to learn or practice it at a high level," Federman said. "Without that opportunity to put that on our application, college admissions officers might not be able to understand how exactly a prospective applicant might experience their school."
At Monday's meeting, speakers emphasized that colleges will do their best to take all of these challenges into consideration, Oxelson said. "Every time we've had to deal with something with colleges, they've always been flexible, and they give kids the benefit of the doubt," he said. "It's just hard to know exactly how that's going to play out. I'm pretty confident that colleges are going to do the right thing."
Brothers felt that the meeting provided little new information, and left many questions unanswered, she said. Regardless, it was comforting to be reminded that everybody is in the same boat, she said. "The college counseling department's effort was really awesome and helpful, but with the current state of affairs, there really isn't anyone that could provide conclusive answers to the questions we have," Resnick said.
"[People] are comforted by Horace Mann, but at the same time they're acutely aware that there's not really anything we can do right now," Ferdman said. "Which is scary because I think there's a tendency to think of Horace Mann as this all-powerful institution that stands as this sort of beacon of knowledge and endless trust and that's not the case right now."
"The good news is everyone in the U.S. and beyond is in the same boat," Kelly said. "This is where we are going to count on our school's good name, and a legacy of engaging thoughtfully with our peers at a growing number of colleges and universities. Make no mistake – this isn't our first time to the rodeo, nor our first time dealing with unsteady seas in the midst of the college admissions process. We'll listen carefully to what each school shares about its admissions process and advise our students accordingly."