Empathy during an epidemic: School contributes to medical and academic relief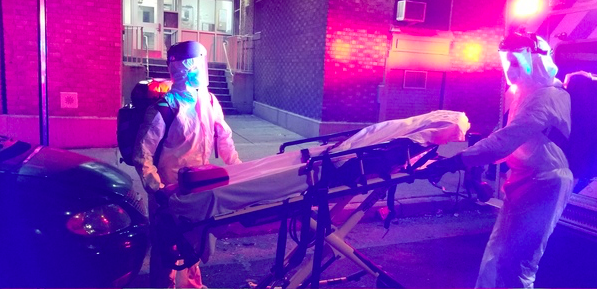 MEDICAL RELIEF
Last Friday, the school donated 250 masks, 500 pairs of gloves, 40 protective suits, 2,000 alcohol wipes, and 10 plastic face shields to the Central Park Medical Unit (CPMU). The CPMU is an all-volunteer ambulance service that provides free emergency medical services to Central Park visitors and the residents of the streets surrounding the park, President of the CPMU Rafael Castellanos '09 said.
Castellanos emailed Head of School Dr. Tom Kelly asking for help and he wrote back within five minutes saying that he would love to, Castellanos said. "Shortly after that, we went up to Horace Mann and picked up a very generous donation of personal protective equipment (PPE) and that PPE was used the same day that it was donated."
The CPMU has had relations with the school for a long time, Kelly said. "HM was honored to provide them with protective gear."
The school had ordered a large amount of PPE before COVID-19 even made its way into NY, Kelly said. "As with all things HM, being one of the largest independent day schools in the nation requires us to prepare well in advance."
"We have been receiving a lot of donations from people like Dr. Kelly and Horace Mann, but we still don't have enough and we need to be able to keep our volunteers protected," Castellanos said. The CPMU has been facing a lot of challenges during the COVID-19 pandemic, he said.
"Every single health care organization in NYC is short-staffed and doesn't have the gear they need," Castellanos said. "It's a huge strain on our manpower, it's a huge strain on our equipment, and on our money. It's very expensive to be purchasing all this equipment and to be operating in this way." The CPMU is very grateful for the generous donation from the school, he said.
ACADEMIC RELIEF
Last week, Kelly also announced the donation of 160 iPads and keyboards to The Ideal School of Manhattan (IDEAL), an inclusion school which serves both neurotypical students as well as kids with disabilities. Head of the Ideal School Janet Wolfe was incredibly grateful to Kelly for reaching out with this generous offer, she said. "We're just so thrilled by this gift. It's really going to be transformative as soon as we get them in the hands of our students."
"While sitting around the table with several colleagues two weeks ago, we began to discuss the schools that did not have the resources to teach online or teach to the teacher's greatest capabilities," Kelly said. "IDEAL is a wonderfully inclusive program and it was only natural to reach out and see how the school could help their students and not just students here."
"Like all schools, we are having to reinvent ourselves as an online learning platform," Wolfe said. Having iPads will allow for the school to suit the learning of each student which will ultimately help the students thrive, she said.
These iPads will also be beneficial to IDEAL after this crisis is over, Wolfe said. "The fact that they're just at an outright gift to the school means that even when we return to Ideal and face-to-face learning, we'll be able to apply all of the new things that we've learned about technology and how it supports differentiation in instruction," Wolfe said.
"We have been running a social media campaign called #IdealThanksHoraceMann," Wolfe said. This is IDEAL's way of showing gratitude to Horace Mann and Kelly for the kindness he has shown them, she said.
The school is trying to help other NYC communities in any way they can, Kelly said. "In the midst of a crisis, it's human nature to think about yourself or just the organization you represent. Sometimes we forget how fortunate we are to have HM and each other."
"We've seen countless selfless acts from employees, parents, alums and even students; we recently had a group of Upper Division students host a concert through Zoom for those residing in an assisted living center," Kelly said.
"In so many ways, I think this experience is going to make the nation less selfish and more appreciative of the relationships we have and the need to tend to them more purposefully," Kelly said.
Picture information: "a picture of the school's donated gear being worn by members of the Central Park Medical Unit; one of the leaders of this group is an HM alum – Rafi Castellanos."