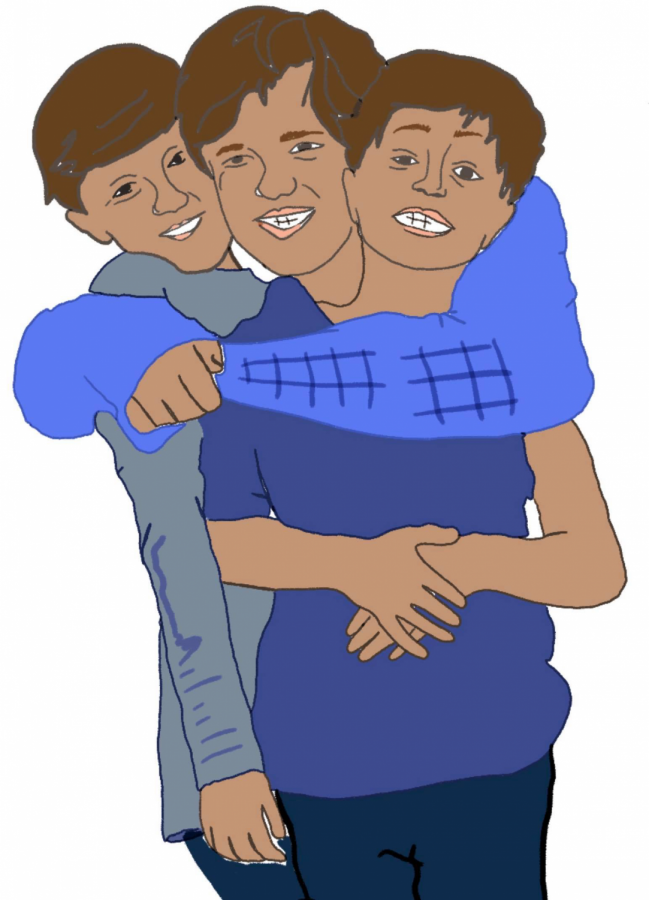 "It's definitely strange living with my siblings again," Tino Caer '19 said. "I got used to a very different sort of lifestyle in college and all of that has kind of been thrown out the window."
As college students returned home for their spring semesters due to the coronavirus, they were confronted with an unusual issue: how would they adjust their dorm lifestyles to be compatible with their parents and younger siblings' routines? Forced out of a lifestyle of independence, many college students are once again required to help out around the house or abide by their parents' rules.
"You feel like you're five years old," Audrey Shapiro '17 said. Audrey, a junior in college, hasn't lived with her parents for several years and has felt like she's being micromanaged, she said. She's had some small disagreements with her parents over personal preferences such as leaving condiments on the table, but it has been nice to reconnect, Audrey said.
"Recently, we've been having a lot of fun as a family playing some very competitive poker," Audrey said.
Maddie Bender '16 has also been forced into unconventional conditions, she said. "It's kind of difficult to share the bunk beds that we shared when I was in high school, now that I am 22 years old and accustomed to living in my own space." Living together again has allowed her to grow reaccustomed with some of her sister's preferences, Maddie said.
For example, Eliza Bender (12) said that she has always preferred listening to audiobooks before bed, which used to bother Maddie, but now they listen to podcasts together.
Losing one's sense of independence has the potential to negatively impact development. JR Thorpe of the Bustle, a media publisher, recently reported that during one's college years, the prefrontal cortex, the decision-making center of the brain, continues to develop and become more efficient through refining and repetition, not simple growth.
Indeed, the human brain develops reactively to certain events, a concept called neuroplasticity, which is why it is important for people preparing to enter adulthood to begin making their own decisions so that their brain can understand and adapt to possible benefits and repercussions, according to the US National Institute of Health (NIH).
Independence is also known to stimulate and strengthen college-age students not only academically but also emotionally. The challenges of college, such as time management, class debates, and discussions, compel the brain to adapt while it's still neuroplastic. If independence is delayed and the challenges of life are experienced only after the brain's ability to change has plummeted, then the brain will have more difficulty adapting to them. Indeed, Anne Watson of Theravive, a therapist network, reported that increased independence at a young age has also been shown to reduce the risk of anxiety and depression over the long term. These effects play out over years and are unlikely to be felt to a large extent because, at least so far, school closures have only lasted for a month.
However, college students need not suffer as there are still many different ways to take on bigger decisions while at home. "You have a lot more responsibilities when you're living at home, such as helping to cook," William Golub '19 said. "In dorms, students are free to do whatever they choose, and students are all working together in classes and are all in the same place mentally and educationally."
For the spring quarter, William said he decided to take harder classes because he knew that he would have more time to devote to them at home. His lectures are all pre-recorded, so he can watch them whenever he wants; his parents don't enforce a strict schedule for him to follow like they did in high school, he said.
The logistics of multiple siblings taking online classes has proven for some to be the most difficult aspect of returning from college. For Lucy Golub '15, it has been hard to find a quiet space to work during classes since she and her other siblings, who attend a different university, generally have online classes at different times. When the Golub siblings do have simultaneous online classes, Lucy said, the Zoom meetings sometimes overload their home's WiFi and cause it to slow down.
Despite their different school schedules, the Golub family has also taken this time to reconnect with one another by playing games and having fun, Lucy said. "It's nice to see how my freshmen college siblings have grown up during their first year of college."
The Golub family has also set up a cooking schedule that has really brought the family together, William said.
The Shaari family's experience has been remarkably similar. Since the Shaari siblings frequently have classes at the same time, finding a "separate and quiet area to work in is surprisingly difficult," Michael Shaari (10) said. Additionally, the concurrent classes can slow the Shaaris' WiFi. Nevertheless, the family has found ways to manage these logistics. For example, they have created a shared Google Calendar to manage classes and spaces.
Moreover, Michael finds that knowing that his siblings are working while he is, "raises [his] morale," he said. Ultimately, he relishes reconnecting with his older siblings, Chris Shaari '17 and Ariana Shaari '16, who he hasn't seen for more than a few days since August. Michael especially enjoys rediscovering his siblings' playful "weekend" side and watching movies together with them, he said.
Tino and his siblings, Galahad Caer (11) and Arthur Caer (8), also said that they enjoy living together as a family again. Galahad and Arthur have carried on with their daily routines and simply added their brother into the mix, they said. "I've only been away at college for six months, but I appreciate being able to spend time with them and would be lonely without them," Tino said. While there have been some disputes between the brothers, Galahad and Tino agree that it has been nice to spend time with one another.
Finding a balance has been key for most families. The Lewis family, for example, has made sure to leave each other space while also reaching out to hang out together during these perilous times, Oliver Lewis (10) said. "I normally don't get to interact with my sister very much while she's at college, but I'm ecstatic we get to hang out now," he said.
Playing board games and completing activities together is how many families have reconnected under quarantine. "I've really enjoyed spending time with my sister doing puzzles," Lewis said.
During the time that they've spent together, Eliza and Maddie have also gotten closer. They watch movies, eat dinner, and film TikToks together, Maddie said. The sisters have had a lot of fun together; after Eliza cut her hair and the cut was a little slanted, Maddie helped her fix it, Eliza said.
However, not all siblings feel the same way. Charlie Shapiro (11) said that even though he has enjoyed spending more time with his siblings, it has disrupted his life as a single child, which he grew accustomed to while his siblings were at college. "I'm glad to say that I've reconnected with my siblings, but I hope this quarantine ends soon."