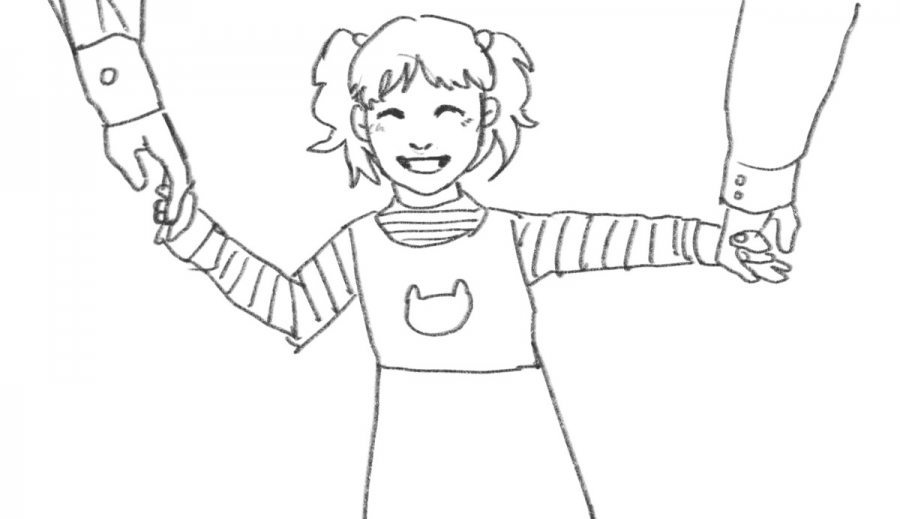 "I think technology has helped alleviate the dearth of a sibling since I can Facetime my friends when I would usually be going to the library during a normal school day," Justin Burrell (10) said. "Things like Facetime or Houseparty have allowed me to regain a sense of normalcy in seeing my friends' faces, even if it is through a screen."
The ongoing quarantine has provided many new experiences to children without siblings, who are spending prolonged periods only with people not their age.
"It can be frustrating to be the only person in your household who recognizes what it's like to go through this as a teenager," Mia Calzolaio (10) said. "Though I can connect with this with my friends online, it's definitely not the same as having people your age or close to my age in my vicinity at home."
Quarantine is worsened by not having a sibling, Calzolaio said. "As an only child, you have to find a lot of ways to entertain yourself that don't involve other people," she said. "That just continues when you can't go out with friends, whereas people who have siblings are just able to talk to their siblings."
Many only children agree, such as Burrell, who said, "I think being an only child definitely reinforces my sense of independence, because even if we weren't in quarantine, being an only child pushes you to find new ways to entertain yourself." He believes that his growing up as an only child has taught him independence, and with this skill, he was able to comfortably navigate the Middle Division when he joined it.
In an article by Healthline, Amy Learmonth, who has a Ph.D. in developmental psychology, wrote, "In late childhood and adolescence, children start to strike out on their own. Friendships become more complex and more about shared interests. This is where children try out the things that will make their adult friendships work, or not."
These complex relationships will serve as stepping stones in a child's ability to interact socially, she said. Learmonth writes that these complicated friendships cannot be formed through a screen.
There is some light at the end of the tunnel, though. "I would not expect any major disruptions or lasting impacts of a couple of months of social distancing," Learmonth said. A short-term quarantine should not seriously affect children who do not have the ability to socialize face-to-face with peers.
Adjusting to the new quarantine situation hasn't been a challenge for Annabelle Xing (11), who has been spending a lot of time talking to her friends through FaceTime, she said. "Personally, this isn't as big of a shock because I'm not home [during normal circumstances] for the most part, which makes me feel desensitized to the fact that I'm an only child to the point where I don't even really feel lonely at home in quarantine."
While children without siblings have found ways to entertain themselves through single-person activities such as reading and baking, there are some activities that can only be done as a group. For example, Calzolaio wishes that she could play board games with her parents, but most require four or five players.
Many students have used their phones to maintain friendships and relationships by video calls through Facetime, social media apps like Snapchat, or even Zoom classes.
"My family is all adults and they're there, but their presence is not the same as having kids around who are my age," Burrell said. "Because of that, I have to look for other means of communication with kids my age whether that's social media or gaming."
Although most students would rather be spending time with an actual person such as their sibling, the integration of technology has allowed students such as Justin Gurvitch (10) to not feel the absence of a sibling as much.
HM Online Zoom meetings have also given children without siblings the opportunity to see peers who they would not have seen over Spring Break. Furthermore, these meetings have given students the opportunity to see and talk to their teachers, which was a welcome break from an otherwise monotonous routine for Gurvitch.
Another benefit of being an only child in quarantine is spending a lot of one-on-one time with parents, which normally doesn't happen as often. To Xing, this means having two or three meals a day with her parents where she can catch up with them, she said. "Just the prospect of being able to have meals with [my parents] in an otherwise chaotic and busy normal non-quarantine life is comforting."
As a second semester senior, Spencer Kahn (12) sometimes feels disconnected from his parents because he spent a lot of time "senior slumping" with his friends and less time at home, he said. Now at home, he and his parents can spend a lot of time together.
"For seniors right now, there's an element of 'we're all trying to grow up and go to college'," he said. "But now that we're all stuck at home, I'm able to connect with my parents more instead of being out, [which is] a surprisingly nice change."