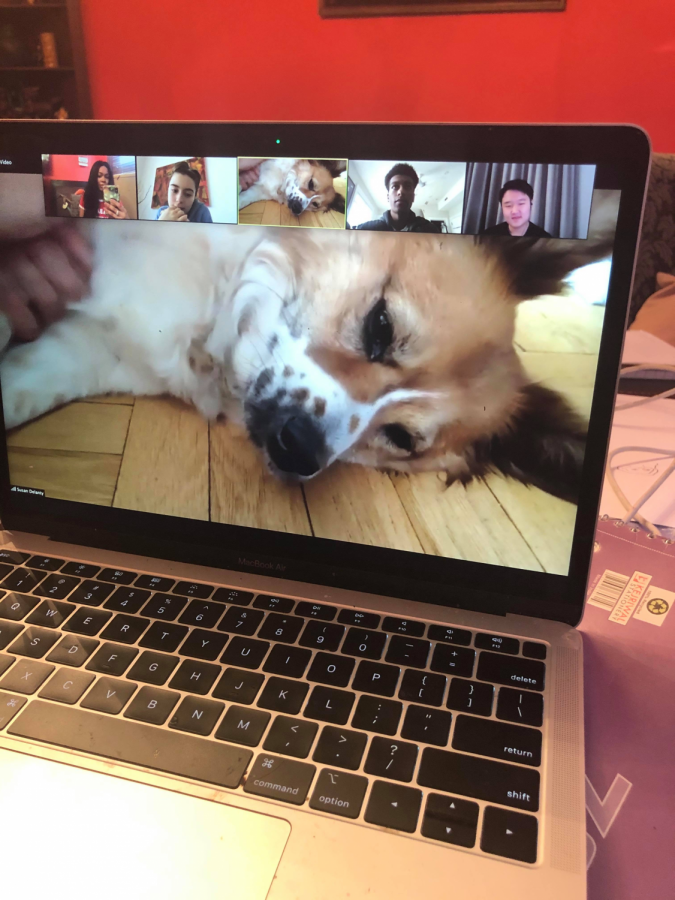 Advisors at the school have been attempting to maintain a sense of normalcy in their online advisories by preserving traditions and having discussions about non-school related topics.
In this time of social isolation, many at the school are looking to advisory to create a much needed sense of community and support; however, with face-to-face social interaction no longer viable, some advisory activities cannot be transitioned to an online format.
At 10:15 am on Tuesday morning, Libby Mather (12) boiled a pot of green tea in preparation for her online advisory meeting with math teacher Catherine Crowley. The tradition of having tea during advisory began last year when Crowley brought in tea and snacks as a stress reliever for the seniors in her advisory who were going through the college process, Mather said. The tea and snacks were a big hit, so Crowley decided to continue the tradition.
During advisory this year, Crowley has boiled a fresh pot of tea and brought scones for her advisees. The advisory decided to continue this tradition by bringing homemade tea or coffee to online advisory. "Though we are social distancing, it's comforting to be able to continue this tradition over Zoom," Mather said.
In history teacher Dr. Eilsa Milkes' advisory, students bring in food that relates to a certain theme, Milkes said. This year's theme is "Blast from the Past," which encompasses the three yearly themes ("50 states," "common element," and "favorite foods") from prior school years. In two online advisories so far, students have brought in snacks that were round or circular and foods connected to or grown in the state of California, Milkes said.
Milkes' advisory also looked at an online exhibition of advisee Ahaan Palla's (12) photographs. Palla's photos were really engaging, and they opened up opportunities for other talented photographers in the advisory to share their expertise on photography, Milkes said.
While some teachers have discussed popular culture in their advisories, other advisors are taking a simpler route for their groups. "My goal is to not do anything different than what we would normally do," science teacher Melissa Doellman said. She simply likes to let her students hang out and do any work that is overwhelming them. Doellman feels that the advisory is designed to let students hang out and have a break, and she feels no need to change that now that advisory is taking place online, she said. While the advisory is not as talkative as it was in person, advisee George Harris (10) still finds the time relaxing, he said.
Many traditions that occurred during regular advisory periods simply cannot happen in an online setting. In a normal period, English teacher Jonathan Kotchian's advisory would involve him bringing in various snacks every week. While they can still eat food during advisory, being online removes the aspect of sharing it and feeling like an actual community, Daniel Schlumberger (10), a member of Kotchain's advisory, said. "It doesn't have the same feel as a regular advisory," he said.
Although it may be dreaded by some students, remote advisory offers students a platform to connect with people that they cannot contact due to quarantine. Advisory can offer students a fun, much needed break during the virtual school day to engage in conversations with people outside of their homes, Doellman said. "There are definitely pros and cons to having advisory on a weekly basis, but the pros definitely outweigh the cons," she said.