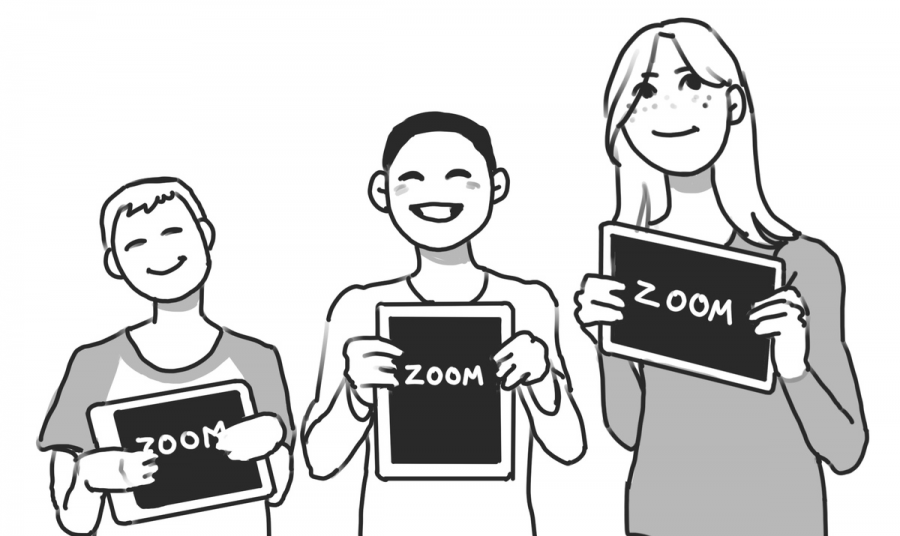 Nursery Division
"My stuffed animals are in my room, but I don't get to bring them with me to class. That's hard because I want them to be with me," Abigail Greyf (K) said. Nursery Division (ND) teachers and students alike have discovered new challenges in maintaining a routine and curbing distractions as they try to replicate their old methods of learning on HM Online.
"The ND students tune in to Zoom sessions with their teachers and participate in HM Online daily," Head of ND Marinés Arroyo said. Teachers upload activities for each school day on their PowerSchool Learning pages for the students to do. In addition, teachers are recording short video clips to recreate some of the routines the children are used to in school, such as snack math and 60 seconds of peace," Arroyo said.
Greyf has enjoyed some of the activities her teachers planned out for her, such as celebrating classmates' birthdays through Zoom and sharing her stuffed animals, but she finds that she misses hugging her classmates and putting together Legos with her friends, she said. Greyf also misses many of her classes, such as music and movement, which no longer meet with HM Online, she said.
For assignments, parents have been asked to begin collecting their child's work in a folder to discuss and share during Zoom sessions. "We will also start to collect work samples and photographs to document the learning process," Arroyo said.
"Since our students are very young, parents are encouraged to actively engage with their child during the learning process, to whatever extent that is possible," Arroyo said. "Of course, we understand that every family's situation is different. As such, we've reassured parents that they should feel free to adjust the timing and order of the schedule to meet their family's needs," she said.
Lower Division
The Lower Division (LD), inspired by the enthusiasm of students and the support of parents, has found teamwork to be a crucial asset in managing classrooms, reinventing curricula, and most importantly, reconnecting as a school.
The LD starts every day with a video message from the Head of LD Deena Neuwirth. "All students have one hour of Zoom per day, which is often broken up into small group discussion, in addition to pre-recorded lessons and videos," Neuwirth said. "We are adding special content areas for designated zoom times per day. This ensures our students get the most of our HMLD experience which includes art, music, library, PE, etc."
Stella Burns (3) loves watching Mrs. Neuwirth's announcements, the YouTube videos from her teachers, and her Zoom classes with Mrs. Sowards. "She loves the new schedule, and keeps track of her classes and progress," her mother Julie Kofman-Burns P'29 P'30 said.
Likewise, Caroline Mignone (5) enjoys Zoom classes because they allow her to see her friends and teachers. Also, she gets to use a virtual background, which is "really cool," she said. "I also really like the morning announcements because birthdays are announced and then I get to find out if it is one of my friends' birthdays," Mignone said.
The students are expected to follow the suggested schedule, complete the activities to the best of their abilities, and attend and participate in the two live Zoom sessions each day, a group of Kindergarten teachers said.
A typical Kindergarten morning meeting Zoom session is split into two groups—half of the homeroom for 30 minutes, then the other half for 30 minutes. Morning meetings usually consist of going over the schedule for the day, reviewing a variety of skills from math concepts to R.U.L.E.R. work, a poem, a fact, a fancy word, and a new joke for the day, teachers said.
During their afternoon Zoom sessions, they have story time where one teacher reads a book from their Fountas and Pinnell Interactive Reading component while another teacher asks follow-up questions, they said.
On Fridays, Kindergarten students will have full class Zooms, also known as "The Zoom Weekly Roundup," in which they share personal items, stories, and work with other classmates.
First Grade Teacher Monica Gerken and her fellow first-grade teachers each plan a different component of the curriculum, such as grammar, social studies, handwriting, read alouds, and journal writing, and record a video for the grade, she said. Although during the school year the teachers usually plan independently, by working together they are able to reduce their load, Gerken said.
Similarly, the Kindergarten teachers also rely heavily upon each other to make HM Online run as smoothly as possible. "We take turns teaching everything and while one teacher is teaching, another one may be running the technical side of the online process," she said.
Additionally, Gerken and the other first grade teachers have been cognizant of providing activities and assignments that are fun and easy to follow, so that students can be as self-sufficient as possible.
Due to the changes teachers have made in their teaching styles, Mignone has found that her teachers have given her more independent work to do, such as watching video lessons, completing worksheets, or using Khan Academy, she said. Despite the increase in independent work, she finds that she frequently finishes all her work before 12:00pm, allowing her to FaceTime her friends and read in her free time, Mignone said.
"The [Lower Division] teachers are working above and beyond to make this work. There is extra planning time involved, child care issues and some are facing health issues themselves or have loved ones who are," Neuwirth said.
Like the teachers, parents have also been supportive and flexible despite the changes. "They help the children log on, and they are nearby to help them if they have any problems with their screens," Gerken said. "We can't ask for or appreciate more than that." "We rely on parents so much now to help children with the majority of the activities; since our students are so young, they need support with almost everything from navigating online resources to printing activity sheets," the Kindergarten teachers said.
"I resolved some tech issues the first day, but otherwise it's been great," Kofman-Burns said. "I check in, see if there are any questions and so far–other than a math question or two–Stella is on her own." Mignone's parents have helped her with homework questions and connecting her computer to the printer, but she is mostly independent, she said.
For Gerken, the change has been challenging since she hasn't had much experience with technology. "With trial and error, I am gradually becoming more confident but have a knot in my stomach every morning, hoping that everything will work as planned," she said. "Teaching the lessons is not a problem, but knowing how to navigate and maneuver the screens is my challenge."
Classroom management can be a challenge since some children are in different locations. The Kindergarten teachers interviewed for this article mentioned sometimes having technical troubles with muting and unmuting in addition to other distractions. However, a positive outcome that they have enjoyed from their Zoom meetings is when siblings and parents join in on their Zoom sessions, from story time to morning meetings.
The silver lining in all of this uncertainty has been her students' desire to learn, their enthusiasm, and their spirit, despite all the logistical changes, Gerken said. "The hardest thing is missing the children… I told them one day this week that my greatest wish is to go right through the computer screen and give each one of them a big hug," she said.
"I am in awe of how amazing our HM teachers are at jumping in and making this the very best it can be," Neuwirth said."We all miss our students very much!"
Middle Division
The Middle Division initially began with only advisory meetings through Zoom every day. However, this has continued and will continue to evolve, as the MD provides students with more live contact with teachers and peers, Head of Middle Division (MD) Javaid Khan said.
"Most classes only meet three times a week in the MD, and are taking place through live Zoom sessions, or through individual assignments and homeworks posted to PowerSchool," World Language Teacher Gabriela Espinosa said.
"[MD] Teachers took to shifting their assignments to this platform and assigning classwork and homework designed to further learning beyond the lesson," Khan said. "Our teachers have been extremely creative in designing new lessons and directions for their students."
Teachers have mainly asked students to watch videos, complete assigned readings and worksheets, participate in discussions on PowerSchool Learning, and engage with digital platforms such as Passport and GoFormative, which they are already familiar with, Coordinator of Curriculum, Instruction, and Assessment and history teacher Eva Abbamonte said.
"A typical Powerschool-based class might include a short video to explain something new, practice exercises, and then an opportunity for students to work creatively with the new material," Espinosa said. "A Zoom class might have students check-in (for example, I might have the students use their French to say how they're feeling as different types of weather and explain why), and then use breakout conversation rooms to practice a new skill or vocabulary."
The English and History Departments have struggled with implementing The Royal Shakespeare Company's techniques online, but are doing a great job of figuring out ways to adapt these techniques to virtual school, Abbamonte said.
Assessments have been designed to be completed open-notes or open-book through several applications such as PowerSchool Learning, Google Forms, or DigiExam. "I know that many students do not have access to a quiet space or a device uninterrupted for the typical length of an assessment so I've worked really hard to make assessment equitable for all of my students," Espinosa said.
Aamri Sareen (8) has enjoyed the freedom of online learning, "since you can go at your own pace," she said. Will Chasin (6) has also enjoyed his new schedule, adding that since Middle Division classes end at 12:00pm, he has much more free time to play basketball, he said.
"I have noticed that it is a bit challenging to fully comprehend the material because we don't really have much guidance as we only have one subject class per day and our advisory meetings on Zoom," Sareen said. Although one of her teachers made descriptive videos to help her understand the subject material, the rest only give limited instructions, making it harder for her to understand the material fully, she said.
"In most subjects, especially math, it's extremely helpful to ask questions about the process of solving a problem, but with HM Online, since there is an inability to ask questions directly to your teacher, it's harder to understand the material," Daniel Pustilnik (8) said. Sareen has had similar issues, and finds it helpful to reach out to peers in the same class, she said.
The MD planned for an asynchronous start to the first two weeks of HM Online, but they have moved forward to a more synchronous model, Abbamonte said. In Phase II of HM Online this week, the MD has introduced some help sessions on Zoom and the reintroduction of Middle Division Mentoring, STEPS mentors, and extracurriculars such as Debate and HM Lead, she said. Next week, in Phase III, they plan to add an additional Zoom class per subject, she said.
During the transition period, technology has not proved to be as big of an issue as initially feared, Abbamonte said.
"We have met some technical challenges with lag time to load documents on PowerSchool Learning and with device or Wi-Fi capabilities in student and faculty households," Khan said. "We think we have addressed those well, and have been extremely well-supported by our amazing tech team!"
Sareen's parents helped her set up the Wi-Fi and printer, but she otherwise manages minor technological issues on her own, she said. Chasin faced some challenges his first day handing in assignments because PowerSchool Learning wasn't working properly, but the transition has mostly been effortless, he said.
For Abbamonte and Espinosa, they find that not being in contact with their students and trying to maintain a sense of community virtually is difficult. "There are many things about online school that can make me feel distant from the community, and leave me interacting with my computer screen all day long," Espinosa said.