Remote romance: How couples handle COVID-19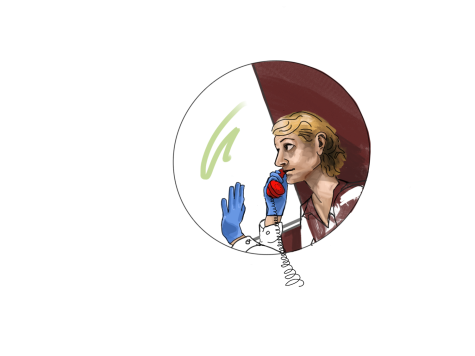 Two weeks ago, Grace Wilson (10) bought a set of Bond Touch bracelets—a pair of bracelets that both vibrate whenever one person touches theirs. The bracelets are a way for Wilson to stay connected with her boyfriend Raff Brown, a junior at Fordham Prep, from separate locations, she said. During quarantine, many couples like Wilson and Brown have found creative ways to adapt their relationships to changes in their everyday lives. 
Some couples, like Eden Plepler (11) and Oliver Peck, a junior at Dalton, have quarantined together. Their families, longtime friends, stayed together during spring break, Plepler said. To make up for the time they would have to spend apart after break, Plepler and Peck spent their days baking, watching movies, playing board games, and taking walks, she said. 
Sam Harris '18 has been quarantined with his girlfriend Grace Taylor and his family for over five weeks. Initially, she was just going to visit for a few weeks, but she ended up staying when her flight home to England was cancelled, Harris said. 
Like Plepler and Peck, Harris and Taylor have gone on walks, played board games, and cooked, Harris said. Once a week, they cook dinners with themes such as English pub and Japanese and next week, they are planning on cooking an Après-ski themed dinner, he said. 
Beatrix Bondor '18 and Connor Morris '19 have quarantined together since March 18th. They are devoting much of their time to their courses, which are still graded, but spend their free time together and with family, Bondor said.
Plepler said that having time together before online school started brought her and Peck closer together which makes it easier to be apart now. "I have no idea how I would deal with the separation without having had that time together."
Quarantining together hasn't had an effect on Bondor and Morris's relationship, since they already live together at college, Bondor said. "Given the seriousness of the pandemic, we feel extremely fortunate to be healthy and together," she said. "One of the best parts of such a bad situation has been getting to be together all the time."
While some couples quarantined together, others, like Isha Agarwal (12) and Griffin Smith (12) have been apart since social distancing became the norm in NYC. The couple has been dating for a year, and their abrupt separation has been difficult, Agarwal said. "It was a hard transition going from being so connected to having to stay in touch just through texts and FaceTimes.
Ethan Waggoner (10) and Claire Goldberg (10) haven't seen each other in person since school closed on March 9th. However, being apart hasn't harmed their relationship because they have been dating for a long time and developed a strong connection, Waggoner said. "We're both really comfortable around each other, and we love talking to each other and we make each other happy," he said. "We can still have a similar relationship even though we're FaceTiming."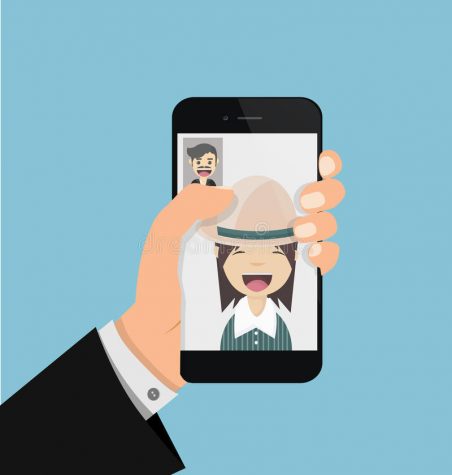 Wilson said that already having a strong relationship with Brown has given them the ability to help each other through these hard times. "We can talk about anything," she said. "If one of us is having a really hard day because of quarantine we can talk about it and make the other person feel better."
For Catherine Mignone, (10) that emotional foundation is necessary, because it's difficult to start lasting relationships over the internet from scratch, she said. Communicating solely over social media isn't the same as getting to know somebody in person, she said. 
Even longtime couples are facing challenges while online dating. For Agarwal, maintaining a strong emotional connection over text can be difficult, she said. "Being in the presence of the person is so important to be able to see their facial expressions, their body language, and just in general being able to feel closer to them."
Online communication can't replace in-person interactions, but it makes a difference. Claremont Graduate University Professor of economics, psychology, and management Paul Zak said in a Time Magazine article titled "Why lack of human touch can be difficult amid Coronavirus" that video calls have around 80% of the positive psychological impacts of talking in person. Having a meaningful conversation over FaceTime causes the brain to release oxytocin, reduces anxiety, and can still lead to interpersonal connections, Zak said. 
However, it can be difficult to coordinate times to FaceTime because schedules in quarantine are so unpredictable, Waggoner said. Between the inconsistency of online classes and increased family time, Waggoner doesn't always know when he can call Goldberg, he said.
Since Plepler's boyfriend goes to a different school, it can be hard to find time to balance work and friendships from two separate schools with their relationship, she said. She and Peck make an effort to communicate throughout the day by FaceTiming and watching Netflix together with the Netflix Party Chrome extension. 
Wilson has been communicating with Brown frequently over FaceTime, and while it helps, adjusting to the lack of physical contact has been a challenge. "I got so used to holding his hand every day and having him give me a hug," Wilson said. "That's no longer a daily thing."
Wilson is not alone in this feeling. The Time article investigates the negative effects of the "touch deprivation" people are currently experiencing. According to the article, positive touch releases oxytocin, lowering stress levels in a stressful time. "[Positive] touch activates a big bundle of nerves in your body that improves your immune system, regulates digestion and helps you sleep well. It also activates parts of your brain that help you empathize," said Dacher Keltner, a psychology professor at University of California, Berkeley. 
The decrease in time spent together has been the hardest part of quarantine, Brown said. "You go from seeing the most special person in your life every day to just not having that. That's the person you're laughing with and smiling with the most. It's hard to go from having such a regular experience to not having that outlet at all." 
For Wilson, not seeing Brown as frequently is challenging, but she enjoys having more time to herself. She has noticed Brown struggling more with their separation, she said. Wilson has tried to help him through this by FaceTiming as frequently as possible and buying the Bond Touch bracelets to bridge the distance between them, she said. "It's better than nothing, but nothing is going to replace actual time together.
Brown had initially worried that being separated from Wilson would lead to tension between them. Now, he said that getting through this separation will make their relationship stronger in the end because it will prove they can get through anything. 
In some cases, spending time apart from a significant other has been found to strengthen relationships. A study by Haverford College called "Missing you maintains us" and another from the University of Wisconsin-Milwaukee called "Relating at a Distance: Negotiating being together and apart in long-distance relationships" found that when couples reunite after a period of physical separation, their relationships are healthier, more open, and more positive. 
Plepler tries to keep all of the challenges in perspective with the difficulties that the world is currently facing, she said. "I keep reminding myself that my problems aren't as severe as what a lot of people are dealing with right now, instead of worrying about not being with my boyfriend." 
Many couples have found unexpected highlights of online dating during quarantine. Emily Marks (11) and Bradley Bennett (11) have weekly virtual date nights during which they eat, talk, and play online games, Marks said. During each date, they attempt to replicate something they missed because of self-quarantine, she said. For example, they changed their Zoom backgrounds to a college dining hall for a college touring-themed dinner date. 
Whether quarantined together or apart, having dates is fundamental to maintaining relationships, marriage and family therapist Dr. Racine Henry said in an article for The New York Times called "For the Asking, Quarantine-Approved Dates." "Similar to normal life, when we were purposeful about having date nights to break up routine, this is the same thing," Henry said. "You still want to remind yourself why you're together and recreate those good vibes and memories as much as possible."
Waggoner and Goldberg made a bucket list of fun activities they wouldn't normally do, like going to Coney Island or Six Flags. Waggoner is happy that when quarantine is over, their time together will be even more special, he said.