Horace Mann stays active in quarantine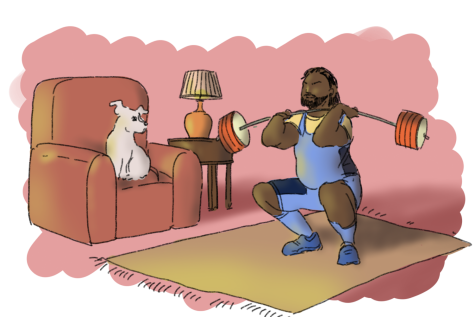 In order to stay in shape during quarantine, members of the school's community have been finding ways to keep active regardless of the location. Students and faculty have been watching videos online, ordering new workout equipment, and plugging into sports communities in order to get exercise. 
Many students have had to find other creative ways to stay active from their homes if they cannot go outside. Steve Yang (9) hasn't left his apartment since March 10, the day after school ended. Yang does push-ups inside, and he tries to walk around his apartment, he said. "Sometimes I wish I could go outside but I try to make do and understand the circumstances," he said. "I just try to move around in the limited space I have." 
Rugby player Catherine Mignone (10) said that she and her rugby team have been improvising with workout equipment to make sure that everyone stays in shape. "Since not everyone has weights in their houses, people have been filling backpacks with textbooks and using them for strength building exercises," she said. 
Workout videos allow people to stay in shape without leaving the house. Julia Grant (10), who dances both in and out of school, has been using both the ClassPass app and Peloton app to keep active, while Scarlett Goldberg (10) has been doing workout videos with her family.
Physical Education teacher Meredith Cullen has also been using live workout videos to keep active, specifically focusing on her flexibility, she said. "It is very easy to lose your flexibility when you are home sitting at a computer for a long time." 
Associate Athletic Director Ray Barile creates fitness videos for students with his son, Coach Colin Barile, he said. "We're trying to make sure that all of our students understand how important being active is for our mental state" he said. "We want to stay in contact and make sure that everyone's staying healthy, both physically and mentally."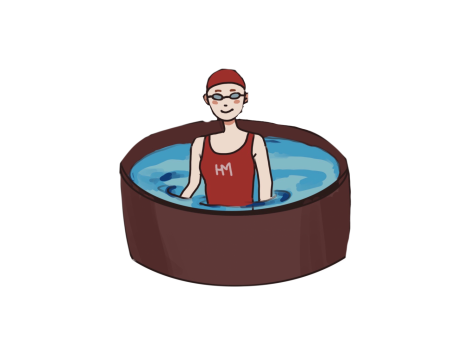 TikTok dances have also been a key part of Grant's workout regiment, she said "I've been really active on TikTok; I keep learning a lot of different dances and posting videos of myself," she said. Grant has made up her own dances and has over a thousand views on one of her posts. 
With the increased difficulty of going outside, Dean of Students Michael Dalo has purchased resistance bands, done yoga, and installed his own pull-up bar in his house to keep active, he said. Nevertheless, he wishes that he could be more active, he said.
While some people have started working out from home, others are still staying active by exercising outdoors. Justin Gurvitch (10) regularly runs in Central Park, he said. "I try to vary my route every day," he said. "I'm not in it to become a professional runner. I just think that it is really important to maintain a healthy body, especially when we are sitting around all day."
Gurvitch runs every morning around to keep himself motivated for the day, he said. "It helps me wake up and not be a zombie in my first few classes," he said. "Hopefully when we get back to school I will continue this regiment."
Basketball player Ailill Walsh (10) has also been able to run in Van Cortlandt Park, he said. In addition, he practices basketball in his backyard, he said. "This might sound crazy, but I work out two to three hours a day. I just have so much more time now," he said. 
When the weather's nice, math teacher Charles Worrall takes advantage of the spacious Van Cortlandt Park by biking with his partner, he said. "There's a continuous bike path through it that goes up to 60 miles north of here, and while we haven't gone on anything longer than 20 miles, it's been wonderful to get out and see the spring creeping forward day by day," he said. "What a relief to have some time outside each day."
To make sure he's in shape for recruitment, squash player Daanyal Agboatwalla (11) has been staying active by doing sprints and movement exercises in the driveway, he said. Despite keeping active, Agboatwalla has also been fasting every other day in preparation for a religious fasting holiday that starts in a few days, he said. "It hasn't been too hard for me, especially because I haven't been going to the gym," he said. 
Students have adapted precautionary measures to ensure their safety when they exercise outside. Grant wears a mask, gloves, and sunglasses when she goes on walks outside, she said.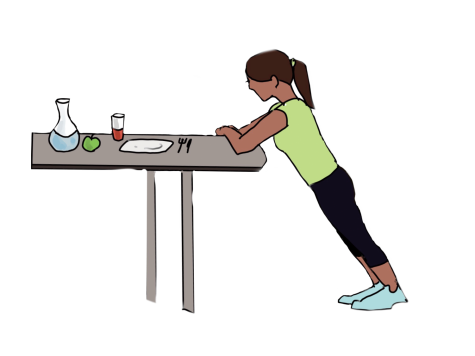 Likewise, Gurvitch practices social distancing when running or walking in public places, he said. "People in the park are always hyper-aware of social distancing, so they're always sure to give one another space," he said. 
For some students, the quarantine has decreased their activity. Tennis player Sabrina Freidus (11) has been injured since the fall so she hasn't been exercising as much during quarantine, she said. "Quarantine has decreased my drive because this is the time that I'd be going back to playing tennis. It has definitely made tennis a smaller part of my life."
While the quarantine is hard for everyone in different ways, Barile has used it as an opportunity to get into better shape, he said. "Out of bad came something good for me. I'm thinking more about my health, which I've always wanted to do and now I have the time to do it."
Especially during trying times, staying active is extremely important, Head of Upper Division Jessica Levenstein said. "It's easy to forget that being active is part of our emotional well-being," she said. "Even if you're stuck indoors, there's a lot you can do and there are so many videos that you can do to get moving!"