MD mentor program resumes online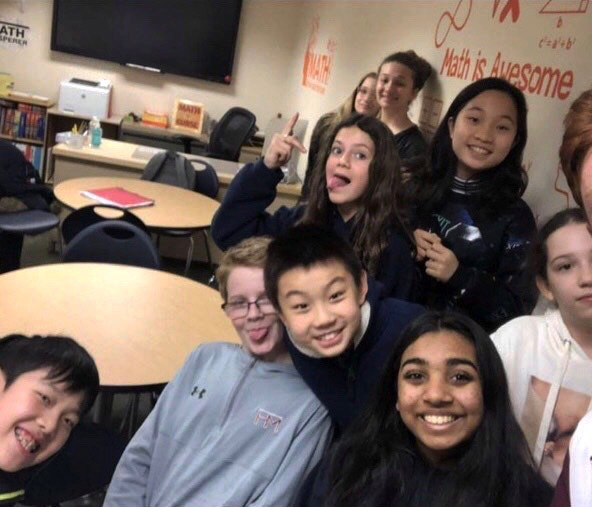 On March 4, Middle Division (MD) mentor Sam Weidman (10) headed into what he did not know would be his final in-person meeting for months to come. As the news surrounding COVID-19 began to grow, the MD Mentor Program leadership began contemplating how the pandemic would affect the meaningful relationships between mentors and mentees.
The MD Mentor Program is a crucial way of allowing Upper Division (UD) students to build lasting connections with middle schoolers, MD Mentor Program co-leader Leyli Granmayeh (11) said. Activities led by mentors during advisory sessions range from check-ins and discussions to physical activities such as bonding games.
Madison Kim (8) finds the program to be a valuable chance to learn about high school, she said. "Mentors can really prepare us for high school because they are going through it right now."
The role of the program in difficult times, such as the COVID-19 pandemic, is to maintain this connection between the UD and MD, Head of the MD Mentor Program Wendy Reiter said. "This is the first time we've had to explore a creative way to stay engaged in this day-to-day virtual middle school life," she said.
A few weeks after the UD began their online classes, the heads of the program began planning their return to MD advisory meetings and adapting to an online format. The first meeting occurred via Zoom on Wednesday, April 15th. The mentors were told by leadership to talk about quarantine and check in with their advisories, Granmayeh said.
Reiter, along with Head of MD Javaid Khan '92 and Head of MD Advisory Norma Rodriguez, have developed guidelines to engage all mentees and aid the mentors in managing their groups, Reiter said.
Although Granmayeh finds the decision to alter the meetings from weekly to every other week beneficial, Weidman believes meetings should occur more frequently. "If we're just doing mentoring once every other week, it's not doing much, especially when there's so much time on everyone's hands," Weidman said.
The additional decision to include advisors in the meetings, although they were muted and their cameras were off, was a valuable rule, so they were available just in case, Reiter said.
The leadership team conducts zoom calls two to three times a week in order to discuss how online mentoring is going and the adjustments necessary for the application process for new mentors, co-leader Charles Shapiro(11) said.
However, there are challenges that come with the transition to online mentoring. Kim said that her advisory's interactions were awkward at first, unlike their meetings on campus.
"Mentoring is really about the interactions you have with the mentees," Weidman said. "You can't recreate that online."
There were also logistical issues in the transition. Leaders do not have advisories and are instead in charge of taking attendance. On campus, Granmayeh and her fellow leaders were able to walk between rooms to check on the advisories, but doing so on Zoom is far more time-consuming and disruptive, Granmayeh said.
Even so, leaders are constantly texting with mentors in Facebook group chats, where mentors explain what they did in advisories that week, Shapiro said. "This helps give mentors new activity ideas that their peers have tried, and a way for us to track mentor attendance," he said.
As additional aspects such as the tutoring feature of the program are being evaluated, Reiter wants to proceed slowly and revisit other roles for the mentors in collaboration with Khan and Rodriguez, she said.
MD students are excited for the possibility of expanding the academic aspect of the mentor program online, as it would be a convenient way to stay connected with mentors. Logan Scharlatt (7) said. "If someone needed help with their math homework, it would be easy to just drop in on zoom," Scharlatt said.
However, despite certain restrictions, students and mentors alike were delighted to see one another again. "It was a great first step into normalcy and routine," Samantha Pruzan (8) said.