Wei supports local businesses amid COVID-19
As Jeren Wei '19 watched his home town of New Rochelle suffer from the devastating COVID-19 pandemic, he decided he needed to help. Upon his return home from Emory University in Atlanta, Wei has raised over $15,000 through a fundraiser devoted to supporting communities in New York and Atlanta by delivering meals and personal protective equipment (PPE) to local hospitals.
Shortly after the virus entered New York, Wei's home town was impacted. "It was really crazy that within the first few weeks of the epidemic that happened in New York, my old house was literally in the radius of quarantine, and after that I wanted to contribute to the fighting of the coronavirus even more," he said.
Wei was also inspired to help out because of his connection to health care workers. His neighbor is a doctor and seeing other friends and family members combating the virus on the front lines motivated him to act, he said.
In order to provide aid to his community, Wei created a GoFundMe page on Thursday, April 2 entitled "Help for Healthcare: Supporting NY and Atlanta." He has used the proceeds to purchase meals from local restaurants and delivered them to healthcare workers. Wei called local hospitals to coordinate the most convenient times for the meals to be delivered, clarify dietary restrictions, and determine the number of meals needed, he said.
Wei has also used the funds to purchase and deliver PPE to hospitals. "We have a PPE distributor that we have contacted in Hong Kong that we have been purchasing a personal protective equipment, namely, the masks," he said.
Wei chooses restaurants to reach out to based on their economic struggles during quarantine in addition to his personal connections with the business. For instance, he coordinated deliveries with AJ's Burgers, a place he visited often with his family growing up, he said.
"Our entire team was thrilled to have an opportunity to contribute to the well-being of our frontline providers," said Alan Cohen, the managing partner at AJ's burgers. The financial help Wei has provided has helped AJ's stay open and keep their workers employed, Cohen said.
Wei specifically seeks to support Asian-affiliated businesses, he said. "The pandemic is a very racially charged topic, so being able to combat that stigma by demonstrating that the Asian community is also here to help and contribute to that change is something I really want to do."
Wei has collaborated with Ascend, the largest Pan-Asian business association in the United States. Though he purchases some PPE independently with donations from the GoFundME, Ascend provides Wei with other PPE which he delivers to local NY hospitals, he said.
Though he has been coordinating many of the meal deliveries independently, some of Wei's friends have also been helping and engaging in the service. Benjamin Hu '19 helps Wei contact restaurants and organize fundraising, reaching out to people at his college. Hu is grateful to be a part of something so rewarding and gratifying, he said.
This widespread effort to spread awareness of Wei's fundraiser has motivated many of his former peers to donate. "I saw it all over the place on social media. Jeren did a really good job of publicizing it," William Golub '19, a donor to the fundraiser, said.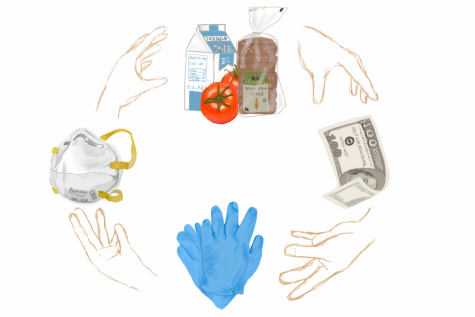 Golub was especially compelled to donate because Wei is a friend and former classmate, he said. "A lot of people are talking about what the national response to the coronavirus looks like, but Jeren has shown me that we can have an impact in our own local communities by leveraging a lot of the resources we have, and that has been inspiring."
Initially, Wei was surprised by the support for his fundraiser; specifically, the number of donations he received from his former classmates shocked him. The donations touched Wei as they were clearly from a place of compassion, he said.
Wei said that the fundraiser has been a rewarding experience for him. Interacting with the healthcare workers who directly receive the PPE and meals that he provides has been really gratifying as he can witness his direct impact on his community, he said.
During his time at school, Wei participated in many volunteer related activities such as the Service Learning team, the Saturday Morning Tutoring Program, and the Community Council, which taught him about volunteering in his community. "Horace Mann really has a dedication to making a direct impact on their community," Wei said. "Impact starts with the individual and I think that being able to contribute to the community is very important and can come from anyone."
In the future, Wei plans to continue his efforts for as long as necessary and hopes to pay greater attention to the fundraiser once his final assessments end. Hu said another goal is to continue the deliveries that are happening currently and to start deliveries in other areas such as Connecticut and New Jersey.
Wei additionally hopes to expand his services beyond health care workers. Specifically, he wants to expand his services to help police officers, the fire department, and other essential workers who are working on the front lines, he said.