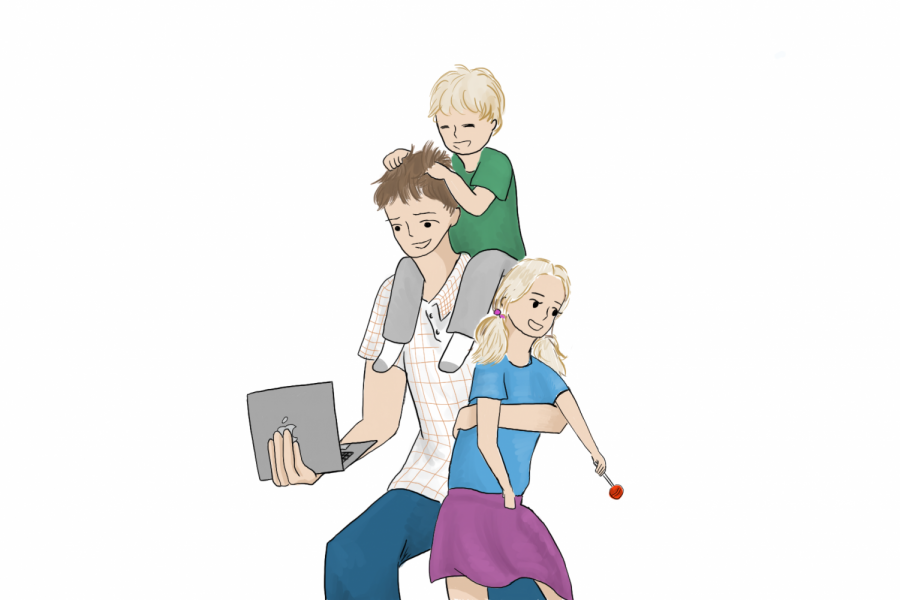 During one of the English Department practice Zoom meetings for HM Online, English teacher Jennifer Little's five-year-old son ran into the bathroom, forgot to close the door, and began peeing. "I had to say 'Henry close the door!'" Little said. "It was good training because I know now, don't Zoom yourself in a place with a bathroom behind you."
As students and faculty grow more accustomed to HM Online, many faculty members are juggling the responsibilities of caring for their young children at home while teaching throughout the day.
"Everybody's got to be resilient and creative," Upper Division Physical Education Department Chair and mother of three Amy Mojica said. "No matter what your family structure is, everyone's doing a version of that, their own way."
Spanish teacher Diego Argibay, who has a four-year-old daughter, said that raising a child under normal circumstances is already difficult and becomes an even greater challenge in an environment where everyone is cooped up together.
To manage the workload of teaching and guiding his daughter in her lengthy online classes, Argibay and his wife alternate the days that they spend caring for her. "I work more at night now when my wife is available to take care of her," he said. Still, there are some days where he has to dedicate the whole school day to teaching so he doesn't get to see his daughter as often, he said.
Kristin Rowson, who teaches in the Academic Center, also divides her time to take care of her three-year-old daughter with her husband. Rowson looks after her daughter until the end of C period, when they switch roles, she said. She then works from D to G period while her husband takes care of their daughter.
Though it is nice to be at home throughout the day, photography teacher Aaron Taylor said that it poses a challenge with his frees, which he now dedicates to watching his children and keeping them entertained, rather than solely his work.
Since Rowson's child's regular daycare schedule went for longer hours than the school day, Rowson used to have more alone time than she currently does, she said. Before, she had 30 extra minutes to relax until she picked her daughter up from daycare, but now she doesn't have any breaks in the day, she said.
For Dean of the Class of 2021 Dr. Susan Groppi, lunch is one of the most inconvenient times of the day. Her son's daily lunch period frequently coincides with her own Zoom meetings, regularly causing a scheduling conflict, she said. Despite the time she's had to adjust, Groppi and her husband still find organizing lunch to be a challenge. Most days, her husband takes charge of lunch since she teaches during that time, but there have been a few times where she needed to adjust her schedule in order to help with her child's lunch process, she said.
Lunchtime scheduling dilemmas are also a challenge for Visual Arts Department Chair Dr. Anna Hetherington and her husband, music teacher Nathan Hetherington. They have done their best to address the problem by creating daily color-coded schedules, Anna said. Even so, because of the way her classes work out, Anna frequently misses her lunch and copes by drinking coffee, she said.
Since beginning online school, Mojica's routine has also changed. Now she goes to sleep much later than she used to, Mojica said. Because it is significantly harder to create an interactive experience for her students online, finding time to perfect this teaching style as well as helping her children homeschool has been a lot of work, she said.
In order to have a place for everyone in her family to do their work, Groppi has devised organized workspaces for each family member, and Groppi works in the kitchen, she said. Though there are occasional interruptions from her son coming into the kitchen, they are never enough to develop into an issue, she said. While Groppi has had some difficulties with the school's transition to HM Online, she said that she still keeps a positive attitude.
Ceramics teacher Keith Renner tries to free up time in his schedule to spend with his kids by trying different approaches to teaching his classes. "Through my teaching, I've been trying to figure out more asynchronous methods of delivering [information]," he said. These methods include more instructional work through Google Slides for his ceramics students. Now, Renner spends free time with his family at noon each day. "We take a lunch break to get some fresh air, find something fun to do in the backyard, and shift their mind[s] to something that's not school," he said.
Throughout the last few weeks, Mojica has noticed that her kids have been working together during the day to deal with the at-home situation, she said. "They are more independent," she said. "They are going out of their way to help each other out." In one instance, her eleven-year-old helped her two-year-old get a glass of milk when Mojica was teaching in class, which she usually does for them.
Now that he is stationed at home, Taylor has also found himself able to devote more time to family, he said. He saves time on his normal school commute, often spending "an hour and a half getting to school in the mornings," he said. Since his kids are young and growing quickly, he now gets to see more of the special moments that he might have missed otherwise due to his commute.
Despite the difficulties of balancing school life with taking care of his daughter, Argibay finds himself lucky to be spending so much time with her, as his typically long workdays prevent him from doing. "I [usually] leave home before she's even up in the morning and when I get home, there were times she had already gone to bed." Now, during HM Online, Argibay enjoys watching her grow and develop, he said.
Mojica cherishes the important moments spent with her kids each day and watching them grow and bond together. "I hope when my kids look back on this, they look back on the family dinners, movie nights, and those pieces, and not the anxiety and stress of the situation," she said.