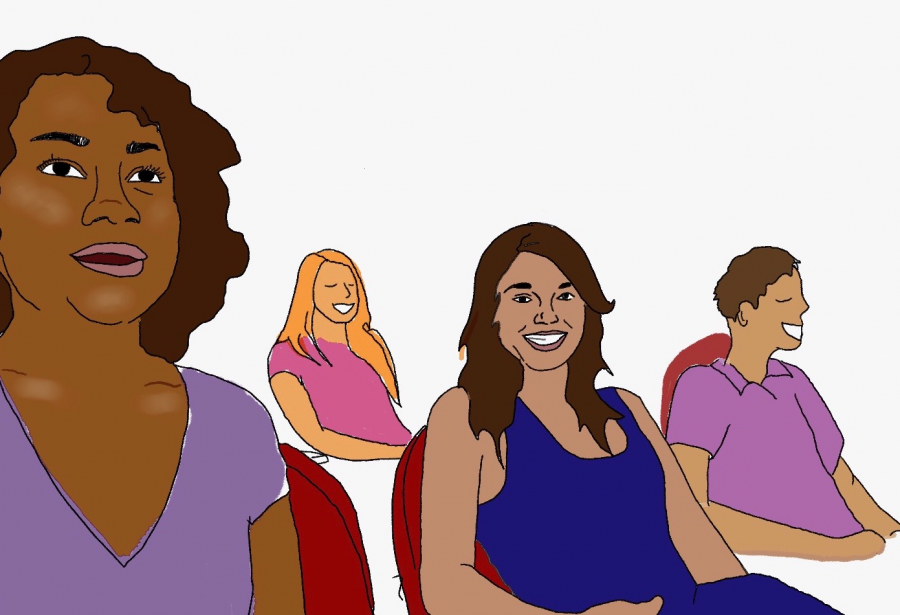 When Head of the Middle Division (MD) Javaid Khan '92 first stepped onto the school's campus as a ninth grader, the MD didn't exist. He had no idea that over three decades later, he would return to serve as its head.
In his first year at the MD, Khan has worked to improve assemblies and re-evaluate several policies and practices, such as the cell phone and the food policy. So far, his favorite moments at the MD have been the assemblies because he has hosted games that excite and engage the students, he said. He has invited well-known authors, ex-NBA player Etan Thomas, Emerald Garner (Eric Garner's sister), the ballet troupe Exit 12, and opera singer Angel Blue, exposing students to a wide variety of people from different walks of life, he said.
"He has transformed our assemblies and created a program that is rich in substance and fosters community," history teacher Catherine Garrison said. "We now have assembly every week and he has invited incredible speakers that spark interest and lead to rich discussions afterwards."
Khan placed a new importance on assemblies, emphasizing what it means to be a good audience member by teaching the students to give the speaker their undivided attention, he said.
Assemblies cover a wide variety of topics and can leave the audience deep in thought or jumping out of their seats, Khan said. During one assembly, Head of School Tom Kelly presented to the MD about his senior thesis in college, which discussed the behavior of homeless people and the services available to them, leaving the audience so quiet "you could hear the people thinking," Khan said. At another assembly, the MD played "Name that Tune," and students were screaming and had a blast, he said.
Khan has been planning assemblies for ten years, originally at Poly Prep and then at the Bank Street School for Children, he said. "At assemblies, there's a duality: sheer joy and excitement, and learning, which is exactly what school should be."
The new assemblies are enhanced by Khan's great sense of humor, Elise Kang (8) said. "He writes jokes in his emails, tells jokes in advisory, and even tells jokes during assemblies," she said.
In addition to making students laugh, Khan has made a commitment to getting to know each of the students personally, Kang said.
"Mr. Khan began the year by listening and observing to really get to know the MD," Garrison said. "He has been supportive and asks thoughtful questions, and it's been a pleasure getting to know him and his leadership of the MD."
"It's tough to gain the respect of the students and faculty at a new school, and by interacting and establishing personal connections with everyone, he's really gained everyone's respect and admiration," Nate Chiang (8) said.
William Choi (8) said that he is grateful to have Khan as an advisor. "Whenever I am on Zoom with him, or when I was face to face with him, he brings a very motivating attitude, which reflects on how he leads the MD."
A new initiative that Khan started and has continued throughout HM Online is "Khanmendations," a play on the word "commendations," Ellie Romero (7) said. Before HM Online, he shared Khanmendations during assemblies; now, he shares an anonymous act of kindness from each grade in his weekly emails she said. An example of a Khanmendation could be a student staying after class and helping a teacher clean up or helping to make worksheets for their class, Romero said.
The school has changed considerably since Khan was a student, since it was one large division (7-12), and the advisory program did not exist, he said. It has also been paying more attention to the social and emotional health of students, which helps shape a community, Khan said. "We teach them in a bubble of care now, and take into account how students are feeling and what's going on at home, which didn't exist as much when I was a student."
This year, Khan has re-evaluated two important policies, which were previously in effect in the MD, but were unclear to both students and teachers, he said. "The parameters of the cell phone policy have been made more clear, especially to the teachers, and now students know exactly when and where they can and can not use their phones," he said. Cell phones can be used before 8:00 a.m. outside of school buildings, but once students enter the building, phones must be turned off and put away, he said. If a student needs to use their phone to receive a call or text someone, they must go to the office and get permission.
Additionally, as a result of the new food policies that lay out rules for when and where students can eat food, there have been almost no infestations of rodents and roaches, Khan said. The year started out with issues, but students slowly took to the policies and in the second half of the year, there were no infestations, he said.
Another project Khan has been working on is improving the approach to discipline in the MD. When Khan visited the MD last year, he talked about a "restorative justice" disciplinary system. "A restorative practice is a creative way of looking at disciplinary actions and teaching students to learn from the experience and then re-enter the community," Khan said. Students must learn from their mistakes and repair the harm caused, he said.
The MD teachers had an hour-long restorative justice session with the International Institute for Restorative Practices in March, Khan said. "We plan to fully roll out [a restorative justice disciplinary system] in the fall, after everyone has received the proper training."
The biggest challenge this year is managing HM Online, Khan said. He had to adjust the demands of HM Online for the many MD students who had coronavirus. "I've tried to balance what the community is telling me what they want and need, versus what I think they can handle."
"Especially now that we're doing HM Online, he's been very good with managing everything, from sending us schedules every week, to trying to bring back non-academic activities on Zoom," Choi said.
However, HM Online cannot provide the solution to everything. "We still have 8th graders who missed their Dorr trip or will not finish their community service requirements, so we are trying to keep these things in mind as we plan out next year, although even next year's plans are a bit up in the air," Khan said.
"Although we do not see him in person anymore, Mr. Khan still maintains his uplifting personality and positive attitude during this tough time," Chiang said.