The knead to relax: Cooking in quarantine
Matthew Brand (6) has used his free time in quarantine to discover a new passion: cooking tagliatelles in sausage ragus and pistachio crusted rack of lambs with carrot ginger purées, lamb tallow onions, and chicken bouillon sauces. "It's a mouthful to say, but it was really good," he said. In quarantine, many students and faculty members have turned to the culinary world as a way to destress and pass the time.
For Nina Gaither (11), cooking has a calming effect because of its detail-oriented nature. "There are steps that you follow, and you know something's going to come together in the end," she said. "And then being able to eat something you've made feels good."
"Cooking gets me out of my head and into the present," said Upper Division Director of Counseling and Guidance Dr. Daniel Rothstein, who was a professional chef before going into psychology. "If you are working on a big history paper, for example, if you take a break and cook something, you can complete a dish that gives enjoyment and a sense of accomplishment."
In an article titled "Baking During A Pandemic can Reduce Stress and Provide Comfort," CNN explores the positive effects of "stress baking" during a pandemic. In the article, Michael Kocet, a professor at the Chicago School of Professional Psychology, wrote that having control over a process and being able to physically enjoy the results can be helpful in a time when everything else feels out of control.
"Just the act of measuring things out and doing things in an order is similar to following the order of a school day," Sophie Gordon (10) said. "Not having order every day anymore is kind of stressful. Having that timetable to follow with specific measurements with cooking makes up for that in a way."
Leyli Granmayeh (11) used to stress-bake often, she said. "It doesn't take a lot of brainpower to make brownies, so I can think, I can meditate, I can just focus on scooping flour," she said.
Activities such as cooking shift the brain's focus away from stressers, Northwestern University Professor of Psychiatry Jaqueline Gollan said in an interview for WIRED. Directing attention to one simple task can help engage the prefrontal cortex in a way similar to mindful meditation, she said.
"Any baking or cooking is a perfect way to practice mindfulness," Rothstein said. "It engages all the senses: touch, smell, taste, [and] sight. And do you know that bread sings when it cools down after coming out of the oven? The crust crackles gently as the bread contracts."
Baking has become a particularly meaningful way to take a break from the digital world, Madison Xu (9) said. "Eventually, you get sick of sitting in front of your screen, and cooking is an escape from that," she said. "It's just really nice and relaxing." Xu enjoys creating new dishes and treats, and most recently made a peach panna cotta and raspberry macarons, she said.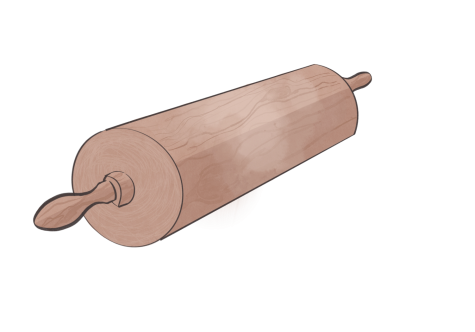 "There is a special meaning to these times, where we are more aware of what cooking really means to us in our own homes," World Languages teacher Dr. Cornelie Ladd said. "There is this particular comfort about being in the kitchen, the center of the home." Before quarantine, the process of making food, as well as enjoying it with family, was ordinary, but now, it is a more meaningful part of the day, Ladd said. "It's a nice addition to the run-of-the-mill tasks that we have during the day."
While some have been baking more in the recent weeks, Upper Division Library Department Chair Caroline Bartels has scaled down her baking operation. During the school year, she bakes snacks for break, her advisory, and other occasions, she said. Now, however, she has only baked once in the past eight weeks because there is no one to bake for. This has felt odd, especially since she had been looking forward to baking a week's worth of snacks to give out during break for the last week of school before spring break, she said. Instead, she has spent a lot more time cooking for herself because she can't go out to eat.
Gaither has always baked during breaks and on weekends, but she didn't cook much until spring break, due to a lack of time, she said. Now, she has been making three or four dinners per week for her family, she said.
Some students, like Annabelle Xing (11), have been using this time to both cook and bake. Xing cooks for herself during the day, and on the weekends, she experiments with baking loaves of bread which can take anywhere from four to twelve hours, she said.
Baking can be time-intensive, especially when it requires using yeast and enriched flour, so certain projects can't be completed regularly, said Jared Contant (9), who competed on Chopped Junior in 2017. "In this environment, it's easier to do longer-term projects."
COVID-19, however, also poses new challenges for those looking to bake or cook. For instance, Granmayeh has had to find ways to acquire ingredients while limiting her contact with people. "Now that going to a supermarket is more of an ordeal, I've had to cook a lot more with just the ingredients that I've had at hand and be more adaptable," she said.
Contant has found that essential baking ingredients are now sparse, he said. "Flour, sugar, and butter have [always] been in short supply because they are versatile, but especially now are being depleted compared to produce in a time when people are making two to three meals a day."
A good recipe should accommodate ingredients that have already been acquired, especially during a time like this, Contant said. He compared finding a recipe to finding a history source: "cross-check your recipes and look at the reviews," he said.
Gaither's family has groceries delivered every week and a half, and from there, she figures out what she can make. Gaither uses websites such as Bon Appetit, New York Times Cooking, Food 52, and Smitten Kitchen to find recipes. When she doesn't have all of the necessary ingredients for one recipe, she'll use it in tandem with another recipe. She recently made banana pancakes by piecing together recipes from Food 52, Epicurious, and her own imagination, she said.
Brand has been using an app called "Yummly" for recipes and inspiration. The app allows users to create a profile, describe their cuisine preferences, and receive weekly emails containing a mix of recipes to try. Brand has also been using his own intuition and trial-and-error to spice up his creations, he said.
When school on campus restarts, Bartels is going to "go big" as frequently as she can, she said. "I'm not going to save it for weeks that we're heading into a break," she said. "I'm just going to randomly throw in homemade snacks, because we're going to have extended periods of time where we're closed, and I want those to be moments that people can cling to. Dipped marshmallows, trail mix, pretzel bites, all the things that people love."