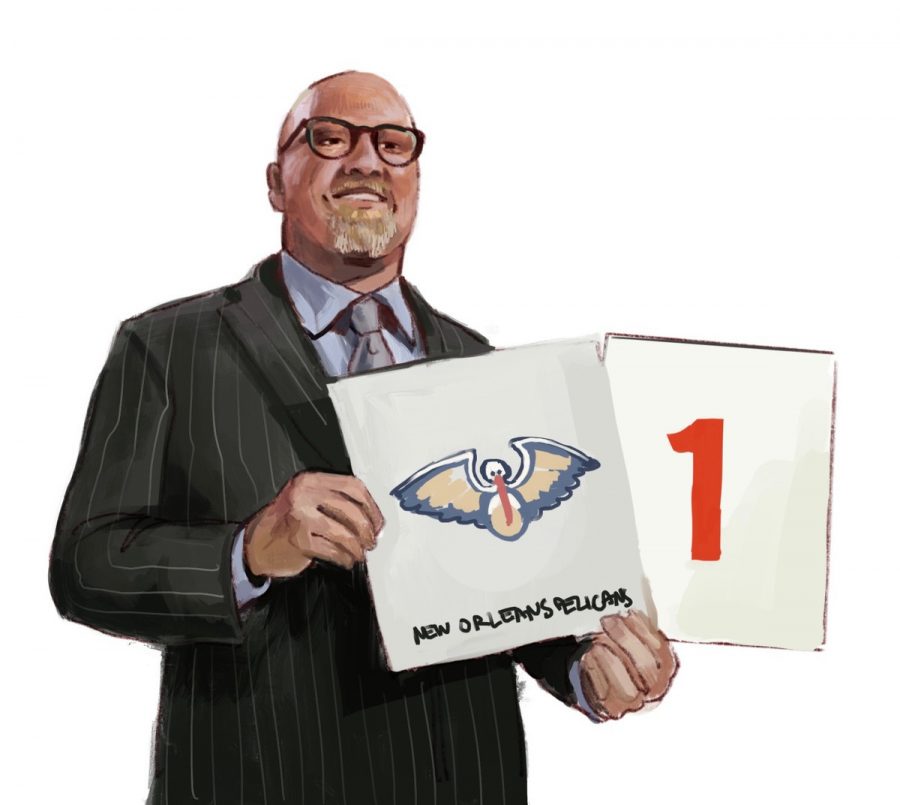 Although students, parents, and faculty may not be able to enjoy live sports on television every night, the Sports Business Forum provides them with the opportunity to engage with a different aspect of the sports world. "I like to look at the silver lining for everything," Marc Cornstein '88, P '24, the host of the forum, said. "Maybe this forum can provide that silver lining for many students."
Cornstein hosts the forum every Tuesday from 4-5 p.m. on Zoom. With the increase in downtime created by the switch to online school, Cornstein thought it would be helpful for members of the community who are interested in sports or business to have a space to hear from people in those industries, he said. He hopes that students who attend the meetings will learn something new, have a chance to communicate with people they wouldn't have otherwise, and be both inspired and motivated by any of the speakers' responses, he said.
Each meeting, Cornstein invites a new guest speaker. He hopes to invite speakers who will bring diverse backgrounds and viewpoints to the table so that students can have the opportunity to hear about all aspects of the sports industry, he said.
The guest speaker for the second meeting, held last Tuesday, was David Griffin, Executive Vice President of Basketball Operations for the New Orleans Pelicans, and former General Manager of the Cleveland Cavaliers. Griffin won a title in Cleveland with LeBron James, and now works with Zion Williamson, the first overall pick in the 2019 NBA Draft, who currently plays for the Pelicans. Over 70 people joined the Zoom meeting
Cornstein kicked off the event by asking Griffin what it takes to build a championship team and what it is like to manage basketball superstars. "We tried to build a family that loved each other enough to tell each other what they need to hear, not what they want to hear," Griffin said in response.
Griffin covered a variety of topics, ranging from how to deal with player injuri e s to how he felt when James returned to the Cavaliers in 2018. When asked to compare managing James versus Williamson, he answered that the two didn't share many similarities. "In the case of LeBron, he taught me what leadership was like—he was already a fully-formed champion," Griffin said. "For Zion, I hope to create an environment to raise him to be like LeBron when he came back [to Cleveland]. Zion sees and feels the game like LeBron does, but he isn't skilled enough to act on it yet, but he is [also] the most selfless superstar I've ever been around."
S p o r t s business has always interested Ben Chasin (11), so he thought that the forum would be a great learning opportunity, he said. During the forum, Ch a s in discovered that having a job like G r i f f i n ' s requires starting from the bottom and working one's way up, he said. He was particularly intrigued by Griffin's conversation about wanting to keep Williamson happy so that he would want to re-sign with the Pelicans when the time comes, he said.
Coach Ronnie Beller was surprised to hear that making a superstar feel at home was of more value to Griffin than promising the player something in return for joining the team, he said. "Team building, the dynamic of the team, selflessness— everything about the family atmosphere that he stressed was really important," Beller said.
Head of Middle Division Javaid Khan '92, an avid fan of both basketball and Lebron James, enjoyed attending the meeting. "To hear from a basketball mind, with the level of experience David Griffin has, [was] a level of access that I could not pass up, and that Horace Mann is lucky to have," he said.
Eddie Mantz (11) attended the meeting because he knew that Griffin is one of the top-ranked general managers in the league. "It takes a lot of hard work and dedication to get to the point he is at—you have to learn to overcome the obstacles you are going to face," Mantz said.
Griffin advised young people, especially those interested in pursuing a career in sports, to remember the importance of passion and determination in every walk of life. "Do the thing you're most passionate about, whatever speaks to you," he said. As for entering the sports industry, Griffin recommended being proactive and interactive, he said. Creating connections by volunteering at high school or college programs is important because students can meet new coaches and mentors, he said.
Attendees are already showing their interest in joining future meetings. Khan said that he is definitely planning on attending again. "As a sports fan, I am all too eager to see what Mr. Cornstein comes up with next."