Dr. Leeds reflects on crisis and contingency
Dr. Jeremy Leeds
May 8, 2020
As many of you know, I am stepping down as Director of the Center for Community Values and Action (CCVA) at the end of this academic year, and assuming a new role in the school as I move toward retirement. We welcome Dr. Joyce-Bernard as the next CCVA Director in the coming academic year.
I had already been thinking about what has been essential in the first 14 years of the CCVA, when the coronavirus crisis struck. Now, when staying home and social distancing are the most important things most of us can do, it's challenging to see where service-learning fits in! The CCVA's mission is to connect education, ethics and action. The possibility for action at this time is limited. But there's more to the story.
One word that captures something central about this experience—and can shape our response to it—is contingency. I'm using it here as a direct contrast to permanence. We have discussed this concept in Ethics class and it has special relevance now. It's human to go through life assuming some things are just "there," unmovable, given; now, some of these things have vanished, and others have been profoundly disrupted. It shakes the sense that things have to be the way they are. This is a source of anxiety, sadness, and uncertainty. It can also be an opening to question the long-standing order of things, and to envision change for the better. And it can throw a light on what is really essential to preserve.
With a heightened awareness of contingency, I'm thinking about what really is important to rebuild and return to—and what we should act to change. Here are some thoughts about how contingency applies to what is central in community engagement and service-learning.
I'm taking hope and inspiration in the work of doctors, nurses, postal workers, scientists, front-line responders, community agencies, teachers, and so many more—in both their response to our current needs, and in their advocacy for change. And along with hope and inspiration, there is also confrontation with the devastating results of "savage inequalities," as Jonathan Kozol memorably put it decades ago, now brought sharply into focus, including in our own Bronx neighborhood. I'm taking a heightened sense of urgency to turn our focus and our education, to both build on the hope and inspiration, and to work to change the savage inequalities that are so clearly contingent: under human control and possibility.
The CCVA's programs try to introduce a sense of how one might "make of this old world a new world," in the words of Dr. Martin Luther King, Jr. Our structure gives all participants a chance to experience community—the "us"—where it previously had not been present. When we connect and build relationships, we create a sense of solidarity with people, places and institutions we didn't know before. And even if we knew the participants, as often happens with the students on the Service-Learning Team and HM 246, we can feel connected in a new way. It expands the "us" in many directions. It makes the phrase "we're all in it together" resonate as real and urgent. More than ever, we need an expanded sense of who is in our circle of care and connection.
Dr. King also said that "everybody can be great, because everybody can serve." It has become a slogan of the service-learning movement, but now an even more resonant one.
Taking the measure of his life of service, it is clear that he had a broad sense of what "service" includes. It encompasses help and individual connection, what we most often think of when we hear the term "service." It also means collaborative participation, struggle, and group action. And it means learning, insight and reflection. All to make a new world, a more inclusive "us."
Take this opportunity to reflect on contingency, how meaningful and important your action can be in creating a better life for each of us and a better world for all of us. I'm happy to have taken this journey with you for the past 14 years. Our entire school community has, in myriad ways, embraced and experienced service-learning. Even now, the outpouring of interest in participating in whatever ways possible inspires hope for the future. Our fantastic CCVA staff, including incoming CCVA Director Dr. Joyce-Bernard, incoming Associate Director Ms. Sanchez, and our indispensable Administrative Assistant Ms. Watts (HM '13), will be there to take the next steps in this work, however the circumstances change.
Everyone, please take your own measure of where we are now. With an appreciation for contingency—how much things can change, and also how much they can be changed for the better—take your next steps, to "make of this old world a new world."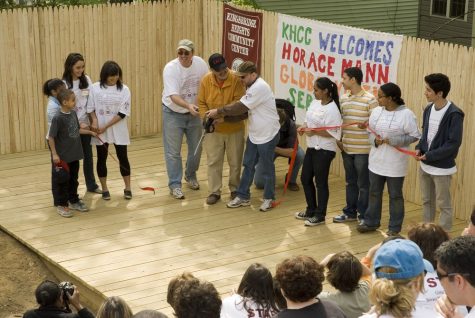 RIBBON CUTTING Leeds at the first ever Service Learning Day.