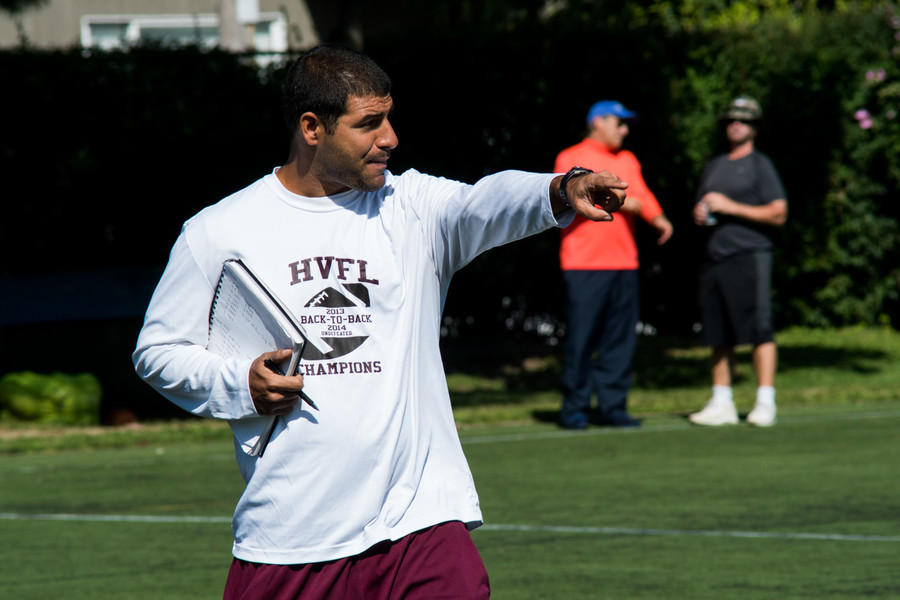 The day after Thanksgiving means following a family tradition for Varsity baseball and football coach Matthew Russo: making his grandfather's renowned turkey-stuffed ravioli with his family. 
Cooking from scratch with his late grandfather's original recipes is a part of his Italian-American heritage, Russo said. "Through his recipes and through the food, there is a connection," Russo said. "He was known for making really good pizza and really good ravioli."
Russo has since adopted his annual tradition from his grandfather's old restaurant in Brooklyn, which was known for making the same dish after each Thanksgiving with the excess of leftover turkey. "Supposedly, as the story goes, they were absolutely sold out in minutes."
Typically, when he makes too much for his family to eat, Russo sells his homemade ravioli at a local farmers' market. "I asked some of the people I became friendly with if they wanted me to bring them some ravioli and it just went from there," he said.
Russo's parents instilled a love of sports from a young age. "I started playing baseball when I was so young I can't even remember," he said. "I had an older brother who played and then it became something my mom signed us both up for."
Russo's love for baseball led him to be scouted by colleges such as Clemson University before he tore the ligaments in his throwing arm. "It just made it really difficult to have a strong senior year," he said. "Some of the schools that were recruiting me dropped out due to the injury."
Despite experiencing setbacks on his path to professional baseball, Russo was still able to continue with baseball. He played catcher for Manhattan College up until his junior year, when former coach Charles Obgonna offered him the chance to pursue a career in coaching. 
"There was somebody who was working at HM at the time, that I knew from Manhattan, who reached out saying that there was the potential to take the assistant baseball coach position," Russo said. "But it meant I would have to walk away from baseball, something that I had done for all those years."
After careful consideration, Russo left the college baseball team and was hired once he graduated. He has been working at the school for 18 years since. "It just kind of seemed like a natural fit for me at first," he said. "I enjoy, obviously, being around sports; I enjoy some of the life lessons that come with it, and I love being around kids."
Lacrosse and field hockey coach Keri Panarelli has worked with Russo for 15 years, and admires his ability to construct a relaxed environment both in and out of their shared office. "Coach Russo is energetic, animated, friendly, and kind," she said. "He makes coming to work fun."
Russo said that one of his favorite aspects of teaching baseball is watching his younger players develop over the years."To know that potentially you had a tiny bit of influence on that kid's growth, that to me is probably one of the most satisfying feelings you could ever have."
Junior Varsity baseball and football coach Ronnie Beller said that an important part of Russo's coaching style is his initial approach. "The first thing that he talks about with anybody is to create a team-like atmosphere, a no-excuse atmosphere, and a hard work and family atmosphere," Beller said. 
When Jonas Jacobson (11) joined the Varsity football team, he noticed that Russo stressed inclusivity and improvement when he paired upperclassmen with underclassmen. "He was making sure everyone meshed and was comfortable with one another from the beginning," Jacobson said. 
"He taught me a lot about my mindset," Varsity baseball player Mark Fernandez (12) said. "I would be caught on the last at bat while going to pitch or play first base and he taught me instead to be a level-headed, calm athlete." 
Harrison Bader '12 and Pedro Alvarez '05, two notable baseball players whom Russo helped coach, have gone on to play in the major leagues. Bader is the current center fielder for the St. Louis Cardinals, while Alvarez was the second overall pick in the 2008 draft and an all-star in 2013. 
However, Russo's impact goes beyond just his influence as a coach, as he has also proven to be a trusted leader, mentor and friend to students and coaches within the community, Beller said. "He's one of the most versatile people you'll ever see—he can cook, he can play baseball, he knows music, [and] he just connects with so many different people," he said.
"He will always go the extra mile," Fernandez said. "Whether that is helping you on or off the field, he cares about every single one of his players like they are his family."