"Bliss brownies" and bell ringings: Team traditions in UD sports
While stuffing your face with platefuls of penne pasta does not seem like the most typical form of team bonding, consuming gallons of carbs is an annual tradition of the Varsity Swim team (VS). Like VS, many sports teams at the school use traditions to ensure that they maintain close friendships throughout the season.
Co-captain of Boys Varsity Football this fall (BVF), Nick Potash (12), credits the team's success to their annual traditions, he said. Before school starts each year, the team travels to a sleepaway camp for three days to train. This is where the team first begins to get to know each other and work on their technique, he said.
Every year during sleepaway camp, the team has a 'maroon versus white scrimmage,' Jonas Jacobson (11), another team member, said. The coaches simulate a draft, and everyone plays together.
One of Jacobson's fondest memories from his time on the football team comes from this game, he said. When Jacobson was a sophomore, he went up against a senior during one of these scrimmages and was beat up—the senior did not cut him any slack. "That was kind of a 'Welcome to football' moment," he said. "I realized that people were going to be much bigger than me and were going to push me to the limits, but it's something that will prepare you for the rest of your football career."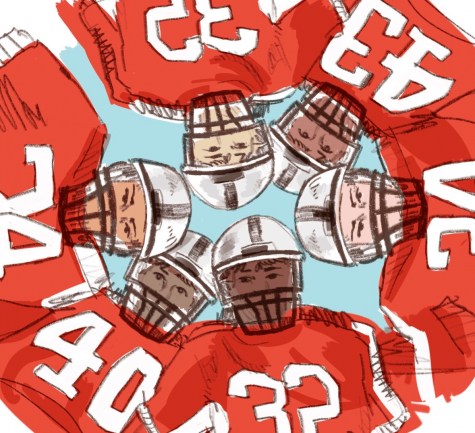 Like Jacobson, Potash has cherished every one of the BVF's traditions during his time on the team, he said. Every time they win a game, the team rings the bell that hangs off of Prettyman Gym to celebrate, Potash said. They also show their support for Breast Cancer Awareness Month by wearing a pink item of clothing during their annual homecoming game, he said.
Similarly, Girls Varsity Basketball (GVB) has a number of traditions that they have been doing for years, Rosy Arora (11) said. At the end of every practice and game, GVB chants the same cheer: "One two three team! Four five six family! No matter where, when, why, or how, we always stay together!" "We really emphasize that we are not just a sports team; we are a family," she said.
For team sports such as basketball, it is important to have connections with your teammates, Sareena Parikh (10) said. "We need the chemistry on the court." 
Girls Varsity Swim (GVS) also has a host of traditions that keeps their spirit alive. "We like to refer to ourselves as a cult," Harmony Li (10) said. 
Co-captain of the GVS team this past winter, Abigail Salzhauer (12) loves every tradition that the swim team has, especially the annual 'carb-load.', she said. Although it is standard to eat carbohydrates before strenuous exercise, the team puts a spin on it: "Every year before the final championship meet, we have a big pasta party," Salzhauer said. "We go to a senior's house and eat a ton of food. It's a nice team bonding experience before the end of the season." 
A more regular tradition is enjoying 'Bliss Brownies' after every meet. "The recipe has been passed down to a mom of one of the boys on the team each year, and they make them for every meet," Salzhauer said. "We eat them like vultures every time," she said.
For Salzhauer, the importance of these traditions comes from the sheer enjoyment that they bring. While training for swim can be difficult, the traditions add something fun for team members to look forward to, she said.
Edwin Jin (12), another member of the swim team, credits the team's success and cohesion to their special traditions, which allows for more comradery, and a sense of community, he said. "When we have the feeling of togetherness, we push ourselves to be better, helping one another improve." 
Each BVF tradition has given teammates fond memories, Jacobson said. One of his favorite moments occurs at the end of each season. The team creates a huge circle around Four Acres Field, with the seniors standing in the middle. Each senior goes around and says something personal and unique to each team member. "It's sort of a passing-of-the-torch moment. It's something I don't forget—the seniors telling you that you are going to be the next leader of the team, the future of the program is in your hands."
Arora, who has been on Girls Varsity Volleyball since her sophomore year, experienced the benefit of community-building activities even before the school year had begun. "Before school starts, an upperclassman hosts a lunch at their house for everyone who made the team. We get to all hang out and spend time together," she said. This event made Arora feel immediately welcomed into the volleyball community, as she knew her teammates on the first day of school, she said.
While there is a wide range of traditions, the importance of each one remains consistent. "We get to know each other through these traditions and make connections with each other, Arora said. "I feel like each team member is my sister."