Asian Americans confront racism during COVID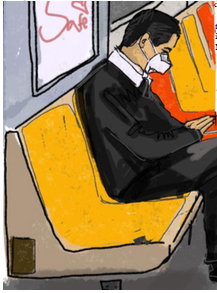 The week after school closed due to COVID-19, Masa Shiiki (12) was confronted while walking down the street. A man with a microphone appeared and began screaming 'corona' into Shiiki's face, he said.
Throughout the COVID-19 pandemic, Shiiki and other Asian American members of the school's community have been subject to outright racism and discrimination in public. Although quarantine has forced people to remain inside and stay with friends and family, many Asian American members of the community have also experienced more subtle racism through both conventional media sources and social media apps such as Instagram and Facebook.
Immediately after the incident, Shiiki said he was not deeply affected. However, it "made him think about how ignorant people can be, and how people sometimes blame issues on others when they cannot tangibly confront the issue," he said. "People need to understand that this is an issue that is not some race's problem, and instead we should be helping one another out."
While HaiHai Hu (12) has not personally experienced any racially-charged attacks, he knows of family friends who have, he said. "A family friend has encountered such instances on the subway regularly, where people either comment, act disgusted, or walk away as if she were infected."
"It's a little scary to hear the news happening to Asians across the country," Computer Science and Robotics Teacher Lester Lee said. Lee is scared that there will be a sharp rise in xenophobia. People referring to COVID-19 as the "Chinese virus" or "Kung-flu" certainly hasn't helped, Lee said. These terms perpetuate narratives such as the Yellow Peril, he said.
"The atmosphere has changed," Lee said, "Being Asian has now become hypervisible." Being hypervisible is about the scrutiny of peoples over perceived difference and their inability to blend in or hide certain aspects about themselves.
Now, Lee only leaves the house to get groceries, and when he does, he has to be more cautious of how he acts, he said. Another time, Lee, a resident of Chinatown, decided to stay indoors after an Instagram user declared that they would shoot at every Asian in Chinatown, he said.
Similarly, English Teacher Stanley Lau has also felt like people first see him as Asian before any of his other identifying characteristics, he said. Early on in the pandemic, Lau was riding the subway home from his workout class and felt dehydrated. He recalls needing to cough but stopping himself out of fear, he said. "I remember just looking down and thinking, 'Please God, don't let me cough on this crowded subway' because I knew that if I did, I was concerned that people would all look at me."
During spring break, Lau contracted COVID-19, an experience that he will always remember, he said. "I actually got very anxious about possibly telling my colleagues and students," he said. "It's a time of uncertainty, and there's always the possibility that students and families will think differently about me."
However, Lau's colleagues, students, and their families were all supportive and caring, he said. "As a new person to HM and NYC who doesn't yet have a large support network, the fact that everyone in my department reached out meant the world to me."
Lau does not doubt that people will treat him with kindness and respect at school; instead, he worries more about implicit biases. Given that he is an Asian American who had COVID-19, he wonders what people will think when his seasonal allergies act up and he sneezes or coughs.
Annabelle Xing (11) has not been the victim of any racist comments, but she has felt more subtle discrimination against Asian Americans on the news, she said. Asian American and Asian news-focused media company NextShark has published many articles about physical attacks against Asians in subways or public, derogatory remarks, she said. Additionally, Xing recognizes that some of her local Chinese restaurants are also struggling because people are afraid to go and eat there or order food, she said.
In Chinatown, tourism has dropped significantly, and it seems that some shops will be forced to close, Lee said. "I try to support when I can by ordering delivery and selecting no-contact drop-off or take out."
While members of the community have been able to shake off the racist comments, there is consensus regarding the need for a change in how people perceive COVID-19. Lee said that he believes the first step is to start conversations about why Asians have become hypervisible. "We need to show support to people of color's voices and listen to them talk about their experiences, not to undermine it."
Furthermore, Lau suggested that privileged individuals must play a critical role in disrupting this ecosystem of discrimination. "It's difficult, awkward, and requires a lot of emotion and mental bandwidth, but we need to be willing to do that," he said.
Lau has a few steps that he thinks people can take to help disrupt this system. "First, don't be afraid to ask clarifying questions," Lau said, "if someone makes a racist joke, ask them to explain why it's funny." Second, people should speak up or call in people to help them realize when they've made a mistake but without criticizing them and putting them on the defensive, he said.
"Finally, those who are in positions of privilege should step back and, without judgment, listen when people in marginalized communities speak about their own lives," Lau said. "Resist the temptation to challenge someone's lived experiences and the assumption that all Asian Americans share the same experience."
Sofia Jiang (11) believes that part of the reason why negative connotations of Asians have spread is because of widespread misinformation over how the virus spreads and fear of the pandemic. "Initially, there should have been greater transparency about how the virus spread," she said. "Since misinformation plays a fundamental role in the perpetuation of racist stereotypes, being more transparent would enable masses to think critically about their own responsibilities to reduce the spread of COVID-19 rather than assigning blame."
Similarly, Xing believes that information about the pandemic has been misframed to cast blame on China or other Asian nations, she said. "It would be extremely helpful for a public official, the President, the Center for Disease Control and Prevention (CDC), or some official account to come out and clarify the information." Government officials' statements should match up with the recommendations of the CDC and not politicize issues, such as whether or not to wear a mask, she said.
"I still don't think about what other people will say about me, but it reminds me of how our world still has work to do in terms of racism and not being ignorant," Shiiki said.