Paul Wang nominated valedictorian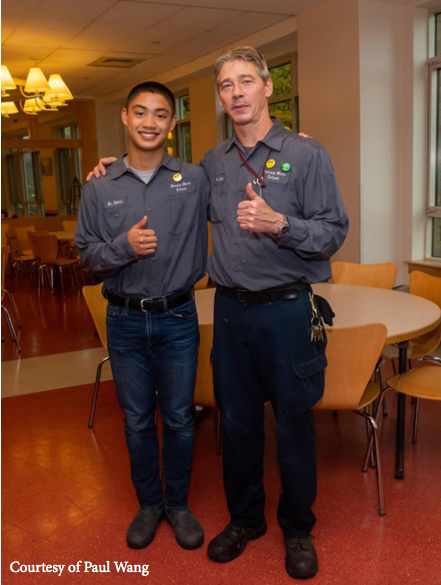 "Everyone loves Paul," co-class president Dan- iel Lee (12) said. "You can ask anyone and they'll tell you I'm right."
e election of Paul Wang (12) as the Class of 2020 valedictorian has proved that the Class of 2020 does, in fact, love and value Wang. e other class co-president, Wang will deliver the valedictorian speech at the Class of 2020's virtual graduation on June 10th.
To be chosen as valedictorian, at least 10 mem- bers of the class of 2020 nominated Wang, and he then received the most votes from the grade among the top nominees. Rather than selecting the student with the highest GPA owwr deferring the decision to the faculty, the senior class votes for the person who they think best represents their grade and their grade's values. Halley Rob- bins (12) said that Wang does just that.
"He is always doing things in the service of other people," Robbins said. " e amount of ef- fort that he brings to making other people's ex- perience at HM so positive is why people and I nominated him." Robbins said that she also nom- inated him because of his ability to make every- one in the community feel included and comfort- able.
Eddie Jin (12) said nominating Wang was a no-brainer. "He's just one of those people you could hardly know and he'll just come up to you and say 'hi,'" he said. "His joy and jubilance [are just infectious."
Wang has played a key role in the community throughout his four years at the school, with one of his claims to fame being the creator of the school-renowned "Panini Pass," Jin said. e "Panini Pass" lets students reserve a panini from the café if they miss their lunch periods for dou- ble lab.
"As class president, he's been putting in e ort to try and make things easier in light of corona- virus, so he's been a voice of reason throughout this as well," Lee said. One way Wang has tried to make the year easier is by pushing to maintain senior traditions like the "Senior Scream."
In the classroom, Wang exudes the same self- lessness and compassion as he does in everyday life, English Department Chair Vernon Wilson said. "He thinks of others rst always, and his classmates, down to an individual, seem to hold him in the highest esteem because of it," he said.
Wang is always searching for ways to learn more, Wilson said. "He came to me in the middle of the year to meet about how he could become a better reader," he said. "And he didn't mean a better reader for our class texts, necessarily, but of books generally."
Especially in sports, Wang is also always nd- ing ways to contribute to the community and put others first, Lee said. "In ultimate [frisbee], if he drops a catch or messes up a throw, I know for a fact that the next day he is going to be working exactly on the kind of thing he messed up so that he doesn't do it again."
Winter Track Coach Jon Eshoo said that Wang leads by example. "It didn't take long for his team- mates and coaches to understand he's a kind, con- siderate, and thoughtful person who always puts others first," he said.
Most Valuable Player (MVP) award, Coach's Award recipient, team captain, and top performer and scorer for his team are only some of Wang's athletic achievements. Eshoo said that he gave Wang the Coach's Award because of his positive attitude and personal responsibility.
When Wang rst found out that he had been chosen to be valedictorian, he felt a flood of emotions, he said. "At rst there was a lot of excite- ment and surprise," Wang said. "I never imagined this would be the case because I was new to the school in ninth grade and didn't know anyone. It's kind of amazing how far I've come and how much I've developed as a person, and I have to de nitely attribute that to my teachers and class- mates."
Wang hopes to capture his gratitude and ap- preciation for every one of his classmates in his speech, he said. "I want to tell everyone how special they are to me and how my experience at Horace Mann has been so great because of the community that they've created," he said. "I want to encourage an openness to interact with other people too, even if you don't know them well. Be- ing more open to connection with other people can really lead you to new friendships and con- nections that you would have never imagined."
Jin said that it is especially important for the Class of 2020 to hear from Wang right now be- cause of the current crises the nation faces.
"At time like this, we really need to hear from someone like Paul because he's so caring and compas- sionate about other people, and is really willing to put himself on the line to help others," Jin said. "I truly believe that he's inspired me to help others and be a more compassionate and genuine per- son, and I know that he will do that in his valedictorian speech as well.