Softball coach and biology teacher Doellman departs after three years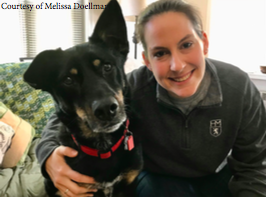 "She's one of the sweetest teachers I've ever had, and I'm sad to see her leave. She was one of my favorites!" Zahra Motwani (9) said.
After three years, science teacher Melissa Doellman is leaving the school to teach in Westchester next year. "HM was my first experience working and teaching in the city," Doellman said.
Throughout her time at the school Doellman has taught ninth grade biology, AP biology, and Anatomy and Physiology. Doellman is also a faculty advisor for the Service-Learning Team and a coach for the softball team in the spring. "Getting to help coach the softball team is what made HM feel like home," Doellman said.
"One time after a particularly hard loss against Poly, on the bus ride back, Coach Doellman let the team stop and she bought us all rainbow bagels," Amanda Wein (10), a member of the softball team, said. Doellman makes everyone on the team work hard and is super supportive of them, she said.
To her colleagues, Doellman is known as one of the most organized science teachers. "I'm constantly learning from Ms. Doellman," science teacher and Dean of the Class of 2020 Stephine Feigin P '21 said. "She's incredibly innovative and is always making new labs for the students to get them excited about learning," she said.
Doellman's preparedness has been noticed by her colleagues. "She's super organized, and is always up for a challenge," Science Department Chair Dr. Lisa Rosenblum said. Rosenblum was Doellman's mentor when Doellman first came to the school."After three years with Ms. Doellman, she has now been the one who helped me grow as a teacher," she said. She's a wonderful colleague, and is a big part of the Horace Mann community, Rosenblum said.
Doellmans efforts don't go unnoticed by her students. "Before having her as my teacher I was relatively uninterested in science, but she was able to make learning actually fun," Phoebe Rice (9) said."And now I look forward to biology class."
To Doellman's students, it's clear how much she loves to teach, Tess Goldberg (9) said. "She's so passionate and you can really tell she cares about her job and the kids in the class," she said. "She's inspired me to work hard in biology, and her class is fun and interesting."
Doellman always understands what kids are going through, and she was able to show AP Biology student Devin Shah (12) what a great teacher looks like, he said. "She's just an amazing teacher and person, one of the best teachers a student at HM could ask for."
Doellman always lets the class have some funny moments, but she is also able to get them back on track, AP Biology student Diana Shaari (12) said.
Doellman is also open to helping her students outside of the classroom. "I'm writing my JRP on women in STEM, and Ms. Doellman is one of the teachers I was interviewing," AP Biology student Rosy Arora (11) said. "I appreciated that she was able to make the time for me to interview with her, and went into depth about her life before being a teacher. She opened up to me which is something some teachers may not have done," she said. "You can tell she's very invested in the students' experience," she said.
"Since the class is only for juniors and seniors, Ms. Doellman's empathy made a traditionally stressful year more manageable, as she was always flexible with our work loads," Shaari said. "She knows how stressed out everyone is and she's good at being flexible with everything. She's been able to make this year a little bit less stressful," she said.
Doellman is an amazing teacher, Mumbi Johnson (9) said. "She really wants her students to enjoy what they are learning and feel good participating," she said. Johnson said she always looks forward to biology because of Doellman.
"Having her in freshman Biology sparked my interest in the subject; it made me want to take AP with her," AP Biology student John Mauro (11) said. She's a teacher that genuinely enjoys teaching, which makes the material more engaging. This is especially helpful to have in junior year when the subject matter gets much more advanced, he said.
She makes the class her own experience with the content and is able to teach them the practical uses of the curriculum as well, Shah said. "She has made me understand that biology is difficult but is also rewarding," he said.
"I've definitely learned a lot from my time at Horace Mann," Doellman said. "Everyone brings new and different things to the table and I'm able to appreciate that."
Doellman's science classes are well-liked by her students. "I've always loved science class at Horace Mann, and Ms. Doellman is particularly good at explaining the material," Shaari said. The teacher dictates how much you enjoy the course, and she loved class, Shaari said.
Along with teaching four classes, Doellman works hard to create a supportive advisory for her advisees. "She's really good at making you feel comfortable," Johnson said. "I'm in her advisory and in her bio class, and we had a one-on-one talk and she always makes sure the conversation is enjoyable," she said.
"She's always been a supportive advisor, and is always there for me if I ever need a shoulder to lean on," Rice, another one of her advisees, said.
Every class was new and exciting, and Tess Goldberg (9) never would have discovered her love for biology if it wasn't for Doellman, she said. "I'm really going to miss her," Goldberg said.