New classes: History of the Silk Roads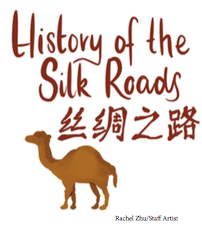 The key to understanding World History is understanding the Silk Roads, history teacher Dr. Susan Groppi said. Material goods were traded on the Silk Roads, but so were religions, languages, agricultural products, and diseases, such as the Black Plague. The roads were a conduit by which culture spread, Groppi said.
"History of the Silk Roads" is split into three eras: the Han dynasty and the Roman empire (around 300 BCE), the Mongols (around 1,000 years later), and Central and East Asia (around the 20th century). The first unit will delve into the relationships between nomadic and pastoralist societies; the second will discuss the golden age of human knowledge, ending with the Black Plague; the third will include an overview of the Cold War as well as the rise of China as a world superpower.
The AP World History curriculum first sparked Groppi's interest in the Silk Roads, and after teaching the class, she began researching the roads on her own. "When we started talking about phasing out APs, I started to think, 'What could I teach that would incorporate what I loved most about World History?'" she said.
Groppi soon realized that as opposed to studying one region throughout time, she preferred to learn and teach about connections across regions and time periods, which is the exact approach her course will take, she said.
So far, the hardest part of the process has been choosing readings for next year, Groppi said. Since the class's discussions will be built upon nightly readings, her choices will determine the foundation of the course.
The final research project will also vary as a result of reading materials. Although many secondary sources can be found in the library's collection, many students won't be able to access primary sources due to a potential language barrier when looking at regions such as Central and East Asia. As such, Groppi will spend her summer looking for possible resources using the curriculum grant she received for the course.
"History of the Silk Roads" is unique because with the exception of students who may have touched upon the subject in Global Environmental History, the topic will likely be entirely foreign, Groppi said. "It's not like you have the foundation and we're going more in depth. If I'm talking about the history of Central Asian nomads or the history of Rome, frankly, or the history of Chinese dynasties, most kids don't have formal training."
Because students often want to take courses that delve deeper into topics they've previously studied, Groppi predicts that fewer students may sign up for the course. Nevertheless, she's excited to teach the group of students who will have registered to study unfamiliar yet engaging topics. "[I hope that students] get to understand a fundamental piece of human history that most people don't know about," she said.