Black students demand change at HM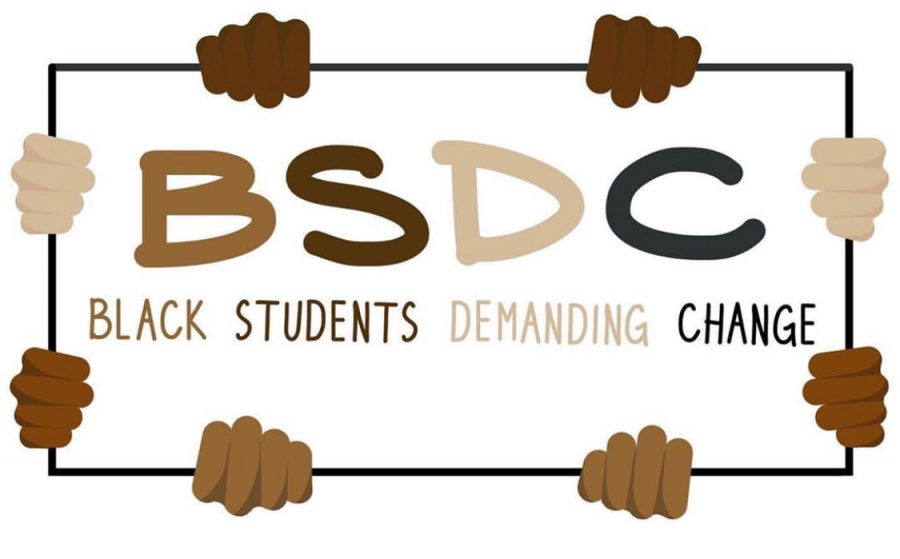 Over the summer, nearly 40 students from 12 schools in the New York State Association of Independent Schools (NYSAIS) formed Black Students Demanding Change (BSDC), an organization that advocates for racially equitable reform in private schools. 
In June, Horace Mann approved BSDC's list of demands, which covered five categories:  culture, accountability, representation, education, and support (CARES). 
Representative Nya Marshall (12) joined the organization in late May after participating in a large group chat of Black students across NYSAIS. "Everybody was talking about institutional changes they would like to see at their school," she said. BSDC creates actions that can be brought to the administration at their respective schools.
BSDC first focused on developing their mission through social media. "In the beginning, it was the question of how we would present ourselves: Would we go to social media and talk about our stories, or would we create a list of institutional action steps and bring it to the administration?" Marshall said. 
After a group vote, BSDC decided to send demands directly to schools and to use social media to share their mission and progress with their followers. 
Then, BSDC split into committees: writing, outreach, webinar, executive, social media, and treasury. 
Lauren Gay (12), another BSDC representative, is on the writing committee, which created a list of demands applicable to all schools. From there, representatives catered the demands towards their schools based on what they thought needed to be emphasized, she said. 
In the culture section, BSDC asked schools to "foster environments of cultural competency and mutual respect where diverse identities and perspectives are truly welcomed and valued." 
The school has placed priority on "ensuring candidates of color in the final round of all job searches," Head of School Dr. Tom Kelly wrote. 
The school also founded a new committee, which has the purpose of bi-annually assessing the school's diversity, equity, and inclusion work while also providing feedback, Kelly said. This will help the school to hold itself and its members accountable.
The education section outlines learning "with a focus on examining the presence and impact of various forms of racism (institutional, systemic, and interpersonal) and including content that celebrates BIPOC voices." 
Therefore, the History Department will create a new speaker series this year that will discuss issues including the Black Lives Matter Movement, immigration, voter suppression, policing, indigenous rights, mass incarceration, and the intersectionality of race, gender, sexuality, and ethnicity, Head of Upper Division Dr. Jessica Levenstein wrote.
Since these talks will be conducted over Zoom, the school invited experts whose schedules wouldn't have otherwise allowed them to come to the school. "It's an amazing opportunity for the whole school to learn more about these important issues and to engage in discussions about them," Levenstein wrote.
The school will also implement changes in relation to the faculty evaluation process, admissions programming, and development opportunities for teachers. 
Representatives Marshall, Gay, and Nshera Tutu (12) sent the first draft of demands to Candice Powell-Caldwell, Director of the Office for Identity, Culture, and Institutional Equity, for review and advice. 
Later, the representatives met with the school's Administrative Council, which consists of all division and faculty heads, to answer any questions related to the changes.  
During this meeting, they talked about making the school community increasingly racially literate by consistently implementing changes such as anti-bias training for employees, students, and parents, Kelly wrote.  
The administration heard that many students of color wanted to have a psychologist of color in the Upper Division. "Notwithstanding the good work of our current Guidance & Counseling Office, our student representatives spoke passionately about why a clinician of color would contribute greatly to the work being done by this office within the context of an increasingly diverse student body," Kelly wrote. Although they are still looking for one in the Upper Division, the Middle Division has a psychologist of color, Gay said.
Within two weeks of meeting with Levenstein and the Administrative Council, the school agreed to implement all of BSDC's changes. "The administration has been really open about acknowledging that things need to change and trying to address our demands," Gay said.
After the meeting, Levenstein met with Marshall, Gay, and Tutu separately to discuss issues more specific to the Upper Division. "One topic that came up was the need for more clarity around reporting incidents of bias," Levenstein wrote. Levenstein then created protocol that will be included in the family handbook regarding the school's procedures for such incidents. The handbook writes that any such incident should be reported to a "trusted adult, who is then obliged to bring the incident to the Upper Division Head." From there, it will be investigated according to the Harassment/Bullying policy and lead to situation-appropriate consequences 
The protocol will ease students' uncertainty who find themselves in uncomfortable situations, Marshall said. 
Kelly said there has already been a positive effect on the community at large. "Regardless, there is more work to be done and I look forward to doing it in partnership with our BSDC representatives, members of the administrative council, and a growing number of faculty and staff members and parents," he said.
Continued dialogue is important, Levenstein wrote. "To me, the most important quality each of us will want to cultivate to promote an inclusive learning environment is humility," she said. "As we've seen with the BSDC, students, faculty, and administration can bring about meaningful change at the school, if we communicate openly with one another, listen to each other with humility, and think creatively."
The community should continue to listen to different perspectives, Gay said. "Students who do not identify as a person of color, and people who do, should listen to others who are talking about their experiences and microaggressions that can be harmful," she said. "Everybody is able to do better, and taking the time to learn how to better support their peers is something I hope people are able to take away from these initiatives."