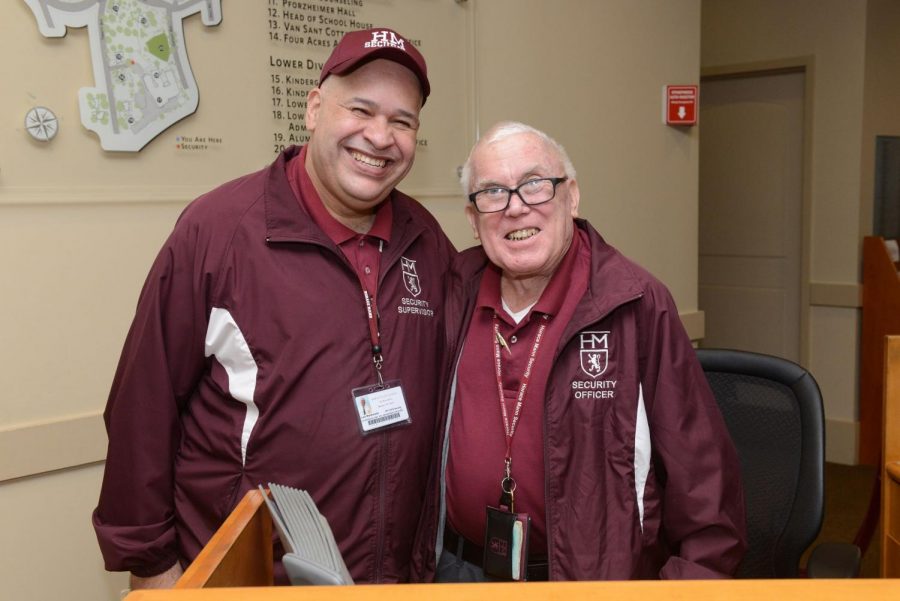 For 31 years, beloved public safety officer Mike Rooney was the first face to greet students and faculty walking onto campus. To the deep sorrow of the school community, Rooney, who retired in 2017, passed away of heart failure on June 3 at the age of 66. 
The school community remembers Rooney as a cheerful, friendly, and welcoming person, Head of Upper Division (UD) Dr. Jessica Levenstein said. He had a knack for remembering the names of students and faculty across the four divisions. 
"He remembered everybody — I don't know how he did that," said Patricia Zuroski, former Head of the Nursery Division (ND) and Director of the Office for Identity, Culture and Institutional Equity (ICIE). "Even when we came up in the high school in 2010, I remember he would point kids out hanging around the lobby and say, 'Yeah, I remember that kid when he was three or four,' and he could name him."
Rooney joined the school as the first full-time security guard after the formation of the school's Public Safety Department, then called the Department of Security, Fire, and Safety. Previously, he had worked as a public safety officer at Manhattan College and as an auxiliary lieutenant for the New York Police Department's (NYPD) 15th precinct.
Rooney's family hosted a funeral procession down Mosholu Avenue in the Bronx rather than a formal funeral or wake due to social distancing measures. Family and close friends, including members of the school community, watched the procession from the curb to pay their respects. 
The NYPD Emerald Society Pipes & Drums group performed at Rooney's service as a final tribute. Assistant Director of Public Safety Peter Clancy, a member of the society, said the ceremony felt fitting as a way to honor Rooney. "I know Mike would have loved it," he said. "Mike was a big fan and supporter of the pipe band."
Rooney's experiences working on all of the school's campuses — beginning in Riverdale in 1987, moving to the ND on the Upper East Side in 1996, and back to Riverdale in 2010 — helped Rooney develop long-lasting relationships with community members. 
"He knew the most intimate things about people," Zuroski said. "It seemed like you could pick something up off the security desk, and he'd say, 'Oh, I know who that belongs to.' He kept track of all these little details. He just had an amazing mind that way."
Josh Underberg (12) said he felt sheer excitement every day before school at the ND Manhattan campus when Rooney would high-five and check in with each student. Even this past year, Underberg felt inspired by Rooney's continued commitment to the school and students. "The student body changes, the teachers change — but he's that one person who's been that consistent factor in my life at Horace Mann for 14 years."
Levenstein remembers daily greetings from Rooney as a reminder to maintain human connection, she said. "My perpetual memory of Mr. Rooney is a person who set the tone for the school." 
During Rooney's time in the ND, he often engaged in the school's traditions for younger students such as the Holiday Sing, during which faculty members sang with the students and showered fake snow in the classrooms. One year, Zuroski rode a sleigh into the classroom, and Rooney agreed to be the "horse" that would pull her, much to the amusement of the students, Zuroski said. 
"He put the rope around his waist and had two people pushing from behind," Zuroski said. "He was pulling the kids around the room — we had so much fun. It was an amazing moment for the kids because they associated him with just being [the] official in the front door." 
In kindergarten, Jesse Lowey '17 and his siblings won a "Be Mr. Rooney for A Day" raffle, which Lowey considers one of his most memorable experiences with Rooney. They spent the day completely in Rooney's shoes — high-fiving each student as they walked in, sitting at the front desk, playing with the coffee machine, and acclimating to what being a security guard entailed. 
As a result of their meaningful conversations before, after, and during school, Lowey values Rooney as one of the top three most important faculty members to shape his upbringing and education."He's just one of those people that always puts a smile on your face no matter what," Lowey said. "You can tell he's genuinely curious and interested in and cared about my life, and I did the same for him." 
 During many free periods, Lowey, who supported the New York Mets, bonded with Rooney — a loyal fan of the Chicago Bears and New York Yankees — in conversations about baseball rivalries and the season. 
Baseball was Rooney's "first love," and he counted down to spring training every year in the winter, Zuroski said. "He'd stop [me] in February and he'd go, 'So you know what's coming, you know what's coming?'" During the baseball season, Rooney kept Zuroski and other staff members in touch every time the Yankees won. Every time they lost, it would be a "sad day," Zuroski said. 
At his desk in Olshan Lobby, Rooney came to know many students and faculty well, even remembering their birthdays and hobbies, Zuroski said.
"He knew students who would pass by for decades," Levenstein said. "He really cherished those long term relationships." 
While most people leave jobs permanently after retirement, Rooney "couldn't stay away," Clancy said. Even after Rooney's retirement in 2017, he returned to campus in many capacities, from filling in at the switchboard to taking over the front desk, when the school was short-handed. 
"Whenever I called upon him to do anything, if I needed something special or a shift covered, I don't remember Mike ever saying that he couldn't do it," Director of Public Safety Mike McCaw said. 
Rooney was one of the first Public Safety officers McCaw met, and he helped acclimate McCaw to the operational side of the Public Safety Department as well as to the school's customs. Rooney knew the school in and out, especially the type of security that the school was looking for, McCaw said. "I used him as a resource and I picked his brain to understand the culture of the school and the environment that we work in."
Before Rooney retired, he walked Public Safety Specialist Glenn Smith through all of the procedures necessary for the front desk. "He was pretty knowledgeable about the school, and he basically let me know what to expect when I'm here," Smith said. 
Prior to the school's installation of security cameras, Rooney kept a handwritten record of everything that happened in the ND Lobby, such as who passed through the vicinity, when they left, and when they returned. "He could find people," Zuroski said. "He could tell if they were in the building and he could tell if they weren't." 
Rooney was also known to be a jokester around his colleagues — someone you could always have a laugh with, McCaw said. "I would run into him during my visits to the uptown campus and he would playfully tease that he was keeping an eye on me at the Nursery," Head of ND Marinés Arroyo wrote in an email. 
Smith, who took over Rooney's position at the front desk when he retired, said Rooney loved to tell jokes to anyone who passed by the desk. "Anyone who knows him [knows] that they were pretty corny jokes, but we always listened to them."
During his time at the school, Rooney formed close friendships with his colleagues that he strengthened off-campus. UD telephone receptionist Olive Keegan, who had known Rooney for 30 years, said he would often come to parties at her house. "He loved my family dearly, and they knew him very well." 
Keegan, who attended Rooney's service, said Rooney considered the school to be his family. "We will all miss him very much," Keegan said. "It's kind of hard to express sympathy for him because I think he's still with us, even though he's not in person."
Rooney's hospitable and benevolent presence on campus made life a little easier for every member of the community, Zuroski said. "I can't imagine having worked all these years at Horace Mann without him being part of it," Zuroski said. "He added to my life a personal immediacy that made me feel like someone knew I was there every day." 
To many students and faculty, Rooney will long be remembered for embodying the caring and welcoming spirit of the school. "He's the first guy I saw everyday walking into school from when I was three and the last guy I saw walking out on my last day when I graduated," Lowey said. "To me, he was Horace Mann."