State of the arts: Visual Arts Department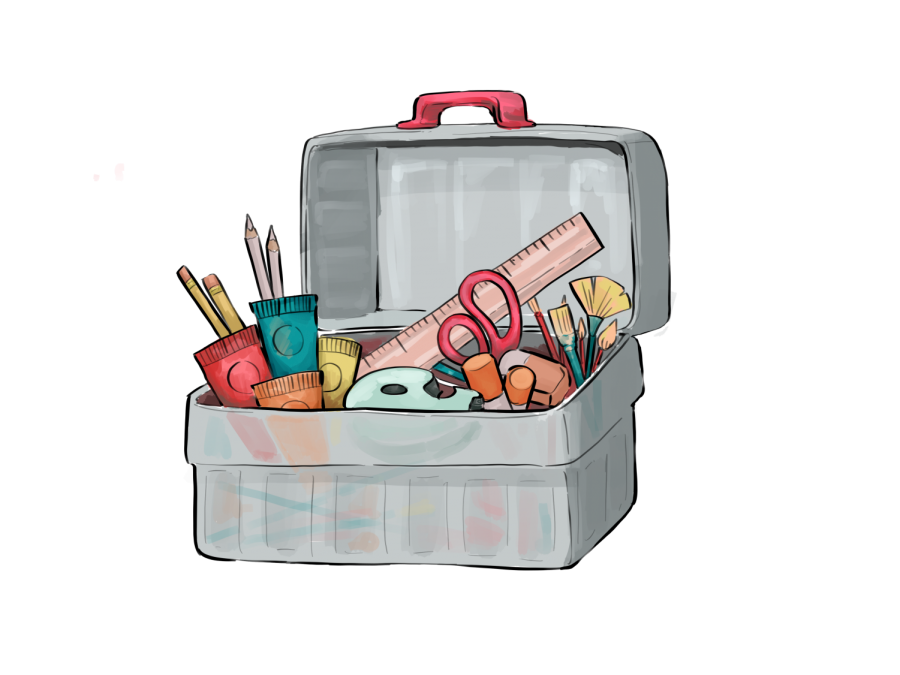 The Visual Arts Department will safely continue sparking creativity this year through the use of new studio layouts, individual art kits and cubbies, and smaller art projects.
To prepare for in-person classes, Head of School Dr. Tom Kelly and Director of Facilities Management Gordon Jensen gave recommendations on the setup of each studio depending on the discipline, ceramics teacher Keith Renner said. In the ceramics studio, the desks have been moved to align the perimeter of the room, while the pottery wheels are in a checkerboard format in the middle. 
The art studios have been rearranged such that students will be positioned facing forward rather than in a circle while teachers will still be able to walk around, Visual Arts Department Chair Dr. Anna Hetherington said. Many of the large tables have been replaced with individual desks, and the tables that remain will have Plexiglass dividers to separate students, she said. 
Each student will receive their own art supply kit to avoid sharing materials, Hetherington said. Students will receive their kits on the first day of class, which will be their kit for the entire fall semester for Upper Division students or trimester for Middle Division students, she said.
The kits will vary by art discipline, Renner said. For ceramics students, the kit may include Fimo clay, which can be baked in an oven to dry, and blank tiles with a few primary colors of glaze, he said.
Each student will have a cubby within the studio to store materials and artwork, Visual Arts teacher Mirrie Choi said. Because all students' work must fit in cubbies, students may need to limit the size of their three dimensional artwork to safely store their work for this year, she said.
The darkroom, used for photography classes, is closed for demonstrations since it doesn't enable proper social distancing, Hetherington said. All demonstrations in the darkroom will be held virtually, with the teacher going into the darkroom by themselves; however, students will also be able to work individually in the darkroom.
Renner said he will also change his teaching methods. When learning how to throw on the pottery wheel, Renner typically puts his hands over the students' as the wheel is spinning to teach them how to shape the clay. Now, he plans to teach it from a distance by demonstrating hand positions with a piece of clay while giving verbal instructions.
Ceramics student Ahana Nayar (10) does not think that the changes to the studio will have a negative impact on her learning. "As long as I'm touching clay and working with it, I'm always learning something new," she said.
Lian Aydemir (11), who is taking Drawing and Painting 4 this year, does not anticipate any changes to the curriculum of her class. "The methods my art teachers have used do not require us to be physically close, and all of our artwork is individual and small," she said. "Even through the changes, we, as artists, will always find ways to create our art and express ourselves creatively."