History speaker series explores BLM through webinar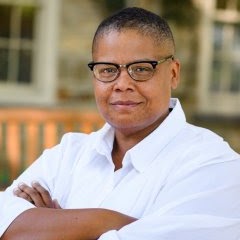 Professors Dr. Crystal Feimster and Dr. Keeanga-Yamahtta Taylor contextualized the Black Lives Matter (BLM) movement yesterday on a Google Meet webinar. The speakers also answered questions submitted by students before and during the event, which was moderated by history teachers Dr. Emily Straus and Dr. Lauren Meyer as well as Teyonce Allison (12) and Jaden Richards (12).
The speakers began the discussion by addressing the recent struggles for racial justice from a historical perspective. Specifically, they spoke about the history of the tense relationship between Black Americans and the police, and how that history continues to influence incidents of police brutality.
Throughout the United States' history, underlying issues of racist policing and racial inequality have never been sufficiently addressed by the government, Taylor said. In previous instances of Black resistance, federal officials have taken temporary measures to "cool things down," but the systemic issues have remained, she said.
A key step towards social change is understanding racial inequalities, Taylor said. Many Americans are not aware of the real issues that Black communities face, and by spreading awareness and learning about these issues, students can enact change even without having the power to vote, she said. 
The best way the school and its students can act as agents of change is through education, Taylor and Feimster said. It is important that schools offer courses on African American history, because those courses show students that African American history matters, Feimster said.
Taylor brought up multiple examples of how voting alone is not enough to create change in society. In many cases, there is no candidate on a ballot who represents the issues voters want addressed, and in those situations, people need to become active, she said. 
AJ Walker (11) had been looking forward to the event for the entire week, and it did not disappoint, he said. "The speakers were so comfortable speaking, and you could tell that they both were very knowledgeable about Black history," he said.
Sylvie Seo (10) said that she thought the topics being discussed were worth talking about. "I've been doing my best to keep up with the BLM movement personally, [by] signing petitions and reading articles frequently," she said. "So seeing the school actively participating in the education of BLM is really cool to see."
Last night's webinar was the first of a monthly series hosted by the Upper Division History Department titled "How did We Get Here?: The Roots of Current Struggles for Racial Justice." Over the course of the series, different issues pertaining to the history of race and ethnicity in the United States will be discussed by historians distinguished in their field.
Before the school closed in March last year, history teacher Barry Bienstock noticed a rise in conversations regarding social issues in the school's community, he said. "There was this increasing desire for people to know more about the issue of police brutality and racialized violence."
When HM Online began, Bienstock and history teacher Straus came up with the idea to start a speaker series for the school, Bienstock said. "Zoom became our idea of the perfect vehicle for getting people from all over the country who would be willing to participate and create a series."
By creating a space for dialogue, the series aims to provide background on different social issues that have influenced the United States for hundreds of years, Bienstock said. "As the series suggests, 'how did we get here?'" he said. "That's what we're trying to address with all of our speakers."
Head of the Upper Division Dr. Jessica Levenstein first heard of the idea for the series over the summer, when she met with members of Black Students Demanding Change (BSDC), she said. After the meeting, Levenstein learned that Bienstock and Straus were interested in developing a monthly speaker series too, she said.
"The stars aligned," Levenstein said. "During the summer when all of our attention was so much on the fight for racial justice, [we thought] that it would be helpful for the school community to see the protests in historical context."
During the development of the series, Bienstock and Straus continued to consult members of the BDSC, who stressed the importance of the student body learning about the issues African Americans face, History Department Chair Dr. Daniel Link said. 
"My hope is that students who were involved in that will participate in the event on Thursday night and can learn important lessons that they can use in their own activism," Link said. "I think students are concerned about these issues, but they often don't quite understand them very well. So the point of this series is to help them better understand what's going on in the country."
The history department chose speakers based on their area of expertise, and both Feimster and Taylor have extensive knowledge on institutional racism, Link said. "We wanted speakers who have done research work and have written and thought a lot about particular issues," he said. 
"Keeanga-Yamahtta Taylor would be an obvious person to talk about Black Lives Matter," Bienstock said. Taylor has published an entire book and articles about the topic, so Bienstock reached out to her, he said.
Taylor is an activist and author who writes about Black politics, social movements, and racial inequality in the United States. She received her PhD in African-American Studies from Northwestern University, and currently works as an assistant professor at Princeton University, according to her website. 
She is the author of "Race for Profit: How Banks and the Real Estate Industry Undermined Black Homeownership," a book that became a 2020 Pulitzer Prize in History Finalist. In addition to two other books about Black Activism, Taylor's writings have appeared in the Los Angeles Times, Boston Review, Paris Review, Guardian, The Nation, Jacobin, and Souls: A Critical Journal of Black Politics, Culture, and Society.
When organizing the speaker series, the history department decided to format the webinar as a conversation between two scholars, Bienstock said. History teacher Dr. Laura Meyer invited Feimster to speak alongside Dr. Taylor, Bienstock said.
Feimster received her Ph.D. from Princeton University in 2001 and taught as an assistant professor at the University of North Carolina. Currently, Feimster is a tenured Associate Professor at Yale University, and teaches a seminar on the politics of racial violence, according to The Root.
Now, Feimster studies African American History, specifically focusing on racial and sexual violence. In 2009, she published the book "Southern Horrors: Women and the Politics of Rape and Lynching," that outlined racial politics in the postbellum South. Currently, she is working on a two books, one titled "Sexual Warfare: Rape and the American Civil War," and the other "Mutiny at Fort Jackson: A Case Study of Wartime Freedom."
The idea of being a better advocate for change and being a better voter reflects the School's core value of Life of the Mind, Levenstein said.
 "Life of the mind is not necessarily reading for reading sake. I think that life of the mind makes you a better citizen," she said. "If you understand what events led us to a moment of great social upheaval, you can be a better advocate for the kind of change you want, you can be a better voter, you can have a more nuanced understanding of how and why we're here and what we need to do to get out of here."