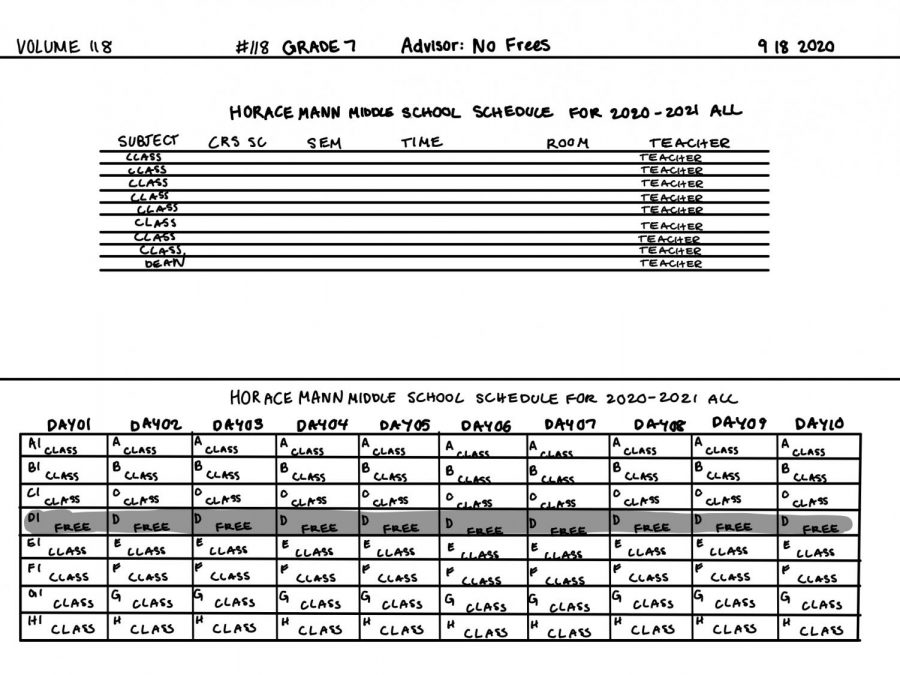 The Middle Division (MD) has temporarily removed free periods from the majority of students' schedules and replaced them with study halls to promote social distancing, Dean of the Class of 2025 Michelle Amilicia wrote in an email. "The more free periods students have, the more likely they are to congregate in unmonitored spaces and possibly forget the distancing or mask guidelines." 
Head of Middle Division Javaid Khan considered implementing this change long before the school year started. "As we watched the news and saw schools who tried to reopen during the summer, we saw that those who did it wrong [had] students congregating in spaces with no social distancing," he said.
Since the capacity of common spaces have decreased, there are fewer areas for students to congregate during frees. Allowing students to roam during their frees would have been a recipe for disaster, Khan said. 
Though this change may seem like a disappointment to many students, there are many positive sides, Amilicia wrote. "Any chance they have to meet with teachers and get work done is always a benefit."
After experiencing the first week without frees, James Koplin (7) is happy to be able to focus more on work and have time with his teachers. "The best thing about the change would be teacher availability," he said. 
"Your teacher is right there next to you, and you're probably doing their homework, so you can always ask a question, and you don't have to wait for an email," Julia Lourenco (7) said.
Nikki Pande (8) thinks that having a designated time in the day to finish work is a significant benefit. "I find it reassuring to know that I have time to catch up on homework or to get some extra studying in," she said. 
Caroline Mignone (6) also said the added study halls force her to complete her work in school, which results in more free time at home. In some of her classes, if someone finishes classwork early, they can start on their homework which is helpful, she said. 
Amilicia views this change as less drastic in comparison to the COVID-19 precautions the school has been taking already. "Since COVID is keeping us all at a distance, frees or no frees, their off time would not be as free as they are accustomed to," she wrote.
Khan noted that other schools used the pod system, in which a group of kids stayed together the entire day and had teachers come to them. At the school, he said this would be difficult, considering the number of academic choices students have. "Because we cannot do pods at Horace Mann, we had to think of an alternative that satisfied the same goal of minimal movement throughout the day."
When Lourenco first heard that she had study halls in place of frees, she was not bothered by it, as she had previously used her frees to study and read. "I like the study halls better because it's more of a controlled environment," she said.
During these study halls, Lourenco tries to do work which requires less concentration, like making flashcards, and then focus more when she gets home. She believes a downside to study halls is that the students have to stay quiet, which eliminates the opportunity to collaborate on projects.
Matthew Brand (7) was not surprised to hear the new changes, since he understood the need to keep everyone contained. Last year, Brand didn't have frees until the second trimester, so his daily routine isn't completely new to him, he said. 
Mignone also said the change is not too big of a difference from previous years. "I probably would have met with teachers, so instead of that we have study halls, so we still get to see teachers." 
Similarly, Zach Hornfeld (7) said he wouldn't be utilizing his time any differently than if the change was not implemented. "I usually just get my work done at school when I have the time and then after I could go around with my friends," he said. "A few people were disappointed, but I don't think it's a big deal."
Although this isn't much of a change for him, Hornfeld thinks it could be a beneficial shift for others. "Now, for the people who didn't take advantage of their frees the right way, they can use them responsibly."
Still, many students miss the break from school they experienced during their frees. 
Last year, Pande enjoyed the break in the day to relax and take a pause from school, whether it was playing sports or getting a snack. "I miss having that free time to get to choose where you spent your time or hang out with your friends," she said.
Although Lourenco likes the study halls, she wants to be able to leave the school environment during the day. "I wish we could have [study halls] outside so we can breathe some fresh air, so it would be a little more relaxing," she said.
Although some students might be missing their extra time to relax during their frees, Brand feels as though he has enough time in the day to do so. "For me, my lunch periods are long because I eat quickly, so the time I have after I eat makes up for the time I would have during a free."
As for teachers, Khan recognizes that they are spread thin with their responsibilities this year. "Hopefully this is not something we do forever, this is just what we need to do right now in this pandemic," he said. "For a lot of adults this is scary, and they're bracing through that because they want to make sure that the kids are served, and I am deeply appreciative of that."