Remembering RBG: "May her memory be a revolution"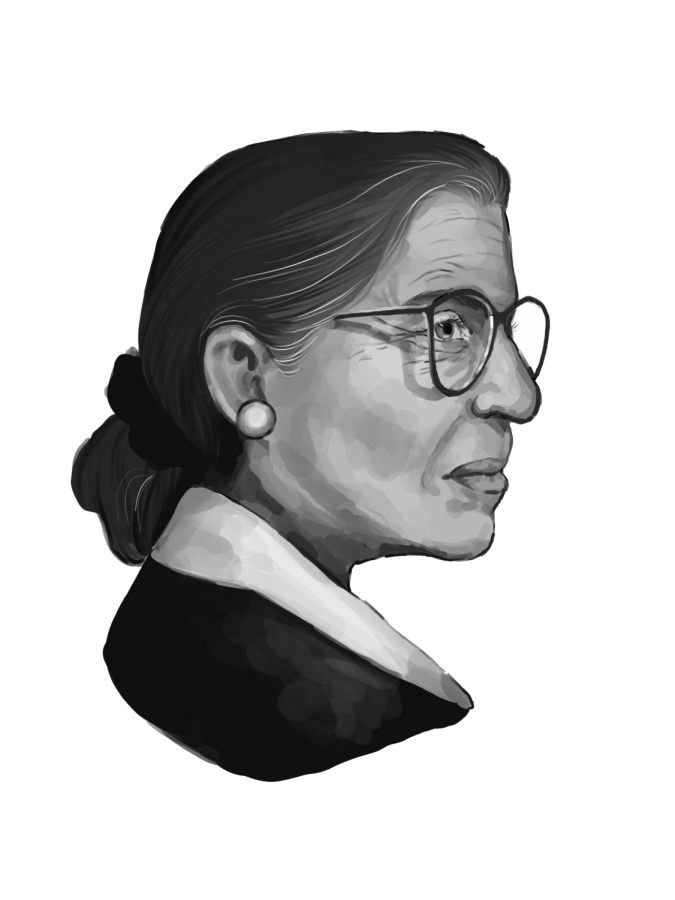 Ericka Familia
September 25, 2020
Last Friday evening, as I was talking to my mom, I picked up my phone and shrieked mid-sentence. I could barely explain when she asked what was wrong, as I read the countless news notifications: "Ruth Bader Ginsburg, Supreme Court Justice and liberal icon, dies at 87." I had no words. Everything I was concerned about only two minutes before seemed trivial. Somehow, out of this year's innumerable tragedies, this one felt different.
My immediate thought was, "What will happen to all of the progress we've made when President Trump appoints a third justice?" The way in which the Supreme Court interprets the law has decided everything from outlawing school segregation, affirming reproductive rights, and protecting healthcare, LGBTQ+ rights, and DACA recipients, inevitably affecting every American. 
However, it soon occurred to me that if Ginsburg had passed away during a different moment for our nation — one not riddled with so much divisiveness and crisis — the ubiquitous feeling of distress would not be nearly as intense. I resented myself for focusing on the political implications of her death rather than the incredibly symbolic and tangible nature of her legacy. I recalled why I became awed by Justice Ginsburg to begin with, as she almost single-handedly cemented my aspirations to become a lawyer.
As the second woman to be appointed to the Supreme Court, Ginsburg's life work is the perfect response to the question she was asked by her dean at Harvard Law School, where she was one of only nine female students in her class: "How does she justify occupying a spot at Harvard that would have gone to a man?" As a lawyer, she aimed to overturn laws that dictate or reinforce gender norms through proving that codifying sexism into law negatively affects all Americans, and won five landmark cases before the Supreme Court.
Ginsburg faced countless incidents of sexism throughout her career, which fueled her unwavering fight for gender equality, or, as she put it, "the constitutional principle of the equal citizenship stature of men and women." She not only broke through the glass ceiling but aimed to pick up the shards with her powerful legal dissents. As a staunch feminis, one continually inspired by Ginsburg's devotion to equality, I have sought to turn my passion into activism. I advocate for menstrual equity through co-founding Period. @HM and have educated high schoolers about reproductive justice on a Planned Parenthood Youth Action Council.
After reflection, my self-resentment lessened when I came across Justice Ginsburg's final desire: "My most fervent wish is that I will not be replaced until a new president is installed." As much as she deserves to be mourned and honored for her unparalleled contributions to the battle for social justice, she too emphasized the unsettling timing of her passing. Less than two hours after her death, Mitch McConnell announced that the Senate will vote on President Trump's nominee to fill the vacancy despite refusing to vote on President Obama's nominee in 2016.
Her dying wish, so quickly violated for political gain, is not only heartbreaking but indicative of the direction our country seems to be heading in. And frankly, I'm terrified. But fear alone is futile without channeling into action. I urge you all to cast your ballot if you're eligible and ensure that everyone you know has a plan to vote in this election. And as Professor Keeanga-Yamahtta Taylor discussed, the issues that we care about are much larger than individual candidates, so lasting change will not be realized if we don't continue working to dismantle oppressive institutions on the grassroots level. If Justice Ginsburg taught us anything, it's that liberty and justice are not secure and should never be taken for granted. The seriousness of the issues at stake this election far exceed partisan politics, and if there was ever a moment to indulge our hopelessness, now is certainly not then. Ginsburg said, "Fight for the things you care about. But do it in a way that will lead others to join you." The urgency of her message rings true now more than ever.