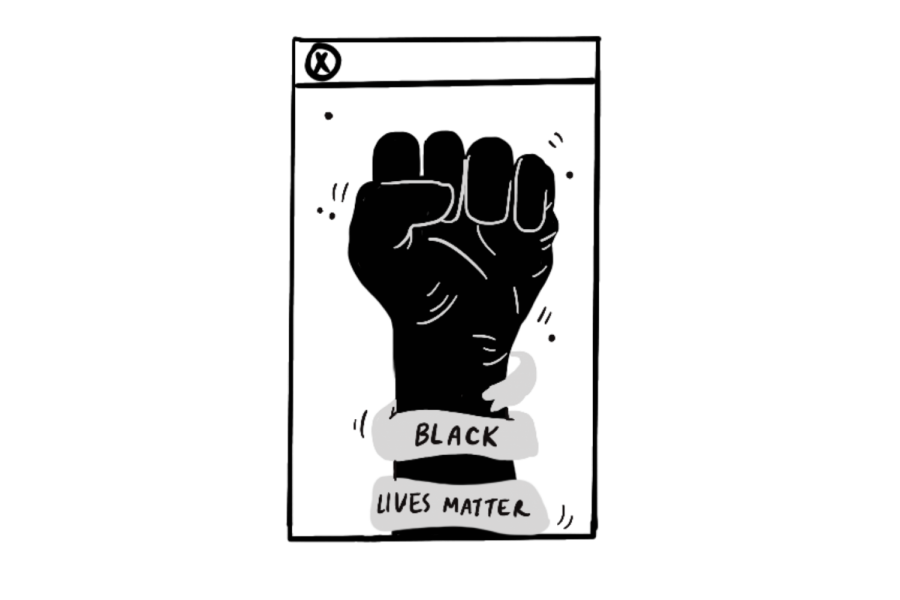 Immediately after the murder of George Floyd, Cecilia Coughlin (10) started seeing photos and videos of him everywhere on her phone. Instagram, Snapchat, Facebook, and most news outlets were flooded with the video of his death as his story went viral, she said. 
Shortly after the initial outrage, Coughlin began to see posts encouraging people to support the Black Lives Matter (BLM) movement and posting locations of protests. A few days later, she protested along with thousands of others in Washington Square Park.
In recent months, BLM has garnered an immense number of supporters. Fifteen to 26 million people participated in the BLM protests across the United States after the death of George Floyd, likely making it the largest social movement in U.S. history, according to the New York Times.
Social media allows protests of such large numbers to come to fruition by spreading information to more people, Simon Lindgren, a professor of sociology at Umeå University, said in The Wall Street Journal. "It has this network character," he said. "If you reach one you reach two, if you reach two you reach four."
If there were an event that sparked outrage in one state, social media would allow those personally affected to connect with strangers from across the world in a matter of minutes, AJ Walker (11) said. "Pretty much anyone can be a part of the conversation."
Associate Director of the ICIE Ronald Taylor first joined the BLM movement shortly after Trayvon Martin's death. AsWhile he was a sophomore at Syracuse University, Taylorhe worked with other activists to bring attention to implicit biases surrounding Black men. To spread awareness, he and other student leaders posted a picture of a Black man on Twitter every six minutes for two hours with the caption, "When you see me, what do you think?" This campaign helped begin discussions concerning race at Syracuse, Taylor said.
Activism, in general, continues to develop and change with time, and activism on social media is a product of that change, Taylor said. "The protests of the 1960s were effective at that point in time, but now that we have these devices that can connect you to someone thousands of miles away in a matter of milliseconds, activism has also evolved."
When Taylor was an undergraduate student, Twitter was the most popular platform that was the most popular for social media activism. Now, new platforms such as TikTok, Snapchat and Instagram are more effectivebeneficial atfor bringingtargeting Generation Z into the conversation, he said. 
  Pascale Zissu (12) posts on Instagram to learn and spread information about social movements, she said. She has been active on social media relating to social justice issues since eighth grade, but she began to post more regularly after she saw posts about BLM after Breonna Taylor's murder, which she foundwas deeply alarming, she said. 
In addition to posting about police brutality in the United States, Zissu reads articles and books and watches documentaries to educate herself about Black history and to learn how to become a better ally, she said.
On Instagram, Zissu saw posts of charts that displayed racial bias through police brutality in the United States and others that disproved the validity of the Blue Lives Matter movement, she said. Zissu typically reposts articles from the account @soyouwanttotalkabout on her Instagram story, an account that breaks down social issues in the Instagram slideshow form. On Facebook, she reposted an article about immigration from The Hill, a political newspaper. "I try to post as much as I can, because I find that personally I've learned from a lot of other people's posts," she said. 
Gisella Fischberg (9) reposts articles and pictures she finds informativehelpful on her Instagram story, she said. On TikTok, she has seen videos sharing the experiences and stories of Black people and other posts calling for participation in the movement. Through these videos, Fischberg has learned information that she would not have otherwise. "It has been helpful in spreading awareness and telling the stories of important people," she said. 
Although TikTok offers a massive reach, with over 800 million users worldwide, the format of its content can sometimes make serious posts appear less meaningful, Fischberg said. Each TikTok user has a "For You Page" with short videos tailored to the user's viewing preferences, and the type of content on the feed varies video by video. With serious videos about BLM surrounded by dance and comedy videos, the movement's message can be "watered down," Fischberg said.
Content tailored to each account allows users to control the information and perspectives they see, Taylor said. Each person's feed is determined by the peoplewhom they follow, so the user can decide whether they want the content they receive to be educational and related to current events, he said. 
Even in the midst of a pandemic, BLM has been able to gather support and share news. Isolation during quarantine has made social media especially important for spreading information, because online platforms allow people to be politically active without potentially risking their lives, Zissu said.
Even before the pandemic, social media provided an outlet for activists to engage and spread the word without needing to participate in protests, Zachary Kurtz (10) said. Social media allows people who generally do not engage with activism to become involved, he said.
By using social media, Zissu has been able to gather information about BLM in one place that she would otherwise find on multiple traditional news outlets. "With the easy and fast access that social media provides us, it's made more people aware [of BLM]," she said.
However, widespread access to information allows for the possibility of misinformation. While scrolling through political posts on Instagram, Walker encountered graphics containing incorrect statistics about interracial violent crime incidents intended to delegitimize BLM. These statistics have the potential to cause serious harm to the movement if users scroll past the information and take it as the truth, Walker said.
To avoid spreading misinformation before reposting, Zissu carefully reads the post and checkslooks for sources. If the post cites its sources, she feels more comfortable reposting it, she said. Zissu additionally cross checks facts with news sources she trusts, such as the New York Times. 
One major difference between traditional television coverage and social media news is the way in which incorrect information is corrected, Walker said. On national television — with entire organizations behind every statement — information is more likely to be fact checked, whereas on social media, incorrect posts are less likely to be corrected, he said. "Anybody can write something and then just say that's true, so it's really tricky."
However, even news sources can have their own biases depending on the audience or sponsors, which may cause the news to be represented in a different way, Kurtz said. Media coverage can become distorted through the lens of the news source, but social media news coverage often comes directly from those experiencing the reported news firsthand, sometimes making it more forthright, Kurtz said. "It takes away the middleman."
During the peak of the BLM protests in New York City, Ajani Green-Watson (11) used social media to document protests. She recorded her experience at protests through Instagram, Snapchat, and Twitter to show those who could not attend that the nonviolent reality of the protestors' behavior is not what is captured on the news, she said. "A lot of people think that it's a bunch of rioting, and people are stealing and causing chaos, but I posted to show that we weren't stealing, looting, or harming anyone." 
Video footage of the protests also helps hold the police accountable for their actions during protests, Walker said. On July 28, BLM protester and homeless transgender teenager Nikki "Stickers" Stone was grabbed by NYPD officers in plainclothes and thrown into an unmarked Kia minivan after vandalizing city security cameras the day before, according to the Washington Post. A fellow protester posted a video of the arrest that received over 13 million views on Twitter, and Stone was released from custody the next day. 
Videos of police brutality can provoke immediate reactions and outrage from those not currently involved with BLM, which can in turn  increasecauses more participation, Walker said. "If people weren't getting live footage of protests, then the movement would definitely die out quicker because people would lose motivation."
In addition to inspiring people to protest, social media gives them the ability to organize gatherings. Coughlin protested in New York City every day that she could for two weeks. Around the peak of the protests, Coughlin used Instagram to find out which materials, such as masks and water, she should bring. Additionally, she was able to use her Snap Map, a feature on Snapchat that shows the location of other users, to find large gatherings of friends and to determine where protesters were meeting. 
To continue the momentum of the movement during the pandemic, certain social demonstrations have taken place entirely on social media. On June 2, millions of Instagram users worldwide participated in Blackout Tuesday, during which they posted a picture of a black square with the hashtag. The movement's goal was to stop the flow of new content on social media and to engage in productive dialogue and self-reflection surrounding BLM, according to The Show Must Be Paused, the organization that created the event.
Blackout Tuesday demonstrated unity surrounding BLM and spread awareness about the movement, Alex Nagin (11) said. Even though posting did not remedy racial injustices in the United States, it helped demonstrate the size of the movement and the unified front of its advocates, he said.
Coughlin did not post on Blackout Tuesday, because she did not think that it was necessarily productive. "Posting really depends on the message you are trying to send," she said. "Whether it's to hop on a trend or to really use your voice — and if you feel that's the right way to speak out — you should do it."
Walker participated in Blackout Tuesday, but he regrets it, he said. Soon after posting, he talked to his friends in a group chat and discussed the ramifications of the Instagram demonstration. Walker and his friends came to the conclusion that while posting a black square on Instagram was not harmful to BLM, it did not help the movement either. "I had to come to terms with the fact that even though posting it makes you feel good in the moment, in the long run, it doesn't do anything," he said. "Blackout Tuesday is just a way to post and have people see that you support the movement."
Although over 28 million pictures were posted with #blackouttuesday on Instagram, the Change.org petition that demanded justice for George Floyd — the largest petition in the history of the website — only had around 13 million signatures.
Sasha Snyder (12) did not post for Blackout Tuesday because she has not been active on social media for the past few years. Instead of posting for BLM, she has participated in the movement by signing petitions, sending emails to police departments and local politicians, and educating herself, she wrote in an email. 
Recently, Snyder noticed some of her peers have used posting on social media as a way of maintaining "political correctness" without engaging meaningfully in the BLM movement. "With social media activism, it can often feel like participants don't genuinely care about the issues, but rather only wish to be seen as the type of person who would," she wrote. Actions outside of social media require more effort and do not boost one's public image in the same way that social media does, and as a result, physical actions are more of a testament to the activist's commitment to the movement, she wrote.
The phenomenon described by Snyder — in which a user posts a message of support for a movement on social media but does not take further action  — is an example of virtue signaling, according to culture magazine Savoir Flair. By only posting about pressing issues on social media, the user is displaying their virtue without taking any concrete actions. 
Similar to virtue signaling, performative activism occurs when users engage in social media activism by centering themselves in political conversation, with the intent of gaining engagement rather than truly desiring to help. 
"If you're posting just to look good, then you're profiting off of the injustices that are happening," Walker said. "The reason that you should be reposting stuff is to help and make sure that these injustices don't continue."
However, performative activism and virtue signaling can be difficult to identify, Nagin said. Because communication occurs through words on a screen without additional verbal cues and body signs, it is impossible to fully understand others' intentions, he said. 
Many Instagram users regularly post petitions as well as information regarding BLM, Zissu said. In addition to the George Floyd petition, there are also petitions calling for justice for Breonna Taylor, Ahmaud Arbery, Elijah McClain, and other victims of police brutality. Over the past few months, petitions have received millions of signatures and in some cases have led to government action. 
The men involved in both Floyd and Arbery's murders were charged and arrested, and a new investigation was launched into McClain's death, according to the New York Times. However, the police officers involved in Breonna Taylor's murder were not indicted on any charges directly related to her death.
 Although social media makes it easier to gather signatures for petitions, Zissu said she doubts the practice. "The petition might be helpful in showing how many people care, but in the end, it's up to the lawmakers," sheZissu said. Still, she continues to sign petitions. "It takes 30 seconds to sign, so I'd personally rather just do it on the chance that it does help."
According to Jason Del Gandio, a professor of communications and social movements at Temple University, petitions are most successful when coupled with other tactics. Supplementing petitions with protests, phone calls, face-to-face lobbying, community outreach and other strategies can make the goals of the signatories a reality, Del Gandio said in an interview with the New York Times.
Social media can be used as a helpful tool for learning, but physical participation beyond posting is more productive for accomplishing the goals associated with the movement, Zissu said. In June, Zissu attended a BLM event in Van Cortlandt Park. "When you see so many people showing up in person, it feels more powerful to me than when I see a bunch of people reposting something online."
As social media activism continues to grow, so does the importance for activists to engage in actions that directly help social movements, Walker said. The first step one should take when trying to participate in social media activism is sharing credible information. "Even just by reposting information on how people can be better allies or things that people can do to help the movement is helpful in itself," he said. After posting, the user can contribute by signing petitions and donating to reputable civil rights organizations.
"I think where social media activism fails is when people think by posting a photo that they've changed the world," Taylor said. "Sure, if you're Beyoncé, you can post a photo and you might start a huge conversation. But you have to do more."
Shortly after Blackout Tuesday, one of Taylor's friends from Syracuse reached out to him to talk about BLM. He had posted the black square but was unsure how to continue supporting the movement, Taylor said. "You posted the black square. Great," Taylor told his friend. "But now, in your community, what can you do to help correct systemic issues?" 
After their conversation, Taylor's friend joined his local branch of the National Association for the Advancement of Colored People as a member of the organization's Economic Justice Commission, and he is currently using his background in finance to help the organization.
Social media allows activists to create large followings and share their messages, but there have to be further actions taken that utilize that following to create social change, Taylor said. By using social media strategically with the intent of reforming society, users can advance BLM even further, he said. "That's the work that we need to see to move this country forward."