Ivy preparatory schools adapt to COVID-19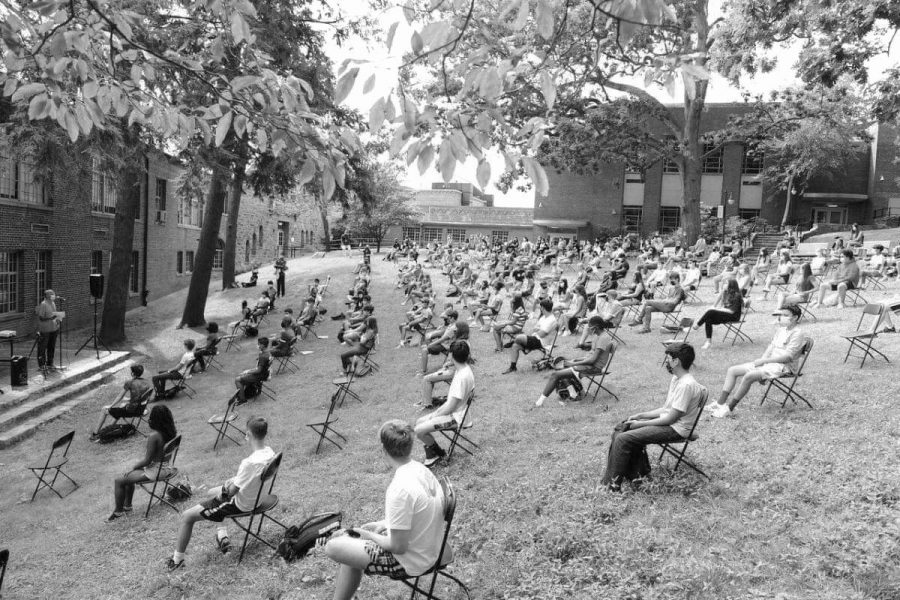 Riverdale
Riverdale Country School began their school year online two weeks earlier than usual, allowing students to visit the campus, attend meetings, and learn new health protocols. After Labor Day, Riverdale switched to a hybrid schedule. Students, staggered by grade level, come to school for one or two days but remain online for the rest of the week, according to the school's website.
Before arriving at school, all community members are required to complete a daily health screening, using a program called Ruvna, to check for COVID-19 symptoms and get a unique code, Stella Michel (Riverdale 11) said. When they then get to school, students enter a tent to check their temperature and scan codes to confirm their attendance, she said.
To maximize time outside, Riverdale is using a total of 55 tents. Each building has dedicated entrances and exits, with one-way hallway routes and socially distant desks. According to the website, the school has installed new equipment, such as electrostatic disinfection machines, outdoor sinks, and touchless dispensers, to prevent the spread of the coronavirus. There are also isolation rooms on each campus that are used to care for any sick community members awaiting transportation home.  
Most classes meet once a week in person and twice a week remotely, and classrooms are configured for about half of the typical enrollment, Michel said. Remote students receive instruction online while following a similar schedule. Last year, the virtual platforms used for each class were selected based on the teacher's preference, but now all of the students are using Zoom for increased uniformity, she said. 
For lunch, students fill out a form every week and then pick up their orders in front of the main buildings in the plaza, but they are also allowed to bring lunch from home, Michel said. 
Riverdale is prepared to convert to remote-learning if COVID-19 cases spike or if the weather is too cold for outdoor activity, the website said. The daily schedule, though, would remain the same; classes meet three times a week, with three nights of assigned homework.
Fieldston
The Ethical Culture Fieldston School (ECFS) prioritized a phase-in period for their academic program and conducted all classes remotely in September, allotting a few days for students to return to campus for orientation, Isaac Holtz (ECFS 10) said. In October, however, a transition to a new learning model, which Fieldston is calling Hyflex, will be implemented for as many academic and non-academic classes as possible, according to the school's reopening guide. 
In order to adhere to the physical distancing requirement, the Hyflex model is set to reduce individual in-person classroom sizes by half—or to around 12 students per class—according to the school's website. As a result, the school will use alternating A/B weeks to facilitate half of the students coming on campus, while the other half access their classes virtually, Holtz said.
Phase one of the Hyflex system will start alternating with 25% of the students attending and the remaining 75% staying online, according to the school's website. After a careful evaluation of the initial weeks, the school plans to then proceed with phase two which will allow 50% students to learn on campus at any given time. 
For those on campus, ECFS students will attend school wearing masks, in tented outdoor areas and repurposed indoor spaces, and surrounded by physical barriers, such as strip curtains and plexiglass. Students online will use Google Classroom to access all of their coursework and Google Meet to attend class virtually, according to the website. 
All food and beverages will be grab-and-go meals in disposable containers, as there is not enough space for proper social distancing in the cafeteria, Holtz said. Students will then eat meals in advisory rooms or other predetermined locations, according to the reopening guide.
Poly Prep
"School must go on," Poly Prep Country Day's website says. "That's been our community's guiding thought every time a new safety, teaching, planning, transportation, or operational challenge has been posed by the COVID-19 pandemic." 
Poly Prep Country Day reopened their campus for all students to attend outdoor school on Tuesday, September 8. According to their website, the school has reimagined their classroom spaces, using their additional open spaces, such as the library and dance studio, as classrooms. The school is also utilizing their 25-acre campus to set up 70 socially distanced tents.
"As important as any lesson, our students will play and be active in the open spaces of our campuses and Prospect Park," the website says.
Trinity
Trinity School has been remote ever since September 8 but plans to begin in-person learning for 9th grade for the week of October 14, 12th grade for the week of October 26, 11th grade for the week of November 2, and 10th grade for week of November 9, Upper School Principal Stephen Kolman wrote in an opening letter to the community. 
Prior to students' return, Lauren Khine (Trinity 11) said COVID-19 initiatives will mainly entail temperature checks, masks, negative coronavirus tests, and ability to quarantine for 14 days. 
Unless the entire class is present, most classes will run on a hybrid basis: students or faculty who are not in the building will Zoom in, according to the letter. Each student in the room will have a computer, and they will be simultaneously Zooming with their colleagues at home and those in the classroom.
Khine said each class will meet three times a week instead of four.
Classrooms will favor "Jumbo" rooms that can accommodate 15-16 students and account for six feet between desks, Kolman wrote. These rooms will be shared by disciplines and will be regularly cleaned by maintenance staff and students who will wipe down desks after class.
Students, faculty, and staff will select their cold lunch choices, pick them up in a select location, and either eat in the classroom spaces or outdoors, Khine said.
However, Trinity's reopening plans will ultimately depend upon New York City's ability to keep COVID-19 under control, Kolman wrote in the letter. "We simply cannot move forward if we feel we are no longer behaving responsibly for the good of all," he wrote.
Hackley
Hackley School students have been back on campus since August 31. Students and faculty are required to wear a mask and maintain social distancing at all times, according to the school's website. 
The school is taking precautions, such as spacing out the desks and using plastic barriers in the classroom. Students and faculty have their temperature taken upon arrival and complete a health questionnaire before school each morning. The school has also added HEPA air filters to each classroom to help with the air filtration, according to their website. Hackely has also set up tents on their field that can serve as outdoor classrooms. 
Each classroom now has a camera and microphone, so students can learn remotely via Zoom and other platforms, according to the school's website. 
"Although remaining connected to one another might require that we temporarily do so 'at a distance,' the relationships formed on the Hilltop persist," Head of School Michael C. Wirtz wrote in an email to the families. 
Collegiate
Collegiate School students have been learning remotely since the beginning of the school year, but the school is now phasing in live instruction. On September 29, 12th graders returned to campus. Eleventh graders will return on October 2, 10th graders will return on October 7, and 9th graders will return on October 13, Head of the Collegiate Upper School Ben Temple wrote in an email to the families.  
During online school, students have classes three times a week for 50-55 minutes at a time, a change from the previous four meetings a week for 55 minutes, Jacob Markman (Collegiate 10) said.
Students may arrive at school no earlier than 8:30 a.m., and at 9 a.m. school starts. Students must go immediately to their classroom when they get to school, Temple wrote in the email. Students whose classes start later in the day may not arrive until at most 30 minutes prior to their first class of the day. Students are also encouraged to leave early if they do not have class at the end of the day, the email said. 
The school is providing each student with a boxed lunch that will have a sandwich, fruit, chips, and dessert. The food is delivered to the students in their classrooms, where they must eat at their desks. No other snacks or food is offered during the day. Students are encouraged to bring water bottles to stay hydrated during the day as all water fountains have been closed due to the possible risks they could cause.
Sports teams and clubs are also meeting virtually to continue their activities. After each class period, students and faculty must leave the classroom so it can be cleaned. During that time, the students and faculty must remain on socially distant spots in the hallway, Temple wrote in the email. 
Students are required to wear a mask for the school day and must have a negative COVID-19 test before returning to school. Students must also maintain social distancing whenever possible, Temple wrote in the email. 
Dalton
At The Dalton School, students are learning remotely until at least the end of the trimester. The school gives students who are unable to work at home the option of joining the class on Zoom from campus, Arielle Mortman (Dalton 10) said. 
The school has made many changes to the online schedule, including extending the classes to 80 minutes two to three times a week. On the other hand, in the spring, classes were 30 minutes three to four days a week for both semesters, Mortman said. The school has also made classes meet two out of three trimesters, allowing more free time in the schedule.
With this extra time, the students will have more options open to them. The Dalton School has begun to add in new electives in the arts and other subjects so students can take in the trimesters without some classes to fill their schedule, Mortman said. 
For now, the school's clubs and sports teams have also been moved to a virtual format. The clubs and teams all meet regularly on Zoom. The Dalton School has a new club created this year where students can sign up to do workouts together in Central Park or Randalls Island, Mortman said. Students have enjoyed being a part of this club because it helps give a sense of community, she said. 
The Dalton School hopes to reopen soon, but no earlier than the end of the trimester, the email said.