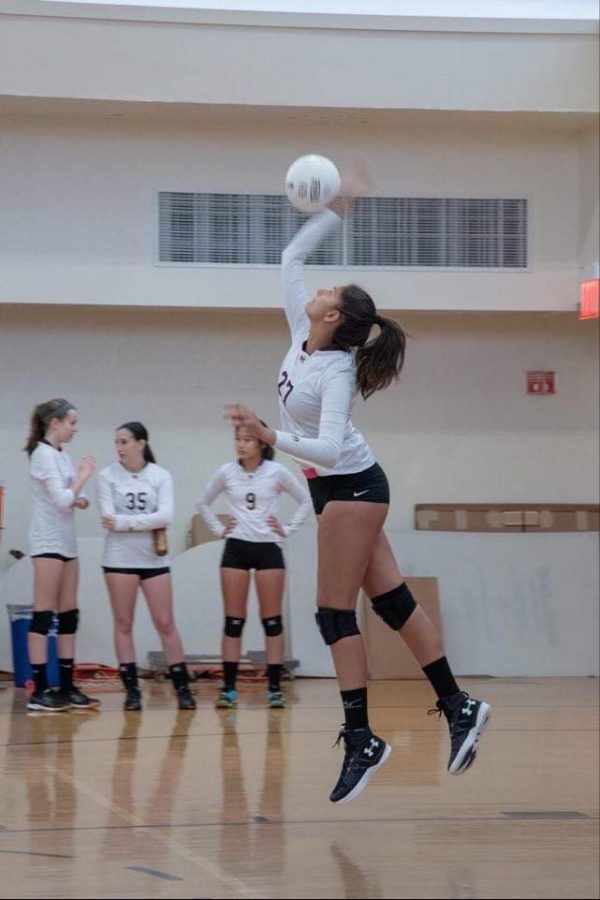 "I liked to think I was good, but I look back on game footage that my parents taped and laugh at myself," Zoë Swift (12) said of her middle school volleyball skills. Since starting her volleyball career in sixth grade, Swift has grown tremendously as a player and has been recruited to play volleyball at Wesleyan University next year, she said. 
The recruitment process was tedious and lengthy, as it contained many steps. Though the majority of the recruitment process occurs in high school, Swift started the process in middle school. "I started reaching out to coaches in eighth grade to start building relationships," Swift said. 
The recruitment process picked up sophomore year, when coaches started coming to club volleyball tournaments and students started visiting colleges. Athletes continue the recruitment process until the summer before senior year, when an academic preread takes place, Swift said. 
"That's when you start to narrow down your search to four to five schools, you give the coaches your academic info, your extracurriculars, teacher recs, and anything you can think of that's related to your academic life," she said. After that step, athletes either find out from admissions that they've been recruited or that the school is no longer interested, Swift said. 
Swift was drawn to Wesleyan for many reasons, one of which is that it is perfectly balanced in terms of academics and athletics, Swift said.  "It's a NESCAC, which means that the academics are always going to come first." 
Swift was also interested in Wesleyan because of its racial diversity. She didn't realize until she was applying to colleges that this was something she needed to thrive and find her place in the community, Swift said.
Of her many volleyball accomplishments, numerous wins and playing for a club team included, Swift is proudest of the work that she put into her recruitment process. "I did the college process over the course of two years with 20 different schools," she said. "I'm really proud of myself for putting in the work and achieving the goals I had for myself."
While playing high school volleyball, Swift wanted to improve as an athlete, form connections with coaches and colleges, and be a team leader, she said. Swift said that she felt as though she worked hard and achieved these goals during high school. 
"Zoë has great leadership abilities," Varsity Volleyball Coach Jason Torres said. "She leads the team by example with her play and demeanor." 
"Her greatest asset is the ability to play well with her size," he said. "Many people can play the position as Middle Hitter on a team, but very few can excel like Zoë. She uses her talent to dominate matches often.
Although Swift, who has served as captain of the Girls Varsity Volleyball team for the past three years, has primarily competed through the school's teams, she has also played for the club team NYC Juniors 18 National team, since sophomore year. Swift spends around nine hours a week participating in activities for her club team, whether it's team practices or strength and conditioning, she said.
The central goal of the club team is different than that of the school's team, Swift said. "A lot of the girls want to be committed to college, if they're not already," she said. 
Swift is one of four girls on her club team that is currently committed to a school. "We all take the sport very seriously," Swift said. "I sometimes have to switch my mindset between school and club practices and remind myself of what I want to accomplish in each."
Swift's coaches have many hopes for her collegiate career, Torres said. "I'm happy she is going to a great volleyball program here in the Northeast," he said. "I'd like to see her play right away as a freshman, and the coaching staff hopes to see her play in person during her collegiate career."