Composers visit music class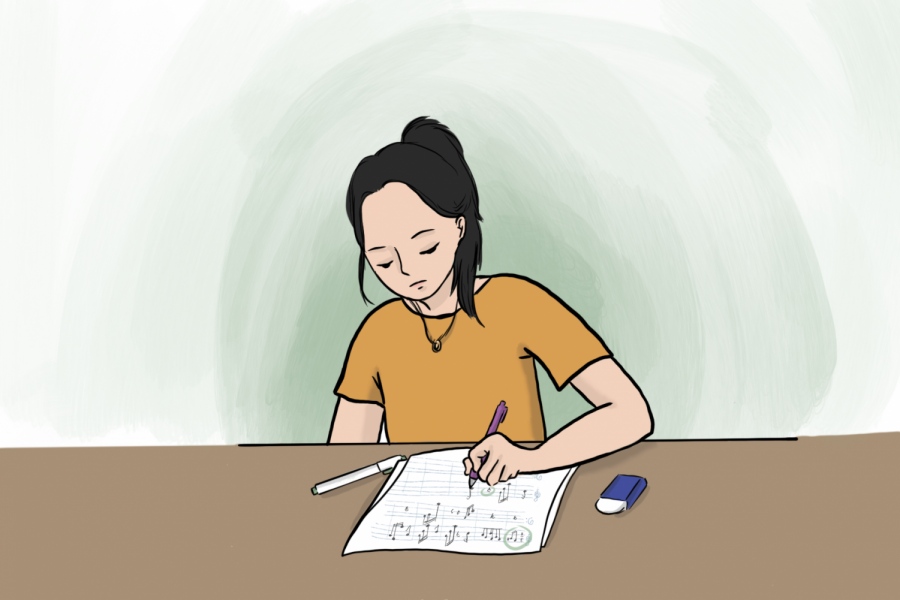 Contrary to the name of the course, the Bach to Stravinsky: History of Music class decided to focus on the contemporary side of the music world by welcoming professional composers Anna Clyne, Jessie Montgomery, Angélica Negrón, and Dr. Reena Esmail to visit their class via Zoom to share their experiences in the current classical music industry. 
A diverse selection of composers attended the sessions, each with their own specialties in music. Clyne, a Grammy-nominated English composer, is a fan of acoustic and electro-acoustic music, while Montgomery, an American composer, chamber musician, and educator, shapes her classical compositions with improvisation, language, and elements of social politics. Negrón, a Puerto Rican composer, writes music for various unusual instruments including accordions, toys, electronics, and robotic instruments. 
Each class followed the same structure, Clio Rao (10) said. Their teacher started with a set of four questions for all the composers based on class topics, then the students could ask five of their own questions, which they wrote beforehand.
Prior to their arrival, Ayesha Sen (10) said the whole class listened to either one piece or one movement by the composer in order to get a sense of their style and to start thinking about questions to ask them based on their individual work. 
The questions ranged from inquiries about the composers' inspirations to their musical training, working life, and even to how they define classical music, which is an overarching theme within the class, Rao said.
Esmail, who visited earlier this week, has been composing for nearly 20 years and has an extensive background as both a pianist and a composer. After graduating from Juilliard, she received a Fulbright grant to study Hindustani music in India. She currently works to create equitable spaces for Indian and Western classical music.
Esmail opened her discussion to the ways in which she hopes to marry tradition and innovation in her work, she said. She discovered that there is a significant amount of resistance to mixing musical spheres, whether it be old and new, Indian and western classical music, or people from different demographics, she said. 
"Right now we're having this cultural reckoning where people are thinking about replacing or invading one culture with another culture," Esmail said. "I'm trying to find a common ground for people to have really beautiful interactions through music, that they are able to take forward into deeper relationships with one another."
This disconnect ultimately prompted music teacher Nathan Hetherington to change his teaching plan and start the class with present composers before moving backward in history, he said. Though the class typically covers the "common practice" period in classical music, which occurred from around 1700 to 1914, Hetherington has always been slightly frustrated with the lack of conversation around modern times, he said.
"Traditions might develop in Europe, but how does that connect to an orchestra in America or music students in America today?" he asked.
After contacting representatives and using his connections in the music world, Hetherington managed to invite the four accomplished composers to attend his class' sessions to further discuss the reality of pursuing a music career and how each has approached their work. 
Esmail said she was particularly happy to be straightforward about the logistics behind her composition career, as musicians and composers are generally secretive about such aspects of their lives. 
"There is a lot of shame about the different ways that people make a living," Esmail said. "My way of making a living has certainly changed a lot over the years, so I tried to be as transparent as possible [with the students] because it's important to have real information, especially when you're going into a career where we have to appear somewhat invincible." 
Rao said she found the topic of transparency in music crucial to their learning experience. 
"They really described, in detail, how they grew from playing an instrument from a young age or just being interested in music to having best selling music scores and actually making a living as an artist in 2020," Rao said.
Sen said the composers' in-depth explanations of the individual components of their music were more critical to her understanding of their pieces than simply listening to them in class. Not only did the composers share what the pieces meant to them, but they gave insight into the artists' struggles and passion for the field, allowing her to relate to them on a personal level, she said. 
"Something that came across [in] every composer, and which you can see clearly, is that they really love what they are doing," Sen said. "The composer visits have just made me more motivated because it shows me that if I pursue what I want [with music], I can get somewhere, even if it's just recreational."
Hetherington hopes that the students also take into account how modern artists and composers deal with the difficulty and legacy of music that is carried  from the past, he said.
"If you look at the pantheon of composers that are usually played in concert halls, you'll see a lot of white European dudes from the past, whose music reflects their concerns within their times and places. But if you look at who's writing classical music today, in America, and you listen to their writing, you'll see and hear a significantly wider range of sounds and viewpoints," Hetherington said. "Composers today are pulling in influences from all over the world and from sources that, traditionally, we don't associate with Western classical music. And that's what keeps this tradition alive and meaningful to anyone who cares to listen."