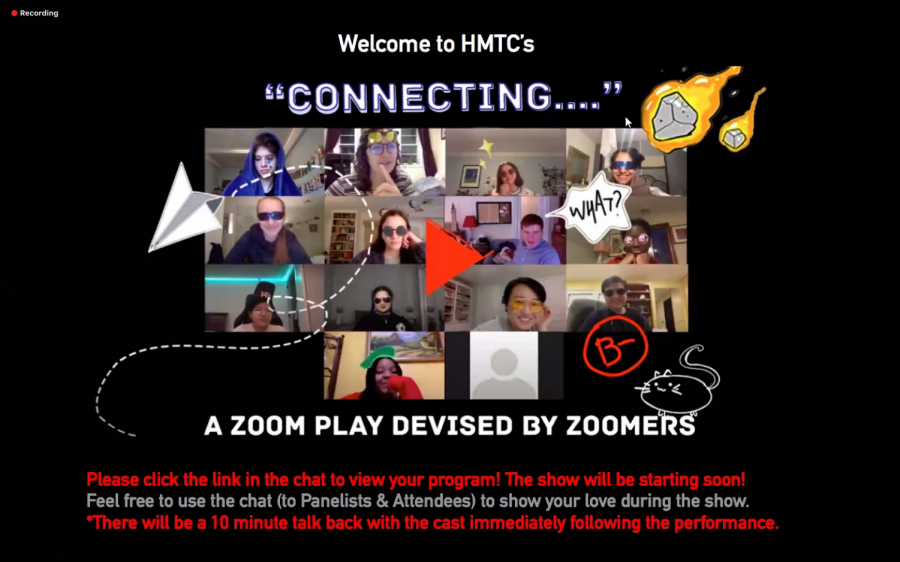 On Thursday, the Horace Mann Theatre Company (HMTC) presented a live performance over Zoom called "Connecting…" which illustrated the struggles of Zoom by telling the story of four friends who come together to connect after a difficult day of HM Online 2.0.
The show covered how to connect with one's peers, discover relationships while virtual, and learn to be close over Zoom and online school, Co-President of the HMTC Sarah Taub (11) said. 
"Technology brings us apart and brings us together in a million different ways," Assistant Director Stella Shah (11) said. "It's really confusing navigating that world right now."
"Connecting…" follows the day of four main characters at a school similar to Horace Mann. The scene opens with the four students attending an online Dance P.E. class together. As the day progresses, the audience sees snippets of their days: the freshman attends a grade meeting for new students, the sophomore talks with friends in a breakout room, the junior receives a C on an assignment and meets with their teacher, and the senior meets with a college counselor, theatre teacher Haila VanHentenryck said.
Although each of the students are at different stages in their The Recordhigh school careers, they all experience difficulties throughout their days on Zoom. By the end of the play, a Zoom call allows the four kids to comfort each other. "By connecting with each other, the characters feel better about themselves," Hecht said.
The creative process behind the production was evenly distributed throughout the cast,  VanHentenryck said. The 10 actors worked together to write a script from start to finish in only 10 rehearsals, she said.
"I always say that devising a piece is an inherently democratic way to make theatre because there are no main roles or traditional casting." Working together ensured that no one had a more powerful voice in the process than another, she said. 
However, since everyone had their own creative input, at times it seemed they would never finish writing the show, Shah said.
VanHentenryck, along with Shah, decided on the direction of the play. They wanted to focus on connection and empathy, since it is easy to be disconnected from others while online, she said. To create a baseline for the show, VanHentenryck and Shah planned activities, such as the cast members interviewing one another about their online experiences, in order to guide the actors into the direction of the show, VanHentenryck said.
To prepare, small groups of two to three students each worked on a particular character. Athena Spencer (10) belonged to the group that helped develop the character of the freshman in the show. "We wanted to make sure the voices of our protagonists were constant throughout the play," Abigail Morse (12) said.
Each group wrote two scenes for their character, said Divya Ponda (10), who worked with Bailey Hecht (10) on a sophomore character.
"We would talk about how to really show the characters even though we were stuck on Zoom," Morse said. The group decided to intensify reactions, play with video filters, and make their own props and backgrounds for character development, she said.
Along with the four characters, the show also portrayed Zoom stereotypes that many of us have become familiar with this year. "You will see all the classic Zoom things: the student who is always eating, the student that's wearing a hoodie, the student where all you can see is their forehead, the student that isn't paying attention, or the student that's filming a TikTok," VanHentenryck said. Non-student Zoomers also played a part in the production, taking on the roles of parents and teachers with even a cat or two in the background.
The preparation for this online production was different from their last devised show in October, Twas the Night Before Halloween. This production was devised 100% on Zoom, and the rehearsals were also all virtual. "We wanted to acknowledge [Zoom's flaws] and make it about Zoom," Vanhentryck said. "If there are tech issues on Thursday, then tech issues will happen. If people get frozen, then people get frozen."
Rehearsals via zoom have also had some benefits, Ponda said. "It's been easier to balance schoolwork with the show in comparison to previous years as there is more time while online," she said. 
Online preparation had other effects on the cast. "One of the easiest parts was that the way Zoom highlights one person talking at a time," VanHentenryck said. If we had rehearsed in person, the cast might have tended to talk over one another, but Zoom has helped them to fully listen to everyone's ideas, she said.
 "The show is about Zoomers, by Zoomers," theatre teacher Jonathan Nye said. 
Although Zoom has presented a different stage for the actors, it still allows them to have fun and bring people together, particularly in a year as unpredictable as 2020, he said. 
"Theatre gives us a great opportunity to get closer as a Horace Mann community, bring laughter and happiness into a tough year, and bring light into people's days," Taub said.