Aidan (12) and Maxwell Resnick (12) publish sports analytics book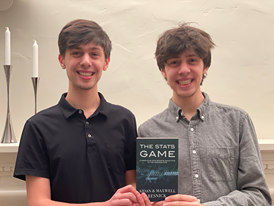 In December, Aidan Resnick (12) and Maxwell Resnick (12) self-published "The Stats Game: A Deep Dive into Sports Analytics in the Modern Era." By discussing advanced sports analytics, the book reframes the history of sports and works to better understand the decisions made by coaches and players.
According to the description on Amazon, The Stats Game discusses how to use numbers and nuanced metrics before making judgements on certain players and teams. These analytics explain the reasoning behind certain plays and strategies, the methods for evaluating an athlete's performance, and show readers how to predict the outcome for future seasons, Maxwell said.
Aidan had been a sports fan long before he thought about this project, and math was always his favorite subject in school, he said. He was interested in not only the game, but learning about what happens behind the scenes, such as the reasoning behind coaching decisions.
The Resnicks first considered writing a book once the COVID-19 pandemic began and their schedules opened up. The pair decided to write the book because there are many false narratives in the sports world and mainstream metrics don't do justice for many underappreciated athletes, Maxwell said. For example, New York Knicks center Mitchell Robinson is an example of a player whose value is underappreciated— when looking closely at stats, one can see that Robinson deserves more playing time, Maxwell said.
The writing process started in June and continued into December. They wrote for approximately four months and edited the book for another two months.
Ani Resnick P '21 '23, Maxwell and Aidan's mother, said the editing process was the most difficult part. "The ideas and words flowed pretty naturally for them initially since it was a topic that truly interests them," she said. "This project was difficult for them when it came to the final drafts and editing."
The book is divided into ten chapters, each of which explores a different sports analytics tool. The first chapter explains the general importance of more nuanced statistics, and the later chapters discuss specific statistical concepts such as logical regression probability.
Aidan and Maxwell's father provided useful assistance. "My dad, as a casual sports fan, helped us see what our reader would and would not be interested in,"Aidan said.
Having exposure to someone who had a basic understanding of sports helped Aidan and Maxwell determine what they should write about, Aidan said. "We realize that many sports fans don't have the curiosity or motivation to learn about the actual statistics and numbers behind the game," Aidan said. The Stats Game connects real-life examples to these concepts and explains them in ways that are easily understandable for readers, so learning about sports analytics isn't a "huge chore," Aidan said. For example, baseball pitcher Pedro Martinez's basic stats show that he had a very good season in 2000, looking at the high quality of hitters in that year indicates that he had one of the best seasons of all time, Maxwell said. This example encourages fans to use metrics that consider historical context, Maxwell said.
The Resnicks also questioned some old- fashioned metrics in sports, such as batting average in baseball, Maxwell said. "1 for 4 in baseball with a single versus 1 for 4 with a homerun is clearly different, but if one looks at batting average, they would see the same number. That does not tell the whole story."
Once they neared the end of their writing and editing process, the Resnicks chose to self-publish the book after looking into various companies and deciding they wanted more freedom. Ultimately, the process was fairly smooth, Aidan said. They had total control over the title, the content, and the amount of exposure they hoped for the book to get.
Aidan is appreciative of the whole experience, which taught him how much goes into writing a book, he said. "It was really gratifying to see how much we added that we didn't expect and how much new material we learned. It was a very educational process for me and my brother as well," Aidan said.
Maxwell is grateful for his brother, saying that Aidan was a perfect partner for the process, he said. "My brother and I can talk about [sports analytics] for hours," he said.
The Resnicks' biggest hope for the book is that readers discover new interests or learn things about themselves, even if they aren't particularly interested in sports analytics. "Hopefully people who are interested in even vastly different areas of study still can take away things about their own brain, their own decision making, and their own tendencies as they analyze things," Aidan said.
Through The Stats Game, readers can realize that sports encompass much more than a hobby, Maxwell said. "It is a huge industry, a global sensation, and even a science."