Hong (10) pursues figure skating despite the pandemic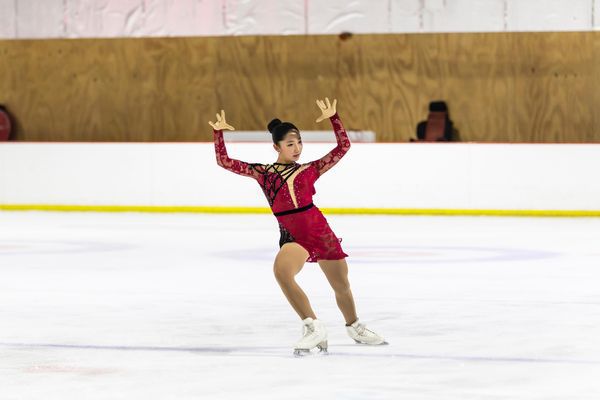 "There's no way that I was gonna give up on skating," Jojo Hong (10) said. At the start of the school year, Head of School Dr. Tom Kelly announced that all athletes pursuing sports outside of school would remain online. When faced with deciding between figure-skating and in-person school, the choice was clear, Hong said. Hong spent more than half of the school year, up until March, attending school remotely to continue skating.
When Hong began skating at eight years old, the sport came naturally to her, she said. She quickly learned challenging skills and consistently improved. That same year, Hong began figure skating competitively.
Hong's love for figure skating comes from its balance between precise technical skills and artistic expression, she said. "I just love figure skating every day — to feel the wind blowing in my face and just feeling really free on the ice," she said.
But when the pandemic began, skating rinks closed, and Hong could not skate for three months. Until then, her longest break from skating was during the week she spent at Dorr in eighth grade, she said. Even that mere week-long trip was stressful for Hong as she worried she would lose her skills, she said.
When she returned to the ice, Hong again felt like she would have to start over, she said. She had to spend a lot of time practicing basic skills and getting reacquainted with the ice. "You kind of lose the feeling of being on the ice and how your feet feel in the boots," she said. 
As a result of the pandemic, however, Hong got more time to practice by herself on the ice, she said. "I loved playing music really loud and skating by myself." The extra time also reminded Hong of the joy she felt when she first began skating, she said. "I felt like I could express myself and my emotions without worrying about others' judgments." She was also able to work on her strength and skills after her time off, which was important, she said.
Kelly's announcement in the fall that student athletes would remain online came as an advantage to Hong's training, she said. This change gave her more time to focus on her schoolwork and extra time to figure skate after online school in preparation for the next season. 
During a typical school year, Hong would miss many school days to travel and compete in international competitions. However,with traveling restrictions due to COVID, she could no longer compete, she said. The inability to travel was disappointing to Hong, she said. 
Hong's mother, Jihong Chen P '23, respects the decisions Hong has made regarding online school. "I totally supported Jojo's decision, as this showed her responsibility and accountability for the school and for her classmates," she said.
For Hong, Kelly's decision did not come as a surprise because of the severity of the pandemic, she said. Although staying online was a simple choice, she had hoped to come to school and see her friends in person. In addition, she could no longer engage in classroom discussions like she did when she attended school in person, Hong said.
However, Hong is grateful she could turn to skating amidst the frustrations and challenges of online school."Skating was definitely a retreat for me from online school," she said. 
In December, while Hong was still online, she faced an injury to her lower back, partly because she had not kept up with the same level of intensity in her training as she did before the pandemic, she said. Fortunately, her injury did not stop her from figure skating. Hong has continued to train through the injury while lowering the intensity of difficult skills like jumps.
In March, Hong returned to in-person school once the school dropped the restrictions on after-school activities. "It felt amazing because I missed being in the classroom," she said. While attending in-person school, Hong felt like she could be more present in the classroom while spending time with her friends. "It was nice to see Jojo after such a long time when she came back to school," Miller Harris (10) said. "Everyone missed her."
This year, Hong has learned the importance of creating goals and focusing on them, she said. When returning to the rink in June of last year, she was in a repetitive training cycle and lacked motivation due to the uncertainty of the season ahead. 
This competitive season was supposed to be her first year competing at the senior level, allowing her the opportunity to compete at larger international events, she said. 
For the next season, Hong's goal is to qualify for the New Zealand Olympic team — she was born in New Zealand —  and plans to compete at the 2022 Winter Olympics, she said.
In September, she will partake in an important qualifying competition for the event. Chen looks forward to sharing the high and low moments, laughter, and tears as Hong follows her dreams, she said. "[Hong] loves the sport and enjoys the sport, and I am so happy to go all the way along the journey with her."