Preseason: Students practice fall sports during preseason
Boys Cross Country:
The Boys Cross Country team prepared all summer and is now in great shape for the season, team member Jake Ziman (11) said. 
The practices during preseason were not easy, Ziman said. "Summer running is tough, with extreme heat and sun, so it was a challenge to get in the conditioning we'd like to before the season," he said. 
Ziman followed the running plans that Boys Cross Country Coach Jon Eshoo provided to the team. During preseason, the team worked hard in Van Cortlandt Park, continuing to build up mileage and doing speed work, team member Spencer Kim (10) said. 
Kim ran over 300 miles this summer, he said. "Logging miles over the summer builds an aerobic base, which is important to success during the actual season," Kim said. 
Kim is hoping to compete in races against other schools this upcoming fall season, but the team is still unsure whether competition is confirmed, Kim said. "We're all looking forward to getting back to races after almost two years without them," Ziman said. "We're expecting to have at least Ivy League meets, and we hopefully will have some of our bigger meets as well."
Girls Cross Country:
This year, the Girls Cross Country team is made up of twenty students, the biggest group Sareena Parikh (12) has been a part of in her six years of cross country at the school, she said. 
Many of the new team members are experienced runners, Catherine Mignone (12) said. She is excited to cheer them on this fall at meets and practice.
Some of the team members prepared for preseason by running almost every day and doing workouts over the summer, team member Kat Benton (10) said. For example, Mignone participated in a high-performance rugby program over the summer which required her to do a lot of running and sprint work. 
During preseason, the team warmed up with dynamic stretching and then ran different loops in Van Cortlandt Park, Mignone said. Team members ran up hills or long, flat stretches to test their endurance, and ended practice with a cool down jog and stretching, she said. While it was challenging to run in the heat, the team pushed through by monitoring their hydration levels and taking breaks after each set, she said. 
"I enjoyed coming back to school and getting to see everyone on the team and practice without masks," team member Sadie Katzenstein (10) said.
Field Hockey: 
The Field Hockey team wasted no time in preparing for live game situations, Coach Caroline Surhoff said. Surhoff incorporated a lot of scrimmaging into preseason in preparation for the in-person competition to come this fall, she said. 
Surhoff also set time aside for bonding and group discussion. "It's a way for them to get to know each other, build a support system and create goals and norms for the season," she said. 
The team focused on drills such as stick work during the first week and moved to scrimmages the following week, Surhoff said. The team has done many drills with passing and playing on the goal, team member Emmi Zeitler (12) said. 
This year, the team's eleven freshman players have been working hard and making large improvements every practice despite having little game experience in previous years, Surhoff said.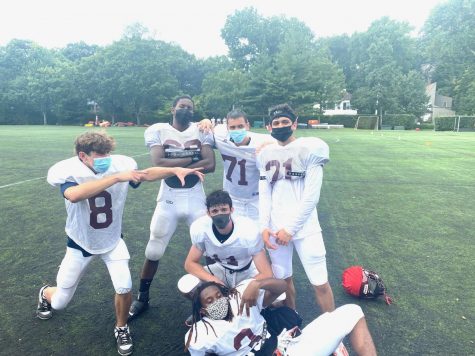 Football: 
Since the Football team members are at various skill levels, coaches Matthew Russo and Ronnie Beller ran drills that focused on fundamental skills that everyone needs, team member Adande Nartey (10) said. The team also did many position-specific drills and had tactical discussions, team member Milo Mandelli-Valla (10) said. 
In the past two years, the team has evolved as players have started to take football a lot more seriously than before, Ryan Lax (12) said. This year's team has shown the renewed energy and spirit necessary to prepare for competition after a year off from playing, he said. The team's practices were twice as long as other teams, which was difficult in the heat, Mandelli-Valla said. "​​We just had to focus and play through it, no matter how difficult that was." 

After training during preseason, Nartey is looking forward to playing a few games in the fall. "They are a chance to see how the practices improved us, what we can improve on, and are also just a big team bonding opportunity," Nartey said. "I am definitely looking forward to our game on homecoming and the games against some of our rival schools in our league," Lax said.
Boys Soccer: 
The Boys Soccer team had a lot of fun during tryouts and the rest of preseason, team member Alexandre Saint-Sauveur (10) said. The team had the largest turnout ever for soccer tryouts at around 70 players, 14 of whom were seniors, Boys Soccer Coach Gregg Quilty said.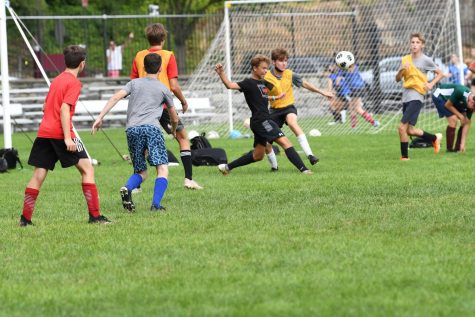 Prior to preseason, some players practiced on their own. Saint-Sauveur played travel soccer with an out-of-school team, and Spencer Kolker (10) played soccer almost every week since July, he said. Gabe Jaffe (10) went on runs in order to get into aerobic shape. 
During preseason, the players started off with four days of an intense tryout process where players took part in back-to-back games with little rest, Jaffe said. After the Varsity and JV teams were decided, the members did warm-ups, passing drills, shooting drills, and finished off with a scrimmage during practice, Saint-Sauveur said. 
The team familiarized themselves with a 4-3-2-1 formation on the field through position-specific drills, and learning more about each position's relation to another, Quilty said. They also practiced set pieces such as corner kicks and goal kicks, and other tactical work where the team creates designated plays, he said.
Jem Klancnik (10) enjoyed watching everyone improve and getting to know his teammates during practices. He also admired the goals that his teammates scored on the field, he said. "The work ethic has been great, and the team chemistry has also improved a ton," Quilty said.
However, the team did face some challenges. "The heat has been hard," Klancnick said. "We need to make sure we're staying hydrated." 
Despite the heat, Saint-Sauveur is looking forward to playing games against other schools and practicing with the varsity team during the season, he said. "I'm really looking forward to finally playing games and just enjoying being together as a team," Quilty said.
Girls Soccer:
During preseason practices, the Girls Soccer team focused on conditioning, skill work, and team building, Girls Soccer Coach Tim Sullivan said. The team's ultimate goal is to compete for an Ivy Prep League Championship this season.
This year's co-captains Eliza Becker (12), Rachel Kuhn (12), and Laila Farmer (12) have been very welcoming to the underclassmen, Quilty said. "[The captains] have done a great job of working hard and inspiring the team," Sullivan said.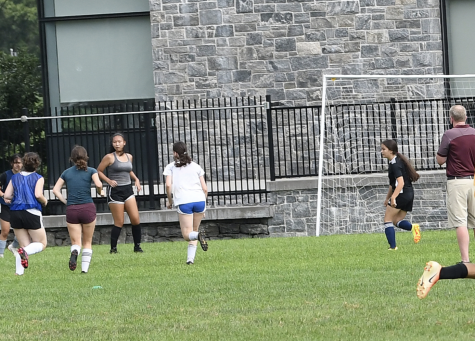 Prior to preseason, players made time during the summer to stay in shape and prepare for their upcoming season. "I usually ran three miles every other day," Kuhn said. 
Becker was excited to see the influx of young talent on the team, and cannot wait to finally compete after being unable to last year due to COVID-19 restrictions, she said.
Practice was difficult due to the warm weather, Becker said. "It [was] very hot and sunny, 
but the team worked through it, and the overall attitude [was] great," she said. 
The captains are looking forward to competing again, winning games, and bonding with the team, Becker said. Quilty is also excited to see the team come together throughout the season, she said.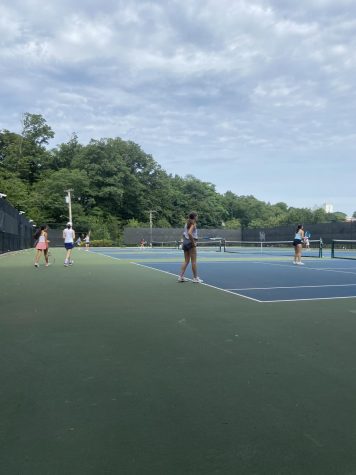 Tennis: 
The Girls Tennis preseason practices have been a lot of fun, team member Emily Grant (10) said. "It's good to meet and get to know the other girls — especially the upperclassmen who can mentor us," team member Diya Chawla (9) said. 
Because there are four courts, the team typically had three doubles or singles matches going, while remaining players used the fourth court for drills and other games, team member Bella Colacino (12) said. They also ran drills to work on movement, communication, net game, and ball placement, Colacino said. 
This year's new coach is Coach Ken Burton after Coach Rawlins Troop stepped down this past year. "I missed Coach Troop being there, but Coach Kenny has been great," Grant said. 
"Kenny, the new coach, is incredible," Colacino said. "I have already learned so much from him." Coach Olufemi Salako will be coaching the Junior Varsity Girls Tennis team, Colacino said. 
Grant is looking forward to the team spirit during the season and finally being able to play matches during the upcoming season, she said.
"I'm really excited for this season because it's my senior year and last year we didn't have a real season," team member Rhea Patel (12) said. 
"I'm looking forward to bonding with the team as that is always my favorite part of the tennis team, and we missed out on that last year," Colacino said. "This year we have a great team with many incredible players and people that I'm excited to get to know better and play alongside." 
Colacino hopes that the team can win the Ivy Prep League this year and bring back Girls Varsity Tennis' winning streak for the sixth year, she said.
Volleyball: 
The Girls Volleyball team is setting up for a terrific season after running basic drills and scrimmages during preseason practices, Joann Yu (10) said. 
Before preseason, some players diligently trained by themselves. Team member Maddie Kim (10) attended private volleyball lessons while she was away in Korea, she said. Yu attended a two-week NYC Juniors camp and a Virginia Beach Camp hosted by her club team, All-Star Empire, she said. 
Preseason training consisted of drills and some scrimmages at the end of each session, Kim said. Yu particularly enjoyed the six-on-six scrimmages, she said. The team worked on different types of sets as well as blocking and serving, Gabby Chong (12) said. However, certain drills were difficult to run as the team had to work around missing some players who were quarantined, Yu said. 
Aside from drills, the team members worked on getting to know each other's individual personalities and how they each play so they know how to work best with each other on and off the court, Chong said. The team has done a lot of bonding, and also learned how to play new positions, Volleyball Coach Jason Torres said. 
There are many games planned already, against both schools in the Ivy Prep League and outside, Yu said. Kim looks forward to growing with the team, and competitively playing other schools throughout the season, she said. Chong is excited to work with her teammates to build team chemistry, and play at homecoming, she said. 
Torres is looking forward to the new team, new uniforms, and the new attitude, he said. "This is a team that is looking to hopefully make some of their own history in the volleyball program."
Water Polo:

The Water Polo team's preseason this year focused on fundamentals and building endurance, Varsity Water Polo Coach Michael Duffy said. "Water polo is physically demanding and most players haven't been in a pool in a long time," he said.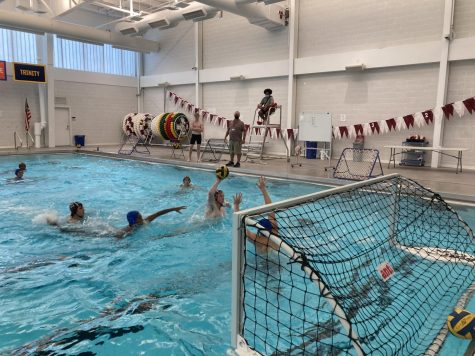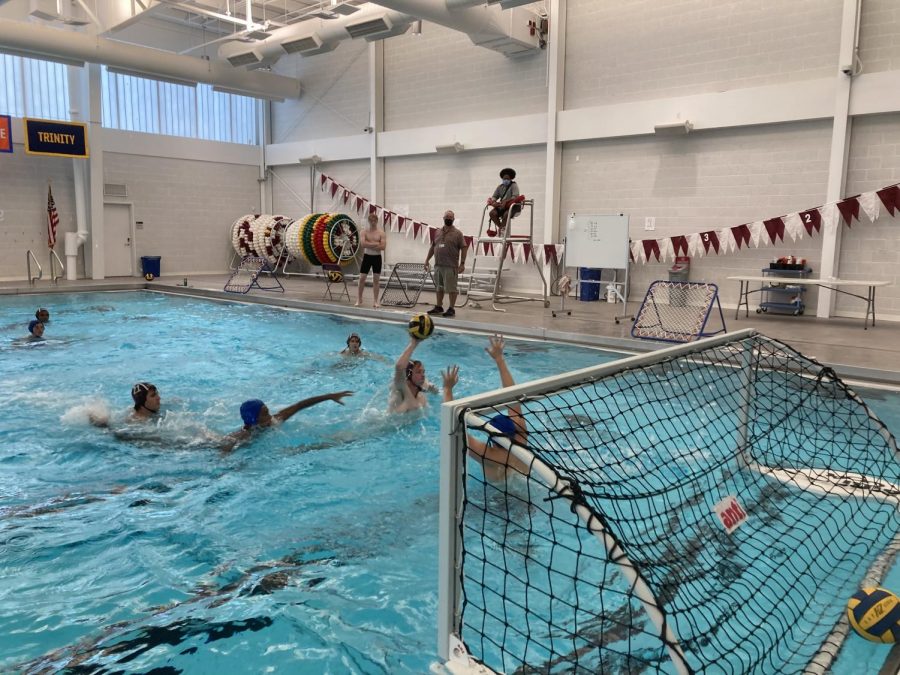 Max Chasin (11) is one of the top players on the team, Duffy said. Chasin prepared by practicing and competing with his club team, CT Premier Water Polo. Preseason was productive for Chasin, as it helped him get into better shape through ample swimming and treading practice, he said. The first part of practice consisted of treading exercises and passing drills, then moved on to shooting and eventually scrimmaging, Chasin said.
Another stand out player is Walker McCarthy (12), Chasin said. "He's one of my closest friends on the team, and he's a great player, so I can't wait to see what he can do this year," he said.
The team's goals for the season are to have fun and work hard, Duffy said. The team looks forward to bonding and competing against other schools since last year's COVID-19 restrictions prevented them from doing so, Chasin said. "The water polo team always has strong camaraderie, so I can't wait to spend time with my teammates," Chasin said.