Faculty farewell: Coach Barile to retire after 39 years at the school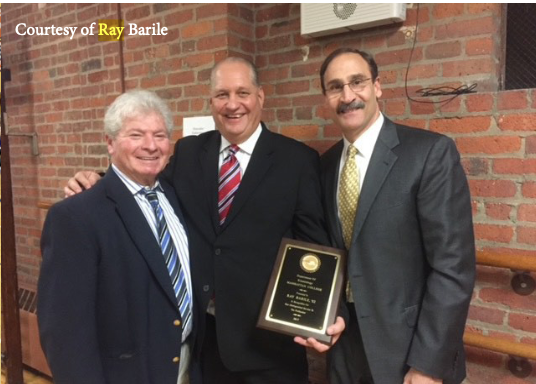 After 39 years, Coach Ray Barile is retiring from the school. Barile has been teaching and coaching in the Athletics Department since 1982, leading his softball, basketball, and soccer teams to a total of ten Ivy League and six NYSAIS championships. "He's the most passionate person at Horace Mann I've met," Kate Golub '19, a former member of the Girls Varsity Basketball team, said. "He cared about all of us as a team so much. He would eat, sleep, breathe basketball."
Even though he is retiring from teaching, Barile will return to the school for the 2021-2022 school year to coach Girls Varsity Basketball and Softball, he said. Both teams have seniors that Barile has coached for three years, and he plans to see those players through to graduation and hopes to guide them to championships, he said. 
Barile attended Manhattan College, double majoring in Physical Education and Computer Science. He played a variety of sports during his college career, including soccer and swimming. His passion for sports and teaching children to live healthy lives motivated Barile to pursue teaching. As a result, Barile chose to work in athletics at the school, despite being offered an Information Technology job at Manufacturer Hanover.
In 1982, Barile was hired to teach an after-school swimming program to fifth and sixth graders. Initially, Barile assumed he would only work at the school for approximately five years and then transition to a public school. However, he fell in love with the community and decided to stay. "After three years at the school, I knew this was the place for me to become the best version of myself and to today I know I made the right decision," he said. 
Barile was eventually hired for a full-time position in the Athletics Department, coaching Boys Junior Varsity and Varsity Basketball, and Girls Varsity Basketball, Softball, and Soccer. He also started the CPR program during his time at the school.
Barile feels fortunate to have had such a long career with colleagues of such a high caliber. "I teach with the best faculty I've ever met," he said. "They're really really intelligent, smart, and innovative." 
His colleagues mentored him at the beginning of his career. "They supported, challenged and encouraged me to take chances," Barile said. 
"[He is] revered by his fellow coaches and basketball and softball teams," former physical education teacher Neil Berniker said. "He has the heart of a lion."
Barile's commitment to his teams was evident, former Girls Varsity Softball and Basketball player Jennifer Reiss '15 said. His enthusiastic and passionate personality led to strong connections between him and his team members. Reiss believes that Barile's commitment to the success of his teams and his intensity motivated her to devote herself to sports. "He always encouraged us to work hard on and off the court and ultimately made us better all around people and athletes, never missing a moment to help mentor us both on and off the court."
Catie Barile '09 remembers her father watching his team's film with a next door neighbor, who happened to also be a basketball coach. Barile never tired of helping his teams improve, she said. 
Golub remembers Barile's passion on the court and that he found true joy in leading his teams to success. Her favorite memory of Barile was during the halftime meeting of an Ivy League Championship game. Barile was silent and then suddenly screamed, "That's how you play basketball!" 
This passion was apparent during Sareena Parikh's (12) freshman year, when the Girls Varsity Basketball team lost in the state championship. Barile's reaction spoke volumes about his character, she said. His instinct was to blame himself rather than the players for the loss. "He loves winning as much as we all do," she said.
Barile prioritized his players' mental game, and worked to build smart athletes, he said. Kyra Kwok '19, a player on both the Girls Varsity Basketball and Softball teams, remembers Barile's style of coaching as intense, passionate, and effective. Barile attempted to strike a balance between an intense environment and an enjoyable one. "We want to praise the successes, but when they fail, we want to help them get back on their feet," Barile said.
Barile instinctively understood each of his players' temperaments and knew how to motivate them to improve without pushing them to a breaking point, Kwok said. "His goal was never to make us perfect athletes. It was always to make sure we knew the game so well that the right decisions became second nature."
Barile emphasized that when playing sports, being mentally adept was just as important as being physically able, Kwok said. During her first game playing the infield, Kwok was anxious and made a mistake allowing a runner to reach base safely. "I realized he wasn't angry with me, but was telling me to move on because if I didn't, I'd be in my head for the rest of the game and would open myself up to a variety of mental mistakes and distractions." 
This coaching style benefited Li Arditi '17, a Girls Varsity Softball team member and Girls Varsity Basketball team manager. At the end of her sophomore year, the softball team needed a pitcher. Arditi, a center fielder, had not considered pitching, but Barile's guidance allowed her to overcome a mental obstacle and embrace a new position.
Arditi also remembers Barile helping her improve her communication and leadership skills as an older member of the team. "He helped me with how to communicate with teammates and then also coaches, because you do communicate with them differently," she said. 
Barile's guidance led to many lasting relationships with his players. He had an ability to connect with his athletes and make each one feel valued, as if they were a part of a large family. Jennifer Capla '95 learned from Barile that working together was more effective than as an individual.
Barile's coaching style led to many successes, including reaching seven Boys Basketball championship games. In 2004, his boys' basketball team won a televised game against Poly Prep Country Day School. 
Barile coached two of his three children that attended the school. Catie played on Barile's Varsity Softball team during her senior year. She said that her father worked to make the game fun, but left everything on the field and expected the same from his players.
Barile often talks to his former athletes after they graduate, Catie said. She remembers him taking players out for dinner as a way to reunite after they have graduated. 
"I text him for the holidays, and when COVID was bad I was texting him to ask if he and his family were okay," Arditi said.
Players built strong relationships with Barile since he supported them through challenging games and moments, Reiss said.
"[He is] revered by his fellow coaches and basketball and softball teams. He has the heart of a lion."

– Neil Berniker
"He was definitely a protective coach," she said. "He always stuck up for us if a call didn't go our way or the other team got too physical. That being said he instilled in us a sense of pride.  We were always reminded that when we put on our jersey we had to act with dignity and grace as we  were representing ourselves and Horace Mann."  
Barile was supportive of the players because he understood how they were feeling, Kwok said. "I know he felt the same disappointment as all of us did every time we lost and the same excitement every time we won."
Barile was the "glue" that unified his teams, Jane Frankel '18, a former player on the Girls Varsity Basketball and Softball teams, said. "He's a coach on and off the court." Frankel remembers when the basketball team had their end of season party. Seeing Barile outside of school showed Frankel how much Barile's teams are like family, she said.
"I really believe the chemistry and the fabric of a team helps teams to become the best they can be," Barile said. "And not only the team. [It] allows each individual to be the best they can be."
Like Frankel, Parikh cherishes memorable off-the-court moments, such as the team's winter break trip to Florida. Barile came up with creative ways for the team to bond and grow. He made sure that the group had support not only from their teammates, Parikh said. "​​Barile also loves the support of the 'team families' as he says, and invited all of them to Florida."
Brendan Barile '06 said that his experience being coached by his father was invaluable and strengthened their relationship greatly. "It's less like the one moment and it's more the totality of all the little moments, because he brought it every single day" he said. "I just feel incredibly lucky to [have spent] all that time with him." Colin is now employed by the school at the Nursery Division, following in his father's footsteps.
In addition to coaching, Barile had a significant impact on other aspects of the Athletics Department. When he began working in the Upper Division, Barile proposed the addition of CPR to the Physical Education curriculum. "It was important to me, getting something you could take away," Barile said. He views CPR as a lifelong skill equal to any other graduation requirement. The school became one of the first two schools in the country to make CPR training a graduation requirement. 
"For thirty years, [Barile] has been the original architect and only faculty member to ever teach the [CPR] physical education graduation requirement," Annunziata said. "[The program] is the gold standard, so anybody who is trying to run their program, they would contact Mr. Barile." 
Barile made the uncomfortable experience of learning CPR safe, interesting, and fun, Kwok said. "I think a lot of kids at HM, including myself, see CPR as just another requirement to get through," she said. "Barile reminded us how important it was — how at some point, it could come down to a life or death situation. He made us grapple with the weight of lifesaving knowledge and then reminded us that it was okay for that to feel heavy."
In addition to introducing CPR, Barile used his passion for basketball to help develop sports-related projects with other schools located around New York City. He began the Independent Basketball Showcase with Poly Prep coach Billy McNally. The event featured the top private school players from the five boroughs, Westchester, and Long Island. Many Division II and III collegiate coaches would attend the event to scout players. The Showcase ran from 1996 to 2009 and helped to launch numerous college careers for local student-athletes, Barile said.
Barile was also heavily involved with including the school in the Coaches vs. Cancer High School Basketball Classic. After Barile's grandmother passed away from cancer, he decided to get the school involved with the event.
Barile contacted a representative from the American Cancer Society, and in 2000, the school's basketball program began participating. Barile has helped raise over $794,000 for the American Cancer Society thus far. He also received two service awards from the American Cancer Society, in 2006 and in 2014. Brendan remembers his father organizing this event as he grew up, and hopes to emulate his father's impact on the people around him.
"It's been an honor to work at Horace Mann," Barile said. "Horace Mann was the place I [learned] to grow up and became a professional and the person I am today."