MD students read "They Called Us Enemy"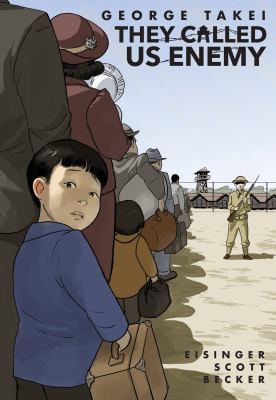 This summer, all Middle Division (MD) students read American actor and activist George Takei's memoir, "They Called Us Enemy". 
Takei, known for his role in the television show "Star Trek," is an immigration and LGBT+ activist. "They Called Us Enemy," details his childhood experience living through Japanese internment camps in the US during World War II. 
The division read was led by Head of the MD Javaid Khan, MD Library Department Chair Rachael Ricker, MD Dean of Faculty Eva Abbamonte, and MD English Department Chair Drew Samuels. They invited faculty members who wanted to be involved with the Summer Read to join as well, Khan said. 
Khan, Ricker, Abbamonte, and Samuels chose "They Called Us Enemy" because they felt that, as a graphic novel, it would be interesting to all MD students, Samuels said. "It can be challenging to find a book that can work well in all three grades; that is accessible enough for sixth graders, but has enough interesting engagement and complexity for eighth graders, so we felt fortunate we landed on this," Samuels said.
Khan felt moved by the book when he first read it, he said. "It's creative, it's personal. At times it's hard, and all of that is captured through the combination of words and pictures," Khan said. "This is a story that we don't hear a lot. The Japanese internment camps have been here in America, in our time. We don't tell the story often, we certainly don't hear about it from the perspective of those who lived it."
Lowey Miller (8) said "They Call Us Enemy" is an important read because it makes an under-discussed part of US history easy to learn about as a graphic novel. "[The camps are] a period of the war, and a period in the history of our country in general, that is, unfortunately, not very well known," he said.
It was important for MD students to read a book about Asian American history, Sarina Shah (8) said. "Especially given the situation with COVID, and what's going on with the media, we've seen a rise of Asian American hate crimes, and I think it's really important to go into depth and explore these stereotypical ideas," she said.
When learning about history, Americans tend to focus on Japan's attack on Pearl Harbor and the United States' retaliation with two atomic bombs, Shah said. "We never really explore what Asian Americans or specifically Japanese Americans had to go through during that period of time," she said. "They were segregated, and put into camps, which is really important to know because it's a hidden side of the story, and George Takei really explores that and gives us a different point of view." 
In "They Called Us Enemy," Takei brought up modern issues beyond Japanese-American internment during World War II, MD History teacher Eric Cadena wrote. "He speaks to the US's anti-Asian racism that we've only just started to confront," he wrote. "Mr. Takei's story speaks to an important and troubling time in American history that the AAPI community continues to deal with. It also shows how the human spirit can endure and persevere, which is what I would want students to come away with after reading." 
Takei tells the story from his perspective as a naïve child, which helped Miller understand the tragedy of the story, he said. "The fact that this book was written from the perspective of a five year old really intrigued me, as he saw the events that unfolded around him completely differently than the adults in the book," he said. "There was a portion of the book devoted to the train ride to the camp. The author remembers this experience as a warm and exciting journey because his mother brought all these treats and games on the train with them. This happy memory is juxtaposed with other people in the car who were anxious and crying." 
This year, Khan hopes to bring in assembly speakers, including Takei, who can amplify voices that students have not heard before — stories that are not discussed enough in our daily lives or in our school's curriculum, he said. "It's not dissimilar from hearing from a Holocaust survivor or hearing from somebody who was a protester in the Civil Rights movement," he said. "It's their experience they get to tell you firsthand: 'This is what I lived.'"
Miller believes that it is essential for students to inform themselves of the country's history and that reading books like "They Called Us Enemy" could help students accomplish that goal. "Our knowledge of the past can change the present," he said. "And if we have a greater understanding of what's happened, we can hopefully try to prevent history from repeating itself."