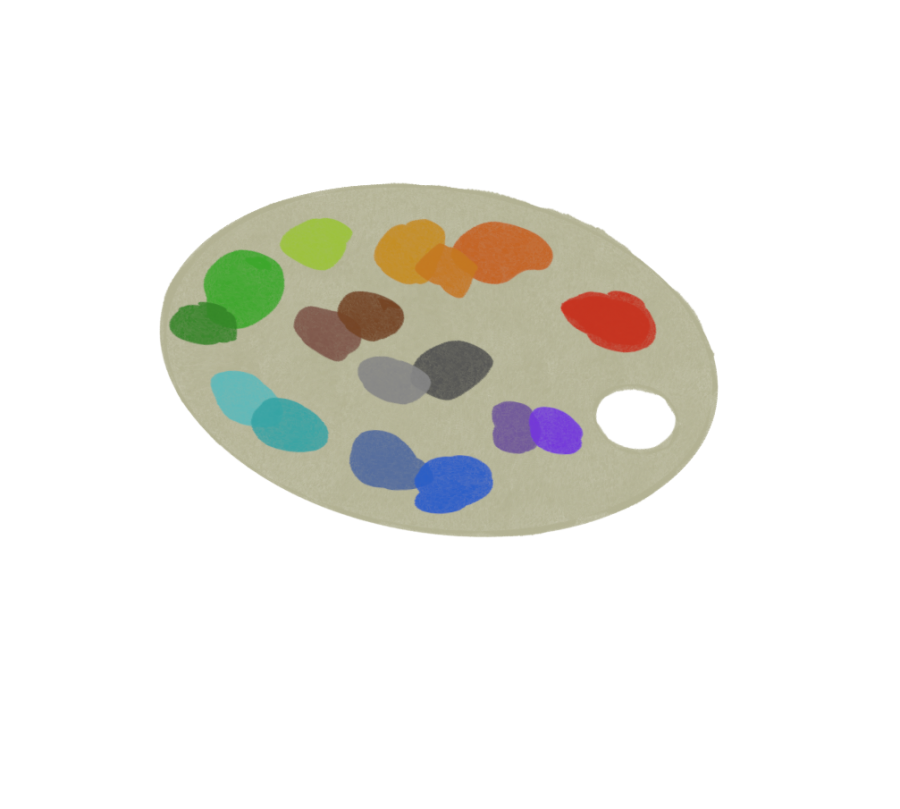 In an effort to experiment with art mediums like ink, graphite, and charcoal from the comfort of his own home, Evan Rowe (12) spent 50 hours per week for two months this summer creating art in the Rhode Island School of Design's (RISD) online summer program for high school students.
The program consisted of two four-week sessions. Students chose two art courses to attend during each session, for a total of four courses throughout the program. Rowe took  "Illustration and Identity: Finding Your Voice," "Experiential Drawing," "Exploration in Design," and "Visual And Critical Language." 
Before the program began, Rowe was given a list of materials for his courses that included basic materials such as paint, charcoal, and paper, which are common for advanced art students, he said.
During the biweekly Zoom classes, Rowe discussed his recent assignments with teachers and received critiques from his peers. "All the courses had a message board where you could leave [brief] observations about your peers' work," Rowe said. 
Rowe joined the program because he was looking for feedback on his art portfolio before he applies to colleges. Last year, Visual Arts Teacher Kim Do connected Rowe with a senior who attended the RISD program. Upon hearing about the program's opportunities, Rowe was intrigued to explore further. "Several students from our school have gone on to study for their BFA and MFA degrees at RISD, and one of them even became a professor there in the Graduate School of Design," Do said. "The projects are challenging — they encourage students to dig deep within themselves to find solutions."
On Tuesdays and Thursdays, Rowe attended class and listened to a three-hour lecture during which professors first discussed each student's assignment then taught a new technique for the next project. Sometimes, Rowe was assigned to a breakout room where he would practice the technique.
During the program, Rowe worked with some art supplies for the first time, such as wash, a technique used to apply watercolor paint, and charcoal for drawing. "This program expands the possibilities of materials, techniques, concepts, and approaches to making various kinds of art," Do said.
Besides enhancing his physical art skills, Rowe believes the program helped him think and experiment in a way that he previously never had. "I took an illustration course in which they would give me a prompt which was usually a few words," he said. "So, I was able to complete someone else's vision, whereas art in high school has always been 'create what you want.'"
At one point in the program, Rowe made a collection of pieces that depicted moods and emotions as characters. "This is very similar to the theme of the movie 'Inside Out' so it was fun to be able to draw my own vision apart from the movie," he said.
Another illustration assignment Rowe completed was about memories and perspective. He drew a memory he had from the first day of school through his perspective, his mother's perspective, and the bus driver's perspective. 
Other assignments were more concrete and straightforward. "Once I was asked to draw a vase on a 12×9 piece of paper with vine charcoal," Rowe said.
In his "Exploration in Design" course, Rowe created designs that people would potentially adopt for their products. One of his assignments asked him to rebrand "La Croix" as an alcoholic beverage and convey that change through the packaging, he said. However, Rowe did not find this course as useful as he expected. "Your portfolio for college needs to reflect range, so even if you build your product design skills up, there is quite a while until you actually implement them," he said.
During his "Visual and Critical Language" course, Rowe wrote paragraphs that explained the meaning behind each of his pieces. He found this process difficult, especially when he created something for beauty rather than purpose. "Applying a deeper meaning to an art piece was a first-time experience for me, but it was definitely powerful and one of my major takeaways from the program," he said.
Although communication was difficult during the critique sessions, Rowe still considers them as some of his favorite moments from the program since students often receive only positive remarks from teachers and peers at school. During the RISD sessions, he received harsh critiques from professors who have years of experience. "I loved getting my piece honestly torn apart so that I could revise it and make it a fully completed piece," he said. Rowe believes that the school should adopt a less subjective form of revision so students can similarly improve their work after receiving feedback. 
Rowe recommends RISD's summer program to students who want to pursue art in college because it gives them a crash course on what to expect and lets them experiment with different majors. "If you want to go to design school but aren't sure of a major, you can get a taste of everything and then figure out where you fit best," he said. 
Do believes the program is beneficial because it adds seriousness to art-making, which is often lumped with leisure, he said. "It has similar features to the college experience — a camaraderie of fellow artists, working until all hours to meet deadlines, and the excitement of being in a world where one is the creator at the helm of the journey," Do said.
After previewing four different art majors, Rowe said, "I would rather do two sessions for the full eight weeks because some of the sessions that I hadn't experienced before, such as colored illustration, went by quickly." 
Despite the brevity of the courses, Rowe believes the program gave him insight into what to expect in college since art education can differ from one's expectations, he said. "Attending this eight-week design program was very helpful to figure out what I would actually be doing for the next four years if I choose to pursue it."