Female alumni authors share inspiration and challenges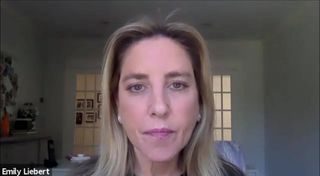 Last Wednesday, six female alumni authors discussed their writing careers in a panel organized by Director of Alumni Relations Kristin Lax and moderated by Upper Division Library Department Chair Caroline Bartels. The panel consisted of Alexandra Budabin '96, Val Bodurtha '14, Leslie Cohen '02, Emily Liebert '94, Emma Riva '18, and Sarah Seltzer '01.
The panel discussion will be featured in the virtual "Mann Made" Homecoming program, which celebrates the role that alumni play in inspiring the imaginations of current students, Lax said. The purpose of the panel was to share what motivated panelists to be writers and how the school community influenced their decision.
Lax is extremely grateful to these female alumni authors for participating in the panel discussion and taking time to share their reflections on their journeys as published authors, she said. "If you look at the bookcase filled with alumni publications, the vast majority are written by males," she said. The school was an all boys school until fifty years ago, so it has an unbalanced representation of gender, Lax said.
It was also important to Bartels that current students and recently graduated alumni know that it is possible to write for a living, she said. "It is great that Horace Mann students will hear that you can follow your passions and do this with your life."
The panel began with Bartels asking the alumni which, if any, teachers influenced them to become writers. Seltzer, as well as the other alumni, expressed the impact that previous head of the English department David Schiller had on her desire to continue writing. Schiller and former English teacher Gerri Woods assigned more assignments than her other teachers, which helped Seltzer truly understand her writing process in the long run, she said.
At the end of the semester, Schiller had patted each student's head and given them a prediction. His prediction for Cohen was, "smart girl, literary mind." This stuck with Cohen because someone recognized her love for reading and writing, she said.
History teacher and current Dean of the Class of 2021 Susan Groppi played a large role in Bodurtha's writing career. On one of her assignments, Groppi had commented "this can be a book." Bodurtha did exactly that, turning it into her first book, "The History Makers."
Riva was fond of English teacher Adam Casdin, who emphasized that life experiences hold more weight than formal education, she said.
These authors have faced many obstacles throughout their careers, including being women within a male-dominated field, Riva said. Sexism within the writing community is prevalent, Bodurtha said.
There is a genre called Women's Fiction, yet there is not one called Men's Fiction, Liebert said. Men are seen as the default, Riva said.
It was interesting to hear about these women's careers from their point of view, Bartels said. "One of the questions that I asked them was about writing during the pandemic," she said. "Three of them are mothers, so being a writer at home with kids and trying to meet deadlines is difficult. It was fascinating to see how each of them had handled it."
Authors can have a difficult time motivating themselves to write, especially during a pandemic, Liebert said. She, Budabin, and Seltzer were inconsistent with their writing since they had young children that needed more attention than they would if they had in-person school. Seltzer didn't write for a whole year during the pandemic. She was able to pick it back up once her schedule returned to normal, she said.
As a romantic comedy author, Cohen's work felt small compared to the bigger things happening in the world, she said. She didn't want to write about COVID in her novels because everyone experienced it. Instead, Cohen wanted to provide an escape for her readers, she said.
Riva also thought it was unnecessary to include the pandemic in her writing because she could express the emotions of it through her books without including COVID itself, she said.
All the authors in the panel came to the consensus that it was important to get used to rejection because it is a large part of writing, Riva said. "At Horace Mann you have a specific idea on what your lives are going to look like, but that's not realistic," Riva said. "Things are not going to turn out the way you think they are, and that's fine."