Homecoming Results
Boys Cross Country
The Boys Cross Country team raced against more than 100 schools in the Manhattan College Invitational, the largest Cross Country meet on the East Coast, Jake Ziman (11) said. "The atmosphere is definitely more exciting than our normal meets between the other Ivy Prep League schools."
Despite the competitive nature of the meet, the runners were able to keep up with the other runners, achieving some personal bests, Boys Cross Country coach Jon Eshoo said. Spencer Kim (10) and Ryan Finlay (12) performed the best out of the team, finishing the 2.5-mile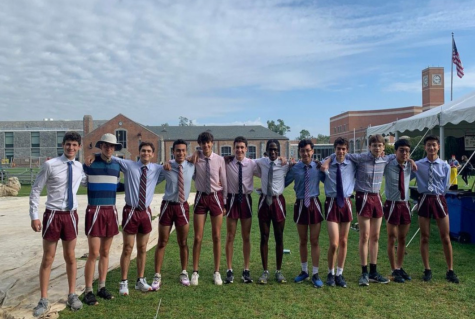 race under 15:30. Most runners were able to cut between 10 and 20 seconds off their times, Ziman said.
Some runners persevered through injuries, including Eric Do (11) who fell in the back hills during the race and suffered a cut to his knee, but got up and finished the race, Eshoo said. "The coaching staff is very proud of his effort and representation of HM XC. [Do] showed great heart and courage."
Having community members watching and the fierce competition they faced in the meet helped motivate the runners, Ziman said. "Because it was our homecoming, we had lots of HM students cheering us on, which [was] great motivation to perform your best," he said. "The competition [motivated] us to run faster, so most of us ran our fastest times yet of the year."
Due to the season being canceled last year, runners are excited to be competing again, Ziman said. "It feels good to get back to competing and it feels quite normal," Eshoo said. The team is excited to carry this momentum into future meets, including the Collegiate Invitational and the Ivy Championships that the team is training hard to prepare for, Ziman said.
Girls Cross Country
At homecoming, the Girls Cross Country team participated in the Manhattan College Invitational, the biggest meet of the season. The team competed against over 100 schools, Girls Cross Country Captain Sareena Parikh (12) said.
"All of the girls ran really well," Girls Cross Country coach Meredith Cullen said. Story Sossen (9) stood out as the team's top finisher at 43rd place with a time of 18:11, Claire Goldberg (12) broke her season record, and Parikh broke her personal record of 19:24 with a new time of 18:49, Cullen said.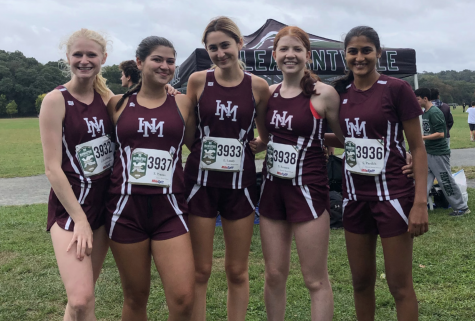 In the days leading up to the meet, the runners paced themselves and had runs where the team had conversations to get to know each other, Catherine Mignone (12) said. "You don't want to be putting out these max outputs — before a big meet like the one on Saturday, [you want to take a] slower pace."
The scale of the meet also influenced how the team prepared in the days leading up to the meet, Cullen said. "We talked a little bit about crowding on the trails, how to set a good pace, how to get in front of people," she said. "It was a little more of a competitive atmosphere than the meets that we're used to."
On the day of the meet, runners prepared by staying hydrated and participating in a group stretch and warm-up prior to the race, Lauren Landy (11) said. After the meet, all of the runners gathered together and congratulated each other, she said. "A challenge itself was the race, but I feel accomplished after it and I feel like my practices have more meaning now, so I work harder."
Runners will continue to put in their best efforts, Cullen said. "Work hard, take care of yourselves, stay hydrated, practice hard. And always, always do your best — that's all we can ask."
Field Hockey
Varsity Field Hockey's preparation and hard work throughout the season finally paid off when the Lions won their first game of the season at Homecoming, beating Riverdale 1-0. Team member Maddie Yoon (11), who plays left forward, scored the goal within the first couple minutes of the game.
Their strategy was to pass the ball to the outsides of the field and keep it out of the middle, Zoe Turteltaub
(9) said. This strategy creates more room to pass to attackers around the field, which makes it harder for the opponent's defense to stop them, Vivian Coraci (10) said.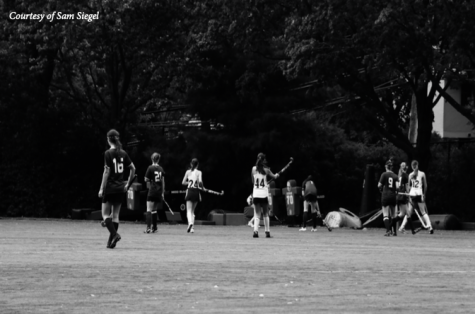 In preparation for the game, they practiced offensive corner plays, Sophie Pietrzak (10) said. The offense used code words such as "pink" or "paw" to tell each other what plays they will use during corners to try to make goals, she said.
The team was excited to win their first game of the season, team captain Jhanae Ottey (12) said. "We're more organized than we were during our first game and we really stepped it up for Homecoming, so as the games go on, we're just going to get better and better," she said.
This game especially bonded the team because it was the first varsity win, Pietrzak said. Additionally, the pre-game rituals — dressing up on Friday before the game, the team breakfast, and presenting posters for their seniors — hyped them up. "When we got to the field, we were all really motivated, focused on winning, and ready to defend our turf," she said.
The Lions will play at Riverdale's Homecoming this Saturday, and they hope to beat Riverdale for the second time this season, Pietrzak said.
Football
Breaking Riverdale's six-year winning streak, the Varsity Football team won their homecoming game this past weekend, with a sweeping victory of 21-7. 
A highlight of the game was when Damian Stellings (12) blocked Riverdale's field goal attempt at the end of the first half, which kept the score tied at 0-0, Beller said. Nate Wildman (11) also scored two touchdowns in the third quarter, Julien Harcourt (11) said.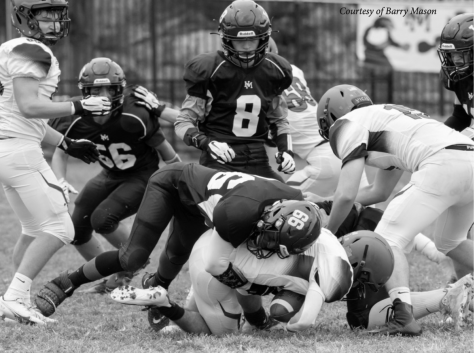 In the practices leading up to the game, the team tailored their strategies to take advantage of what they already knew about Riverdale's team, Harcourt said. Riverdale often runs the ball, which meant that the team had to plan on stopping those runs with strong defense, Harcourt said.
"Our game plan of stopping the run was logical and paramount to us winning the game," Varsity Football Coach Ron Beller said.
"The biggest thing that we did really well during this game is keeping our composure and staying level-headed in the game," Harcourt said. Maintaining this headspace was crucial during a game like homecoming, which brought in many more spectators than a regular game, he said. 
"Homecoming is different than any other game because of all the excitement of playing in front of a big crowd and in front of a lot of past Horace Mann football players," Beller said.
The excitement from Homecoming motivated the players to play hard, especially because this was the last homecoming game for seniors, Harcourt said. "It [was] the seniors' last homecoming so there [was] a lot of emphasis on winning and playing hard for them."
The team is optimistic about their upcoming game against Fieldston this weekend where they hope to repeat their win, Beller said. 
Boys Soccer
The Boys Varsity Soccer team won 3-1 against Riverdale at Homecoming, putting them in third place in the Ivy League behind Fieldston and Trinity.
Riverdale was aggressive and technically skilled, Gabe Jaffe (10) said. "They were very good at moving the ball around and pressuring our defense and wingers, but we were able to figure out their strategy, and we just fought for every ball," he said.
Their strategy was simply to give it their all, captain Julian Silverman (12) said. "The team and Coach Quilty always preach to give every ounce of energy that you have on that field because you're going to have time to rest after the game," he said. Coming off that field, Silverman said that the Lions played with everything that they had.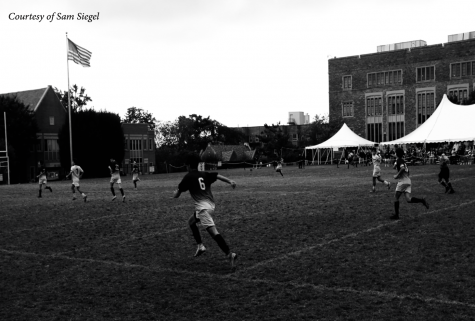 The highlights of the game came in the second half, Jaffe said. "We went into halftime down 1-0 and our coach gave a very motivational speech, so we came out of the halftime huddle very determined and in the first 15 minutes [of the second half] we scored two goals," Jaffe said.
The team was motivated to win because of the different sentiment playing at Homecoming compared to a typical game, Jaffe said. "You have
the pride of your school on your jersey because you're playing on your home field with friends, family, and teachers watching you," he said.
The team has formed a stronger bond than in previous years, Boys Varsity Soccer coach Gregg Quilty said. "We're definitely seeing more camaraderie amongst the teammates," he said, "They get along really well, and we have really good team chemistry which we didn't have a few years ago."
"We will try to carry our momentum into games this week, mimic any good parts of the Homecoming game, and call out anything that did not go well," Silverman said.
Girls Soccer
Girls Varsity Soccer celebrated the goal made by team captain Laila Farmer (12) with a triumphant dance during the first half of the Homecoming game. Although the team ultimately did not win, the game was still rewarding since everyone played to the best of their abilities, team captain Rachel Kuhn (12) said.
Almost half the team was injured, Farmer included, Carlson said. As a result, the team had fewer players overall, since some could not play due to injury.
Those who played while injured were not at their peak ability, Sophia Liu (10) said. Furthermore, athletes had to play different positions than they normally do to compensate for the loss of numbers, Liu said.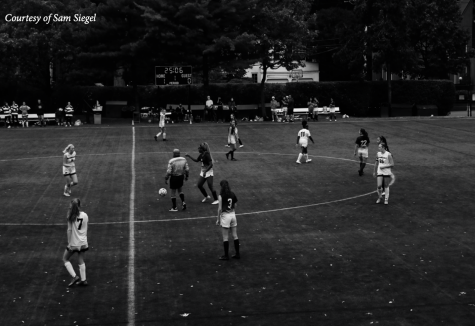 Prior to Homecoming, the team played multiple games a week, which made it difficult to find time for practices, Kuhn said. In the few practices that they did have, the team worked on defensive stances, she said. The team plans on working on communication and passes in their upcoming practices, which is something that they struggled with during the game on Saturday, Liu said.
Nevertheless, the Homecoming game was a great experience for the team especially amidst the pandemic, Carlson said. "I can't stress enough how lucky I feel to be able to play because I know that the seniors last year did not get this opportunity," Kuhn said.
Homecoming always brings a larger audience compared to other weekly games that the team has, Carlson said. The crowd not only motivated the team but also created a sense of normalcy during the pandemic, Kuhn said.
After their Homecoming game, the Girls Varsity Soccer team members are looking forward to redeeming themselves at Riverdale's homecoming this weekend, Carlson said.
Girls Tennis
The Girls Varsity Tennis Team competed in five matches against Fieldston at Homecoming and lost with a score of 2-3. They played two doubles and three singles matches. Both doubles teams won their matches, with Rhea Patel (12) and Sammy Blackman (12) winning 6-1, 6-2, and Jade Ciriello (12) and Bella Colacino (12) winning 6-0, 6-0. 
Patel and Blackman, who have been doubles partners for the entire season, wanted to have fun with their last Homecoming at the school, Patel said. They figured out which of their opponents was the weaker player so that they could hit to them more often, but they did not focus much on their strategy besides that, Patel said.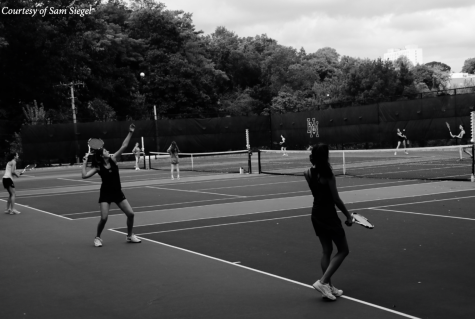 They focused on maintaining consistency, Blackman said. "Our opponents were not better players than us, so we needed to make sure we didn't make any unforced errors and keep the ball in play."
Leading up to Homecoming, Patel and Blackman played against their teammates during practice, which was very helpful because it allowed them to learn about each other as players, Patel said.
Although Blackman enjoyed the number of spectators at her match, it was nerve-wracking at first because she was not used to it, she said. The distraction of the talking behind them was also something new to get used to. "Since we were winning and playing well, [the crowd] was only something that helped us as it was really fun to have our closest friend cheering us on."
The highlight of the match for Blackman was when they won, she said. "All the hard work that we had put in during practice over the past few weeks and during the match was paid off with the win."
Girls Volleyball
The Girls Varsity Volleyball team beat Riverdale at Homecoming 3-0, winning the first set 25-17, the second set 25-16, and the third set 25-16.
They had the most fans out of any of their games at Homecoming, and the lively mood encouraged players to be at their best, Joann Yu (10) said. "The atmosphere was a lot louder, spirited, and excited, but also tense because everyone was cheering for us."
"We wanted to show all these people who came to watch us how good we were," Maddie Kim (10) said.
When the Lions won the final set, the team and spectators ran into the center of the court to celebrate, Yu said. "It was my first time experiencing that as a player on the team in that moment, rather than a spectator," she said.
During the game, the team struggled to minimize their unforced errors, Yu said. "You can't control how the other team plays, but you can control how you play, and we definitely lost points [because of] what happened on our side of the net," she said. 
To prepare for this game, the Lions practiced the basic techniques of volleyball, team member Jaelah Taylor (11) said. "Sometimes the team gets lost in trying to impress the other team and ourselves that we forget the basics," she said.
Additionally, the mask requirement affects their playing, Kim said. It was hard to call for the ball and talk loudly because the masks make players out of breath, she said.
Yu, who played at her first Homecoming this year, said that it was a vastly different experience to play in the game than to watch from the sidelines when she was in middle school, she said. "I was now playing with those players who I looked up to in middle school."
Water Polo
The Varsity Water Polo team defeated Riverdale 25-2 while friends, alumni, and parents cheered them on. "There was simply a sense of normalcy at this game because there were so many people," Varsity Water Polo Coach Michael Duffy said. 
The team was able to secure an early lead with the seniors starting off the game and playing a bulk of the first quarter, Duffy said. Younger members of the team also stepped up, with Alex Lautin (11) making several steals and defensive plays, team captain Spencer Rosenberg (12) said.
"Riverdale has a very young team, and I don't think they had as much experience as we did in the water," Duffy said. Instead, the team focused on defense, Rosenberg said. "Our coach wanted us to give them a bit of mercy, which meant we shouldn't just score on every possession."
The team worked on collaborating together as a whole and trying to make the other team feel good as well by keeping the game fair, Julian Hernandez (11) said.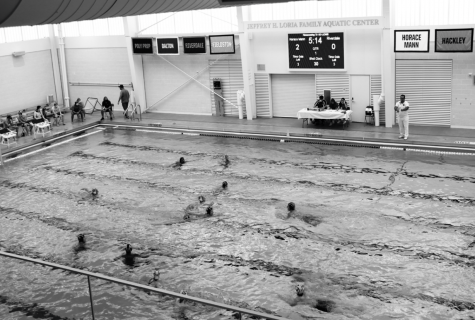 The team also worked on playmaking and coordinated strategy, making sure that players made movements together instead of passing the ball around until they shoot, Noah Castillo (9) said. Starting with defense and limiting the other team to two goals, the team achieved their goal of playing solid defense, Duffy said.
However, the team also faced obstacles during the game, Castillo said. "Spacing is the biggest problem — we're all too clumped up in the middle and we can't move the ball around without having a defender jump right on it," he said.
The team used the opportunity of playing a less experienced team to ensure everybody got playing time, Duffy said. "The whole team was able to play because we were able to score a lot of goals early, so it was just a great game for everybody to get in and get a lot of playing time," he said. "We're just looking forward to the rest of the season."